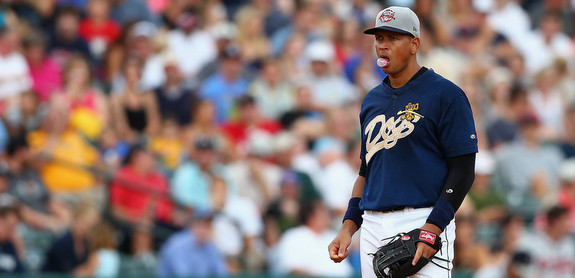 Prior to last night's walk-off loss to the Red Sox, the Yankees announced Alex Rodriguez would not be returning to the team this week due a Grade I quad strain. He is their latest player to not just get hurt, but to suffer some kind of setback or new injury while coming back from the initial injury. It's been happening all year and is a major problem.
The Yankees have been trying to tread water until their lengthy list of injured players return, but none have returned. Well, none have returned and stayed returned. They're all getting hurt again almost immediately. All of them, not like one or two guys. This isn't the one-year thing either; the Yankees dealt with so many setbacks last summer I dubbed it the Year of the Setback. Turns out that was only the start.
At this point, after all these injuries and re-injures, it is fair to question the club's medical staff. Why can't they keep anyone healthy? Now, obviously some of these injuries are total flukes. Curtis Granderson's broken forearm and broken hand? Flukes on hit-by-pitches. Frankie Cervelli's broken hand? Fluke on a foul ball. Cervelli's elbow injury while rehabbing the hand? That's not a fluke — he reportedly altered his throwing motion to compensate for the hand.
By no means is this complete, but here's a list of the most significant injuries and re-injuries over the last two seasons (in roughly chronological order):
Michael Pineda (right shoulder): Diagnosed with inflammation in Spring Training last year, then suffered a torn labrum during an April rehab game. Had season-ending surgery last May.
Brett Gardner (right elbow): Hurt his elbow making a sliding catch last April, suffered three (!!!) setbacks before having surgery in July that effectively ended his season. Three setbacks!
Andy Pettitte (left leg): Hard-hit ground ball fractured his leg near his ankle, then he suffered a setback because he pushed his rehab too hard.
Derek Jeter (left ankle, right quad): Played through a bone bruise in his left ankle last September, suffered a fracture in October. Wasn't ready for Opening Day, then had a setback (a new, smaller fracture) in May. Returned from the DL and suffered a Grade I quad strain the very same day.
A-Rod (left hip, left quad): Hip surgery in January before suffering the Grade I quad strain on Friday, three days before he was tentatively scheduled to return.
Granderson (left forearm, right hand): Two fractures, both flukes. Bad luck.
Cervelli (right hand, right elbow): Foul ball broke the hand, then he suffered a stress reaction in his elbow during rehab.
Mark Teixeira (right wrist): Injured his tendon sheath taking batting practice in March. Returned to the team in late-May following three months of rehab, needed season-ending surgery roughly two weeks later.
Kevin Youkilis (back): Came to the Yankees with a history of back problems, hit the DL with a bulging disc in late-April. Came off the DL in late-May and was hurt again less than two weeks later, this time with (likely) season-ending surgery.
I feel like I might be missing someone, but that list gets the point across. We could even extend this to the minor league system if we want. Manny Banuelos missed a few starts last April with a back problem before being shut down with a bone bruise in his elbow in May. He eventually had Tommy John surgery in September. Injuries and setbacks have become the Yankees way.
Evaluated a training staff is one of those things that is nearly impossible to do from the outside. We have no idea who is responsible for what, who monitors rehab work in Tampa, none of that stuff. All we know is that Steve Donohue is the head trainer at the big league level and Mark Littlefield is his assistant. Both were promoted after Gene Monahan retired following the 2011 season. That's pretty much it.
Regardless of who does what on the medical staff, the circumstantial evidence says they aren't doing a very good job. Not at all. That circumstantial evidence is pretty damning. If one or two guys get hurt and have a setback … yeah it happens. It sucks but it happens. When five or six or eight have setbacks in such a relatively short period of time, you have to ask why. The team has to self-evaluate.
The elephant in the room here is the age of the roster. The Yankees have an old roster and conventional wisdom says older players both get hurt more often and take longer to recover than young players. It comes with the territory. Remember though, the old roster is completely intentional. The Yankees decided to plug every last roster hole with an aging veteran at some point in the last 18 months for whatever reason. That's tempting the injury gods.
If you're going to build a roster out of old players — to be fair, the Yankees have had a ton of success doing that before this season — shouldn't a little alarm go off that says "we need to make sure we have a top notch medical staff to watch over these old players?" That's a logical step to take, right? The Yankees appear to have missed that memo and now their players are dropping like flies. Then re-dropping like flies.
Are Donohue and Littlefield the reason every Yankee is getting injured and re-injured (and re-re-injured in some cases)? Maybe, but we have no what of knowing. Like I said before, a medical staff is a tough thing to evaluate from the outside. It could just be a coincidence all of this started happening when Monahan retired, but it would be foolish to outright dismiss his replacements as the cause of all these injury problems without further investigation. The team owes it to themselves to get an answer.
On average, the Yankees lost more games to injury than any other team from 2010-2012. They lost the second most games to injury last season and they probably sit atop that same list this year. Health and durability isn't a market inefficiency per se, but there has been a greater emphasis placed on keeping players healthy in recent years. Teams are so well run — especially in the AL East, the division is brutal — that it isn't just about having the best players anymore. It's about have the best player on the field for the most amount of time. The Yankees are losing that battle in a big way and it's costing them, both wins and dollars.