A 3-4 road trip isn't great, but it could have easily been 2-5 if not for that miraculous comeback off Joe Nathan on Tuesday. The Yankees walked away with a 2-0 win on Thursday and have won three of their last six games. It's amazing what qualifies as good news these days, huh?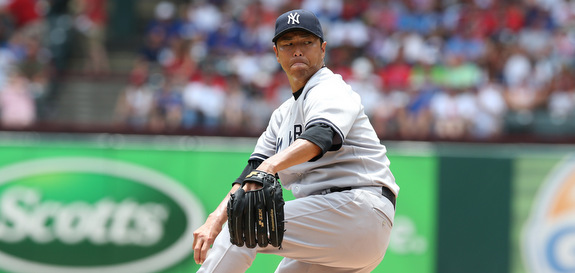 Ace In America
Ho hum, another seven scoreless innings from Hiroki Kuroda. It's his sixth start of at least seven scoreless innings this season and 12th since the start of last season. That's the most in MLB. Felix Hernandez has done it 11 times, Clayton Kershaw ten times, and no one else more than eight times. Kuroda is down to a 0.69 ERA in four July starts with one more to go.
Thursday afternoon's start was a little laborious at times, particularly in the third and sixth innings. Texas had runners at first and second with one out in both innings, but a strikeout and a ground ball got him out of the first jam before two fly balls did the trick in the sixth. A.J. Pierzynski laced an opposite field line drive right at Vernon Wells to end the sixth inning rally, but it was definitely scary off the bat. Looked ticketed for the gap for a second.
Kuroda held the Rangers to six singles and one walk in the seven innings, the 16th (!) time in his 21 starts he walked no more than one batter. Only 61 of his 100 pitches were strikes and only 11 of 26 batters faced saw a first pitch strike, both below Kuroda's usual rates. The end result was fantastic and that's all that matters, but the staff ace had to grind a little bit in this one. Kuroda gave the team exactly what they needed.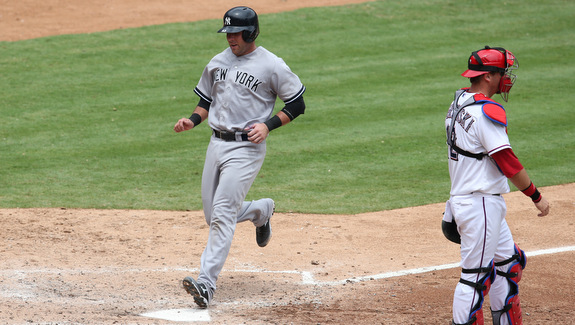 Two Runs Are Better Than None
Left-hander Derek Holland threw a 92-pitch complete-game shutout when the faced the Yankees a few weeks ago, and for a while it looked like we were in for a repeat. He cruised through the first five innings on just 50 pitches even though the Yankees had men on base in every inning but the third. After Eduardo Nunez led off the fifth with a ground rule double, Holland needed just seven pitches to retire the next three batters and escape the inning.
The Yankees finally broke through in the sixth, and all it took was an Austin Romine double and a Brent Lillibridge single. You know, the kind of stuff you see everyday. An Ichiro Suzuki sac bunt was sandwiched between the two. New York was up 1-0 after six and it was hang on for dear life time, but the offense was nice enough to tack on an insurance run in the eighth. Nunez beat out a potential double play ball — it was a tough play, far from routine — to extend the inning and allow the run to score.
Despite the win, this was the third time in the four-game series the Yankees scored no more than two runs. Remember, it was hot as hell all week and The Ballpark in Arlington is a great place to hit, yet they still couldn't take advantage. The Yankees still haven't hit a homerun in the second half, a span of seven games that matches their longest homer-less stretch since 1990. The last time they went eight straight games without a dinger was 1984, when they went ten straight. Two runs got the job done on Thursday though, and right now that's all that matters.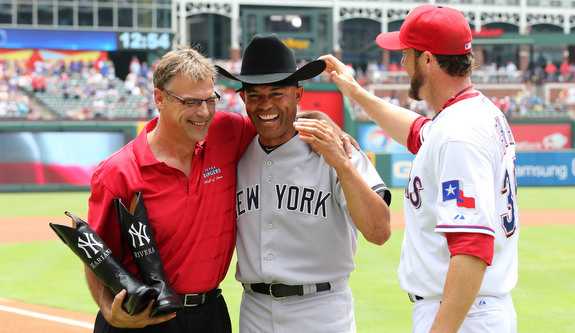 Leftovers
Don't look now, but Romine has swung the bat well of late. He went 3-for-4 with two doubles in this game and is 7-for-21 (.333) with four doubles this month. It's not much, but it sure is better than what he was doing earlier this year. The Yankees should probably give Romine some more playing time just to see what happens. They owe it to themselves. Sitting Chris Stewart a few games won't be the end of the world.
David Robertson and Mariano Rivera closed things out for Kuroda with two nearly flawless innings. Nunez booted a tough grounder in the ninth that was ruled a hit. That was the only base-runner the end-game duo allowed. It's tough to overstate how important Robertson and Rivera are to this team aa presently constructed. They need to preserve every single lead they're handed.
Robinson Cano doubled to start that eighth inning rally, one of five doubles they hit as a team. It's the first time the Yankees had at least five extra-base hits in a game since Independence Day and the 12th time overall. They did it 40 times last year. Yikes. Nunez, Lillibridge, and Romine had the other two-baggers.
Ichiro (infield single), Wells (single to left), David Adams (single to left), and Melky Mesa (single to center) had the rest of the team's hits. Adams certainly would have scored from first on Romine's two-out double in the seventh had it not hopped over the fence. It was a rocket over the center fielder's head.
Box Score, WPA Graph & Standings
That might be the most boring graph of the season. Anyway, check out MLB.com for the box score and video highlights. FanGraphs has some other stats and ESPN the updated standings.

Source: FanGraphs
Up Next
The Yankees are coming home to the Bronx for the first time since the All-Star break. They won't be there very long though, just three games against the Rays before taking off for the West Coast early next week. CC Sabathia and Jeremy Hellickson is your pitching matchup for Friday night's opener. Check out RAB Tickets if you want to catch the game live.