Got five questions for you today. If you want to send us anything throughout the week, the Submit A Tip box in the sidebar is the way to go.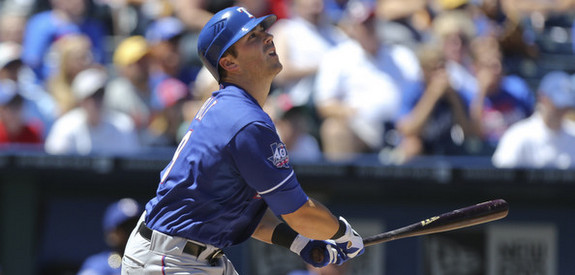 Alex asks: Guys, do you think that with the haul the Cubs got for Matt Garza, the Yankees could reasonably expect to obtain a Mike Olt type of prospect for Phil Hughes? Obviously the package would be less than what the Cubs got for Garza, but using the framework, could the Yankees get a pretty solid return for Hughes?
Olt, whose stock is down quite a bit this year, ranked 44th on Baseball America's midseason top 50 prospects list. I like him less than that and think he's more of a 75-100 prospect, but my opinion doesn't matter. Teams have their own internal evaluation of every player and that's most important.
Pitchers similar to Hughes — that means a back of the rotation starter due to become a free agent — who have been traded at the deadline in recent years include Ted Lilly, Joe Saunders, Joe Blanton, Jason Marquis, Erik Bedard, and Jake Westbrook. Hughes is by far the youngest of the group, but age doesn't really matter when you're talking about a three-month rental.
The trade return for those guys ranges from a big league reliever (Saunders for Matt Lindstrom), one good but not great pitching prospect (Westbrook for Corey Kluber), four fringe prospects (Bedard), a promising young big leaguer (Lilly for Blake DeWitt), and a borderline non-prospect (Blanton). No one on par with Olt, obviously.
This is a seller's market though, mostly because more teams are in contention thanks to the second wildcard and no one wants to sell. If you have an asset like a back-end starter, you might be able to fetch more than expected. An Olt-caliber prospect is probably the best-case scenario for Hughes. I do think the Yankees are going to keep him unless they get a legit big league bat in return, however.
John asks: Who is considered — at this point in their respective careers — a better defender in left field, Alfonso Soriano or Vernon Wells?
Soriano was a complete disaster in left field when he first made the transition from second base, but he's worked really hard to improve out there over the years. Experience helps as well. UZR has rated him a bit above-average in recent years while DRS has him a bit below-average. I prefer DRS personally, but the truth is probably somewhere in the middle. I don't watch enough Cubs games to say if one jibes with the eye test more than the other.
Wells was never as good as his reputation as a Gold Glover, but both UZR and DRS agree that he's been ever so slightly above-average in the field since shifting to left three years ago. He's graded out as below-average in center for a half-decade now. I've been pretty underwhelmed with Wells' defense, particularly his range, but I suppose it is better than the typical left fielder. Defensive stats aren't precise enough to argue over fractions of a run and whatnot, and at this point I think Vernon's the better defensive left fielder. Not by a ton though.
Jeremy asks: Hey Mike, what about Paul Konerko? Tradeable, right-handed, free agent next year…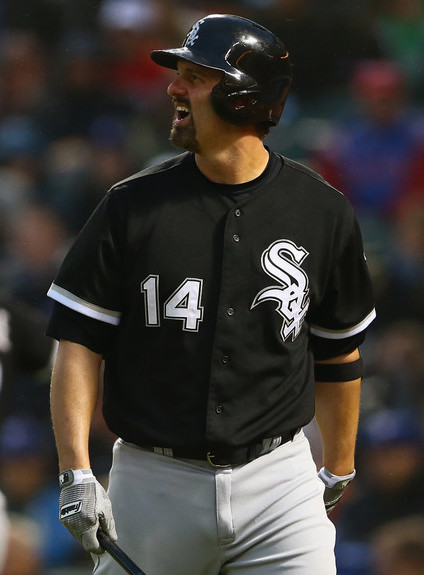 Joe had a Konerko kick for a few weeks a while back, but I would go nowhere near him. For starters, Konerko has been dealing with some nagging back problems this summer, at one point receiving six (!) injections. Back trouble for older players (he's 37) is a total dealbreaker for me.
If that wasn't enough, Konerko really isn't hitting this year. He's at .248/.315/.365 (84 wRC+) with seven homers in 295 plate appearances, though he does have a stellar 149 wRC+ against southpaws in limited time. The strikeouts are up (15.3%), the walks are down (8.2%), the power is gone (possible related to the back trouble) … lot of red flags here. If Konerko was hitting like he did last year (26 homers and 132 wRC+), I'd be all for it. At this point I'm staying far away.
Chris asks: Much has been made of teams handing out monster contracts lately, primarily because the term comes back to bite teams in the long run. Could the solution to this be not allowing teams to control players for longer but shorter? Would MLB and the players union be willing to allow free agency after six years from the draft or two years on a team's 25-man roster (whichever comes first)?
Baseball's salary structure is very … weird. Players make the least amount of money during what is usually their best years — their first six seasons, during pre-arbitration and arbitration — and the most when they're on the decline. The MLBPA would absolutely be in favor of anything that moves free agency up, which means the owners would be very much against it. They only like things that keep costs down. Small market teams would have a hard time competing if their best players could leave after two years. It would be impossible, really.
The only "solution" to prevent getting burned by long-term contracts is to not hand them out. Even if you moved free agency up, teams would still overpay for decline years. That seem inevitable. Whenever a huge contract is handed out, like seven or eight years, a lot of times the GM is assuming he won't be around for the final few years of the deal, when it tends to go really bad. Many of these contracts are handed out with the idea that the worst part will be someone else's problem. I have very little pity for clubs who get saddled with a long-term deal gone bad. They make their beds, they have to sleep in it.
Mark asks: Do the Yanks need make it priority #1 to acquire a long-term solution at third base this offseason (or before the trading deadline) as it is all but assumed that Alex Rodriguez will be banned for either 150 games or permanently starting either now or next year? Or is it another year of stop-gap temporary players and pray that either A-Rod is back at age 38/39 and that Eric Jagielo is hopefully ready by the 2015 season?
The Yankees shouldn't count on Jagielo at all when planning the future of the third base position. He was just drafted and even though he's polished and expected to climb the ladder quickly, he's still in short season ball and so very much can go wrong before be makes it to the show. It's the nature of the beast.
I think priority #1 should be finding a long-term shortstop, but third base is pretty much priority #2. This season confirmed it. They can't count on A-Rod anymore and there are no real third base prospects on the immediate horizon, so they'll have to look outside the organization. Finding that young guy to hold down the position for the next half-decade won't be easy, so they'll probably have to settle on stopgaps for the time being. Hopefully none with chronic back problems this time. Who knows, maybe Jagielo will emerge before they make any kind of trade for a long-term answer.