A few days ago, I asked my Twitter followers if they had any requests for my next post topic. I considered a few of the responses but ultimately chose this one: "Make the case that the Yankees should trade Phil Hughes right now." Well, I'm not sure I personally agree with this proposal, but for the sake of discussion, I'll give it a shot.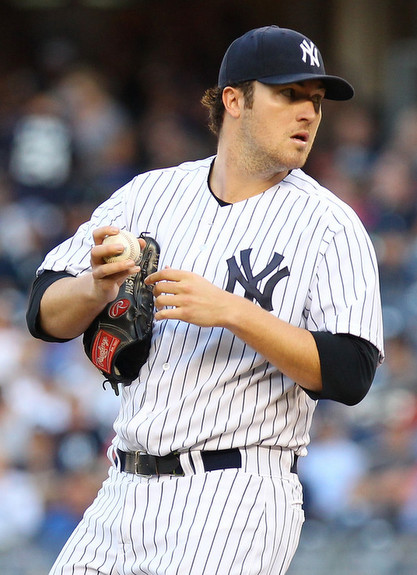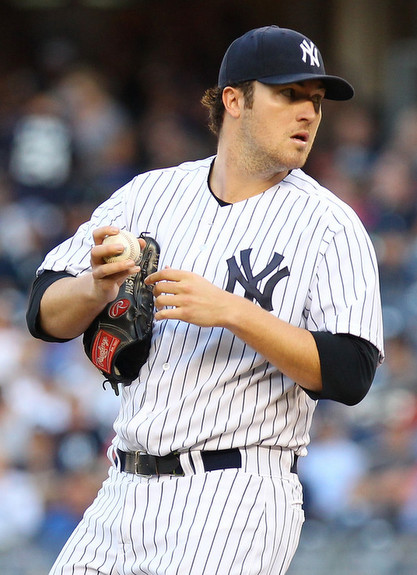 Hughes is out of here at the end of the season anyway! At this point, it seems inevitable that the Yankees will allow Phil Hughes to walk once the 2013 campaign ends. I discussed some potential contract outcomes for Hughes back in mid-May; he figures to have a decent payday coming his way even if he is mostly mediocre for the remainder of this season. You know some team will give him an Edwin Jackson-esque contract. If he finishes the season strong, who knows, maybe he gets even more. Despite the obvious question marks surrounding next year's rotation, it seems like the presumed austerity budget will prevent the Yankees from re-signing him once he hits free agency. Although Buster Olney thinks a qualifying offer could happen, I wonder whether it actually will happen considering that the price tag would be pretty high if he actually accepted, which could strain the budget.
He's a perennial underachiever! He was supposed to be a future Yankees ace. Instead he's a middle-to-back of the rotation type of arm with the potential for the occasional hot streak. He owns a career 4.41 ERA (4.27 FIP) and has never been valued at more than a 2.5 fWAR. Is that useful? Sure. Is it that hard to replace? Questionable, especially if he's being paid Edwin Jackson money. He also has shown the propensity for giving up the long ball. He's an extreme fly ball pitcher in a hitter's ball park. His skillset just doesn't make sense for New York and their stadium. Let the kid find a niche elsewhere. He's 27 years old. Maybe he'll figure things out in another season or two. Maybe he won't. To make matters worse, he's also had some obvious durability concerns over the years.
Perhaps a decent player in return is plausible! To follow up on the first argument, the team could potentially use Hughes to acquire a player who could help the team now and down the road since he probably won't be back after the season. Some team will be looking for more starting pitching down the stretch and heading into the playoffs (whether that's due to their own rotation's ineffectiveness or injury), and if Hughes continues to put up quality starts he may draw some interest. While I'm not sure that Hughes could bring back a useful player by himself, maybe if he were packaged with one of the team's better prospects, a quality trade could be possible. If the idea is to shed team salary, then trying to find a young MLB ready position player with a few years of team control would make a lot of sense – especially if the team has soured a bit on some of their own prospects. For what it's worth, the team has already begun testing the market with him and Joba.
The rotation will be fine without him! With the exception of the last few starts, Hughes hasn't been one of the team's more consistent contributors this year. He could become one down the stretch, but who knows how that'll play out or if it'll ultimately even matter. The team could potentially piece together some decent starts in Hughes' absence with Ivan Nova – not to mention Michael Pineda, who will be available soon as well. Frankly, given the offensive woes, it may not make one bit of a difference who pitches anyway unless they're prepared to throw a shut out every start.
Would you look to trade Phil Hughes right now?