There would be no miraculous ninth inning comeback in this game. The Yankees lost 3-1 on Wednesday night, their sixth loss in eight games. It's not quite a free fall, but it's damn close.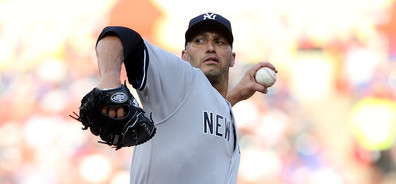 Beat By Pierzynski
Coming into this game, Rangers catcher A.J. Pierzynski was hitting just .255/.305/.367 (79 wRC+) against left-handed pitchers this year. Naturally, he had the two biggest hits against Andy Pettitte. Pierzynski's two-out single in the first plated Ian Kinsler from third for the first run of the game, and his one-out, two-strike solo homer in the sixth gave Texas lead. Those were the second and third times Andy allowed big run-scoring hits to Pierzynski this year — remember, he had a two-run, two-out double the last time these two clubs played in New York.
Overall, this was easily Pettitte's best outing in more than a month. He had allowed at least four runs in each of his last seven starts, but he managed to hold the Rangers to just the two runs on eight hits and a walk. This looked more like vintage Pettitte, who put men on base but wiggled out of jams. On most nights, this kind of start would be good enough to win, or at least get a no decision. Hopefully this was a turning point for Andy and he settles in as the same ol' reliable workhorse he's been for the last decade and a half.
Upgraded
It's fitting that Matt Garza shut the Yankees down in his first start with the Rangers. Texas went out and made a trade to improve their club prior to the deadline while New York continues to plug along with the same unaddressed, inadequate offense. Eventually the injured guys will return, right?
The Yankees scored their only run on two Rangers mistakes. First, Brett Gardner made it all the way to third base when Garza fielded a little ground ball and accidentally threw it into right field. Second, they pitched to Robinson Cano with a base open and he singled to drive in Gardner. That's all, that was the New York offense. A three-base error and a jam-shot single passed the drawn-in infield. The run was unearned and Garza went 7.1 innings. Ho hum.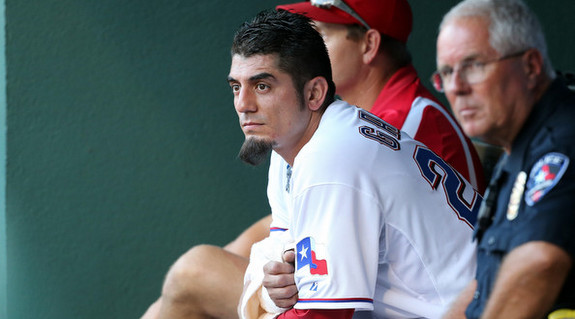 Leftovers
The Rangers scored an insurance run in the eighth when Shawn Kelley caught way, way too much of the plate with a 3-2 fastball that David Murphy hit into the bullpen for a solo homer. Speaking of homers … the Yankees still haven't hit one in the second half. Six games, all at very hitter-friendly parks, yet no homers. This is the first time the so-called Bombers have gone six straight games without a homer since 1996. At least that season had a happy ending.
Gardner and Cano were the only Yankees with two hits, and the top three spots in the lineup went a combined 5-for-12. The other six spots went 1-for-21. The trio of Eduardo Nunez, Brent Lillibridge, and Melky Mesa went a combined 0-for-10 on 29 (!) total pitches. That's just par for the course, really. If Gardner and Cano can't put together a run(s), the Yankees rarely score.
Pettitte allowed a run in the first inning for the fifth consecutive start. His record dropped to 7-8, so Andy is in danger of having the first losing season in his 18-year career. Heck, only twice has he been within two games of a .500 record, and those were his injury shortened 2004 and 2012 seasons.
Box Score, WPA Graph & Standings
MLB.com has the box score and video highlights, FanGraphs some other stats, and ESPN the updated standings. The Yankees remain six back of the AL East lead and three back of the second wildcard spot in the loss column because both the Red Sox and Orioles lost.

Source: FanGraphs
Up Next
The seven-game road trip comes to an end on Thursday afternoon, when the Yankees and Rangers wrap-up this four-game series. Hiroki Kuroda and left-hander Derek Holland is the pitching matchup in the matinee.