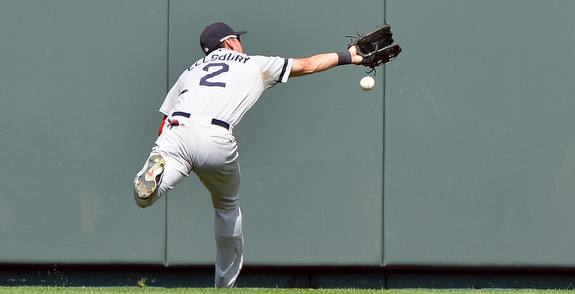 Late-season Yankees-Red Sox series are usually rather important, and these three games this weekend are no different. Boston is fighting for the top spot in the AL East while the Bombers are trying to scratch their way back in the wildcard race, so these two clubs really aren't in direct competition with each other in the standings. The Sawx have won two of three in each the three previous times these two teams have played this year.
What Have They Done Lately?
Manager John Farrell's team lost their last two games, three of their last four, and five of their last seven. Despite that recent slide, Boston has gone 14-12 in the second half and they still atop the AL East with a 72-51 record and +103 run differential. Those are both the second best marks in the AL behind the Tigers.
Offense
At 5.0 runs per game with a team 111 wRC+, the Red Sox have one of the three best offenses in baseball. Aside from backup C David Ross (81 wRC+), who is out long-term with a concussion, and UTIL Brandon Snyder (68 wRC+), Farrell's team is perfectly healthy on offense.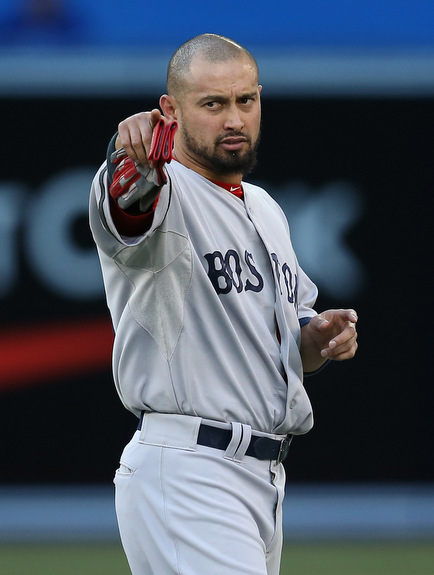 I think we're all familiar with this lineup by now. CF Jacoby Ellsbury (112 wRC+) leads off, RF Shane Victorino (98 wRC+) bats second, 2B Dustin Pedroia (113 wRC+) bats third, and DH David Ortiz (160 wRC+) cleans up. 1B Mike Napoli (109 wRC+) typically bats fifth, but OF Jonny Gomes (109 wRC+) has been mashing of late and is seeing some time higher in the order. C Jarrod Saltalamacchia (112 wRC+) is the everyday backstop.
Beyond those seven, they've got 3B Will Middlebrooks (70 wRC+), OF Daniel Nava (119 wRC+), 1B/OF Mike Carp (151 wRC+ in limited time), and SS Stephen Drew (105 wRC+). C Ryan Lavarnway (90 wRC+) and IF Brock Holt (34 wRC+) fill out the bench at the moment. Boston's offense is deep and powerful, there isn't a single soft spot in the regular lineup outside of Middlebrooks.
Starting Pitching Matchups
If these pitching matchups look familiar, it's because they're exactly the same as the last time the Yankees visited Fenway Park, right after the All-Star break. Baseball is weird sometimes. You are forewarned: some of the following may have been copied and pasted.
Friday: LHP Andy Pettitte vs. LHP Felix Doubront
Doubront, 25, has a 3.66 ERA (3.44 FIP) in 21 starts and one relief appearance this year. His strikeout rate (8.09 K/9 and 20.8 K%) is down a touch from last year and his walk rate (3.87 BB/9 and 9.9 BB%) is unchanged, so his improvement is the result of more grounders (47.6%) and fewer homers (0.56 HR/9 and 6.7% HR/FB). That homer rate is perhaps unsustainably low given his home ballpark. Doubront will use low-90s two and four-seamers as well as a mid-to-upper-80s cutter to set up his mid-70 curveball and low-80s changeup. He doesn't have much of a platoon split because his arsenal is so deep. The Yankees haven't been able to touch Doubront since the start of the last season, and that includes two starts of at least six innings and no more than two runs earlier this year.
Saturday: RHP Hiroki Kuroda vs. RHP John Lackey
The 34-year-old Lackey has a brand new elbow following Tommy John surgery and the improvement is drastic. He's got a 3.32 ERA (3.70 FIP) in 21 starts with strong peripherals: 8.32 K/9 (22.2 K%), 1.96 BB/9 (5.2 BB%), 1.22 HR/9 (14.3% HR/FB), and 49.5% grounders. The homers are an eyesore, but everything else looks good. Lackey is primarily a three-pitch pitcher, using his low-90s four-seamer, mid-to-upper-80s cutter, and upper-70s curveball more than 90% of the time combined. He will, however, mix in the rare low-90s two-seamer, mid-80s slider, and low-80s changeup. Like, one or two of each per start. Lackey has been around a while; the Yankees have seen him plenty over the years. They got to him for four runs in 6.1 innings last month.
Sunday: LHP CC Sabathia vs. RHP Ryan Dempster
Dempster, 36, has performed about as well as you'd expect an older, career NL pitcher moving into a hitter-friendly AL East park to perform. They can't all be Kuroda. Dempster has a 4.50 ERA (4.68 FIP) in 24 starts with a real good strikeout rate (8.29 K/9 and 20.9 K%), but his walk (4.05 BB/9 and 10.2 BB%), homer (1.41 HR/9 and 13.8% HR/FB) , and ground ball (40.5%) numbers are all uninspiring. An upper-80s four-seamer and low-to-mid-80s slider are his top two pitches, but he'll also mix in some upper-70s/low-80s splitters and mid-to-upper-80s cutters. The four-seamer and slider are clearly his go-to weapons, however. The Yankees seem to rough Dempster up each time they meet, and sure enough they got to him for five runs in 5.1 innings in July.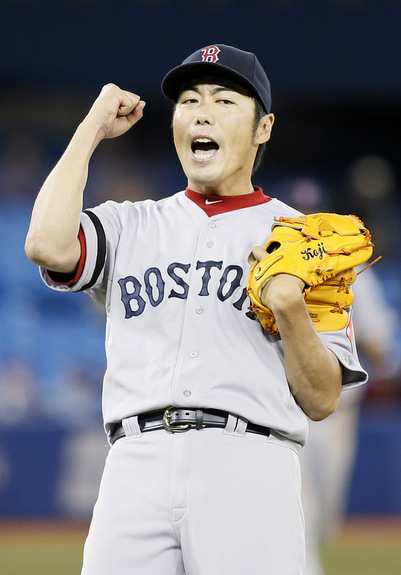 Bullpen Status
Farrell & Co. have had to overhaul most of their bullpen these last few weeks. RHP Koji Uehara (2.04 FIP) is still closing and both RHP Junichi Tazawa (3.33 FIP) and LHP Craig Breslow (3.50 FIP) are setting up, but otherwise there are a lot of new faces. LHP Drake Britton (3.27 FIP in limited time) and RHP Rubby De La Rosa (12.47 FIP in very limited time) are two live but young and inexperienced arms, as is de facto long man RHP Brandon Workman (5.31 FIP). He threw three innings on Wednesday and probably isn't available tonight. LHP Franklin Morales (5.63 FIP in very limited time) just came off the DL to round out the seven-man relief crew.
Both Mariano Rivera and David Robertson are well-rested, but the rest of Joe Girardi's bullpen has been taxed of late. I suspect Adam Warren will be sent down to clear a 25-man roster spot for Mark Reynolds if his agreed-to deal is finalized today, leaving David Huff as the long man. Warren will be back as soon as rosters expand in two weeks. Check out our Bullpen Workload page for reliever usage details, then check out Over The Monster for the latest and greatest on the Sawx.