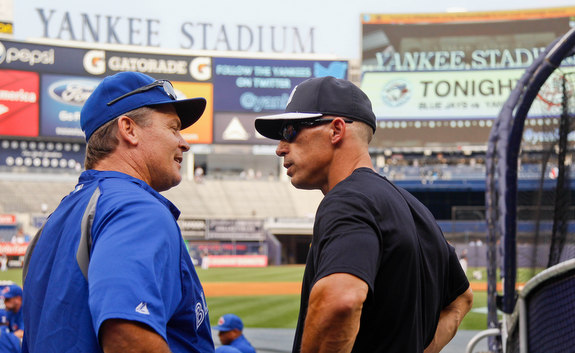 If the Yankees are going to sneak into the postseason, they're going to have to pound the crap out of bad teams like the Blue Jays. They did just that last week with four wins over the Jays in three days at Yankee Stadium. Now they're up in Toronto for another three games. Time to pad that win total.
What Have They Done Lately?
After getting swept in the Bronx, the Blue Jays went to Houston and lost two of three to the Astros. They actually lost seven straight before winning yesterday's series finale. Toronto is 58-73 with a -56 run differential overall. That's good for last place in the AL East and the fourth worst record in the league.
Offense
With an average of 4.5 runs per game and a team 99 wRC+, the Jays are essentially league average offensively. Their entire starting outfield — Jose Bautista (134 wRC+), Colby Rasmus (122 wRC+), and Melky Cabrera (86 wRC+) — is on the DL, as is IF Maicer Izturis (63 wRC+). None of the four is expected to return this series.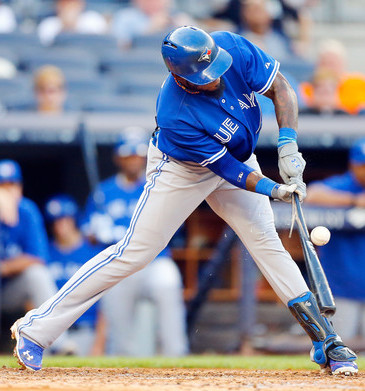 Even without Bautista, manager John Gibbons still has an elite power hitter in 1B Edwin Encarnacion (145 wRC+). I said this in last week's preview, but it's worth repeating: Encarnacion has more walks (72) and extra-base hits (59) than strikeouts (55). Elite. SS Jose Reyes (116 wRC+) sets the tone atop the lineup while DH Adam Lind (125 wRC+) and 3B Brett Lawrie (103 wRC+) provide support in the middle. Lawrie has been hitting very well over the last month or so (145 wRC+ over the last 30 days).
The rest of the lineup is filled out by UTIL Mark DeRosa (100 wRC+), Yankee killer OF Rajai Davis (78 wRC+), C J.P. Arencibia (74 wRC+), IF Munenori Kawasaki (74 wRC+), OF Anthony Gose (73 wRC+), OF Kevin Pillar (31 wRC+ in very limited time), and OF Moises Sierra (-20 wRC+ in very limited time). IF Ryan Goins (104 wRC+ in very limited time) and backup C Josh Thole (37 wRC+) round out the bench. Although their overall season numbers are strong, the Blue Jays are much different team without Bautista and, to a lesser extent, Rasmus and Melky.
Starting Pitching Matchups
Monday: RHP Phil Hughes vs. RHP R.A. Dickey
Dickey, 38, dominated the Yankees pretty well last week before hanging a knuckleball and surrendering the go-ahead two-run homer to Alfonso Soriano in the late innings. The reigning NL Cy Young Award winner has a 4.49 ERA (4.72 FIP) in 27 starts with peripherals that have declined across the board: 6.99 K/9 (18.3 K%), 3.01 BB/9 (7.9 BB%), 1.43 HR/9 (13.0% HR/FB), and 41.0% grounders. Dickey uses just one knuckleball in the mid-70 these days, having apparently lost the second low-80s knuckler that made him so effective last year. A low-80s fastball is his get-me-over-pitch. Lefties (.349 wOBA) have hit him harder than righties (.301 wOBA). The Yankees have faced Dickey a few other times this year aside from last week, plus they know him from interleague play against the Mets.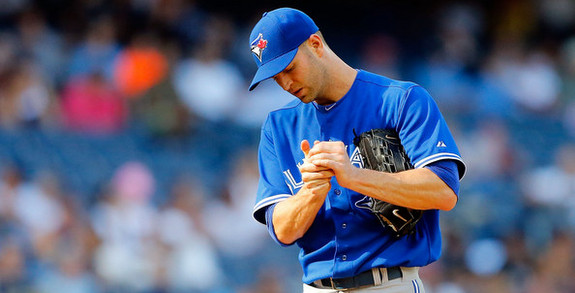 Tuesday: LHP Andy Pettitte vs. LHP J.A. Happ
The 30-year-old Happ was carted off the field after taking a line drive to the side of the head and suffering a very small skull fracture (and knee strain) three months ago. He's made four starts since returning from the DL and has pitched quite well in two of them, and overall he owns 5.10 ERA (4.35 FIP). The southpaw has missed enough bats (7.08 K/9 and 17.6 K%) and kept the ball in the park (0.83 HR/9 and 6.3% HR/FB), but his walk (4.94 BB/9 and 12.2 BB%) and ground ball (35.5%) rates are well-below-average. Happ is a five-pitch guy, sitting right around 90 mph with both his two and four-seamer. Both his slider and changeup come in in the low-80s, his curveball in the mid-70s. The Yankees tagged Happ for four runs on three hits and five walks in 5.1 innings last week.
Wednesday: RHP Hiroki Kuroda vs. RHP Todd Redmond
Redmond, 28, was the only Blue Jays starter the Yankees did not see during the four-game series last week. He's got a 4.44 ERA (4.41 FIP) in eight starts and three relief appearances this year, though his strikeout (9.64 K/9 and 24.9 K%) and walk (2.86 BB/9 and 7.5 BB%) rates are stellar. The homer (1.54 HR/9 and 12.1% HR/FB) and ground ball (30.8%) numbers … not so much. Redmond uses sinkers and four-seamers right around 90 mph to setup his bread-and-butter low-80s slider. He uses the slider almost three out of every ten pitches. Low-80s changeups and upper-70s curveballs are his rarely-used fourth and fifth offerings. Redmond only has a dozen big league appearances to his credit and he's never faced the Yankees.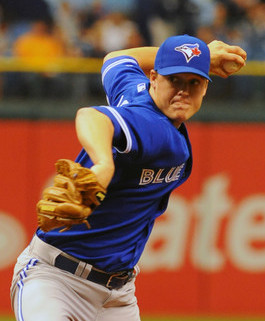 Bullpen Status
Gibbons' bullpen is in decent shape even though former Yankee Chien-Ming Wang lasted just three innings on Saturday. Closer RHP Casey Janssen (2.82 FIP) threw 20 pitches nailing down yesterday's save and was the only reliever used thanks to Mark Buehrle's eight innings of work. RHP Darren Oliver (4.40 FIP) and RHP Sergio Santos (2.89 FIP) handle setup duties while LHP Aaron Loup (3.53 FIP), LHP Brett Cecil (2.90 FIP), and RHP Neil Wagner (3.91 FIP) handle the middle innings. RHP Chad Jenkins (6.03 FIP in very limited time) is the long man. Wang was designated for assignment today to clear a roster spot for Loup, who returned from paternity leave. Remember when letting CMW go to a division rival was a huge mistake earlier this year? Me neither.
The Yankees have a bullpen mess on their hands thanks to yesterday's extra innings affair as well as all the other recent close games. Things will get worse today when the club sends Preston Claiborne down to make room on the roster for Derek Jeter. Yeah, it's great the Cap'n will be back, but keeping Joba Chamberlain over Claiborne will make the bullpen weaker in the short-term. Check out our Bullpen Workload page for recent reliever usage, then check out Drunk Jays Fans and Tao of Stieb for info on the Blue Jays.