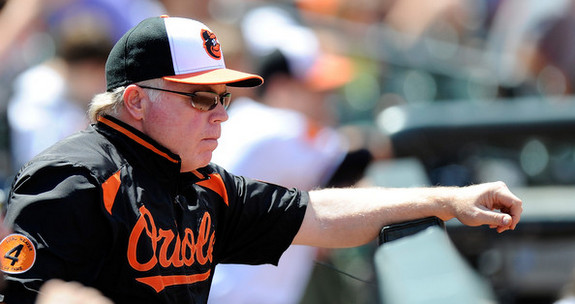 Biggest series of the year? Biggest series of the year. At least until the next series, anyway. The Yankees have a tiny — 7.0% according to Cool Standings and 4.1% according to Baseball Prospectus — chance of making the postseason at this point and if they want to capitalize, they have to do some damage this weekend. Winning two of three probably isn't good enough anymore.
What Have They Done Lately?
Manager Buck Showalter's team held on to beat the Red Sox yesterday but lost the previous two games and the series. The Orioles have been playing roughly .500 baseball for about a month now and come into this series with a 71-61 record and a +39 run differential. They're two games up on the Yankees in the loss column and three games back of the Athletics for the second wildcard spot.
Offense
Even though they average 4.8 runs per game with a team 103 wRC+, Baltimore claimed Mike Morse (90 wRC+) off waivers and added him via trade this afternoon to bolster the offense for the stretch drive. It's possible one or both of those guys will wind up playing against the Yankees this weekend. The Orioles' only injured position player is OF Nolan Reimold (52 wRC+), who is done for the year with a knee problem.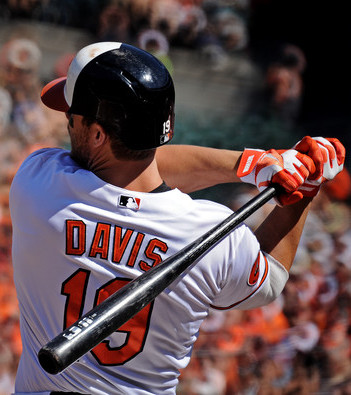 The offensive conversation starts with 1B Chris Davis (181 wRC+) and 3B Manny Machado (111 wRC+), who lead the league in homers (47) and doubles (45), respectively. OF Adam Jones (123 wRC+) is always dangerous and OF Nate McLouth (104 wRC+) does a nice job setting the table. SS J.J. Hardy (99 wRC+) can hit the ball out of the park, if nothing else. OF Nick Markakis (88 wRC+) and C Matt Wieters (83 wRC+) are two guys who should be doing more but have simply stalled out.
2B Brian Roberts (86 wRC+) is back playing second base everyday, at least until his next injury. IF Danny Valencia (135 wRC+ in limited time) and former Yankee UTIL Wilson Betemit (-100 wRC+ in very limited time) form the DH platoon. IF Alexi Casilla (53 wRC+), OF Steve Pearce (92 wRC+ in limited time), and backup C Taylor Teagarden (26 wRC+ in limited time) round out the bench. Reminder: Rosters expand on September 1st, so expect both clubs to have some extra players come Sunday.
Starting Pitching Matchups
Friday: LHP CC Sabathia vs. RHP Miguel Gonzalez
Gonzalez, 29, has been the Yankees kryptonite these last two years. He has a solid 3.77 ERA (4.32 FIP) in 22 starts (and two relief appearances) this season and a 3.54 ERA (4.34 FIP) since breaking into the league last year, but in six career starts against the Bombers he has a 2.27 ERA (~2.95 FIP). That includes last year's ALDS. In three starts against New York this season, he's gone at least six innings and allowed no more than two earned runs each time. The guy just dominates the Yankees.
Aside from a solid walk rate (2.85 BB/9 and 7.6 BB%), nothing about Gonzalez's underlying performance stands out. He doesn't miss bats (6.55 K/9 and 17.4 K%) or get ground balls (39.3%), plus he allows a bunch of homers (1.19 HR/9 and 10.8% HR/FB). Gonzalez uses low-90s two and four-seamers to set up his bread-and-butter low-80 splitter/changeup hybrid. That's the pitch that have given the Yankees fits. A mid-80s slider and upper-70s curveball round out his five-pitch repertoire. Because of that split-change, Gonzalez has basically no platoon split. He's solid overall and Cy Young against New York.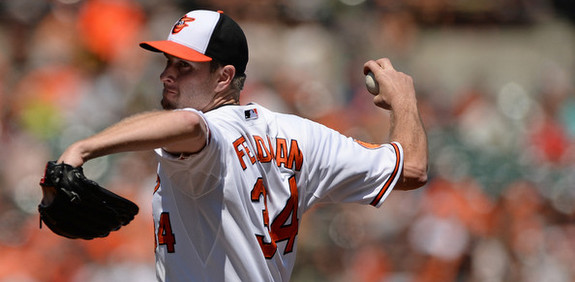 Saturday: RHP Ivan Nova vs. RHP Scott Feldman
The Orioles acquired the 30-year-old Feldman from the Cubs to shore up their rotation a few weeks ago. He's got a 3.87 ERA (3.85 FIP) in 24 total starts this year, which is pretty close to a career year for him. Feldman is a ground ball guy (49.3%) who limits walks (2.68 BB/9 and 7.1 BB%) and homers (0.87 HR/9 and 10.1% HR/FB) but doesn't strike out many batters (6.67 K/9 and 17.7 K%). A mid-70s curveball and upper-80s/low-90s sinkers and two-seamers are his three main offerings. He will use mid-80s changeups and straight low-90s four-seamers on occasion, but not much. Sinker/curveball, basically. Feldman is another guy with no platoon split. Although they haven't seen him since he arrived in Baltimore, the Yankees have faced Feldman a bunch of times over the years while he was with the Rangers. Some good games, some not so good.
Sunday: RHP Phil Hughes vs. LHP Wei-Yin Chen
Chen, 28, is in the rookie level Gulf Coast League at the moment. The Orioles manipulated their roster this week by sending Chen down for an extra bullpen arm, but they will call him back up for this start when rosters expand on Sunday. Because the GCL season ended yesterday, they can circumvent the ten-day rule. The Yankees did something similar with Preston Claiborne. Sneaky. Chen missed a bunch of time with an oblique strain this year and otherwise has a 3.76 ERA (4.11 FIP) in 17 starts. His strikeout rate (5.81 K/9 and 15.9 K%) fell off a cliff this year, but his walk (2.48 BB/9 and 6.8 BB%), homer (1.03 HR/9 and 8.8 HR/9), and ground ball (34.3%) numbers are in line with last season, his first in MLB. Chen is a true five-pitch pitcher: low-90s four-seamer, low-90s two-seamer, mid-80s changeup, low-80s slider, and low-80s curveball. The slider and changeup are his top offspeed offerings. It's worth noting right-handed batters (.332 wOBA) have been far more successful (.253 wOBA) against the Taiwanese-born southpaw this summer. The Yankees have fared quite well against Chen these last two years, though he did hold them to three runs in six innings earlier this season.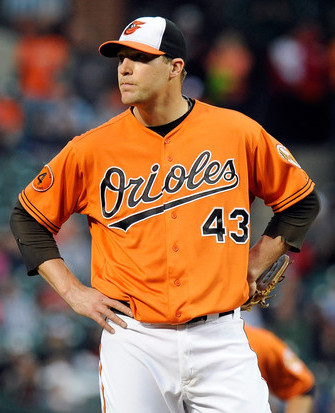 Bullpen Status
Showalter had to use all of his key late-game relievers yesterday, including closer RHP Jim Johnson (3.89 FIP), who leads the league in saves (41) and blown saves (nine). Setup men RHP Tommy Hunter (3.50 FIP) and LHP Brian Matusz (3.15 FIP) also pitched yesterday. RHP Darren O'Day (3.66 FIP), RHP Francisco Rodriguez (3.95 FIP), LHP Troy Patton (4.32 FIP), and LHP T.J. McFarland (4.03 FIP) fill out the rest of the regular relievers. RHP Kevin Gausman (5.02 FIP) is the extra arm they called up using Chen's spot.
The Yankees are coming off an off-day and their core relievers didn't have to work too hard in the Blue Jays series either. Mariano Rivera, David Robertson, Shawn Kelley, and Boone Logan are all well-rested and should be available for all three games of this super duper important series. Our Bullpen Workload page has the exact reliever usage details. The best Orioles blog around is Camden Chat.