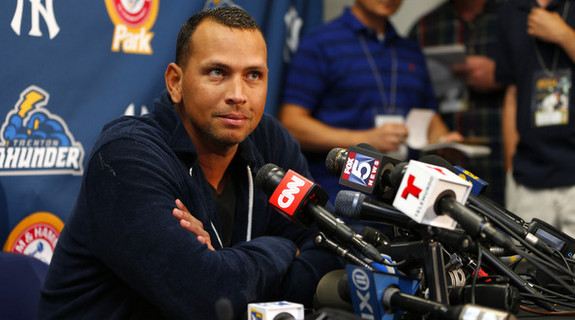 As expected, Major League Baseball (finally) announced Alex Rodriguez has been suspended for the remainder of 2013 and all of 2014 for his involvement in the Biogenesis scandal. It's officially a 211-game suspension, which is basically broken down in a 50-game first-time ban plus 161 games for interfering with the investigation. From the official release:
Rodriguez's discipline under the Joint Drug Prevention and Treatment Program is based on his use and possession of numerous forms of prohibited performance-enhancing substances, including Testosterone and human Growth Hormone, over the course of multiple years.  Rodriguez's discipline under the Basic Agreement is for attempting to cover-up his violations of the Program by engaging in a course of conduct intended to obstruct and frustrate the Office of the Commissioner's investigation.  The suspension, which will become effective on Thursday, August 8th, will cover 211 Championship Season games and any 2013 Postseason games in which Rodriguez otherwise would have been eligible to play.
Because he was suspended under the Joint Drug Agreement, A-Rod can file an appeal and play in the meantime. He will do just that, and, in a twisted coincidence, he will make his season debut against the White Sox in Chicago tonight. Here is Alex's statement:
"I am disappointed with the penalty and intend to appeal and fight this through the process. I am eager to get back on the field and be with my teammates in Chicago tonight. I want to thank my family, friends and fans who have stood by myself through all this."
And here is what David Cornwell, Rodriguez's attorney, had to say:
"It is regrettable that the Commissioner's office has taken this unprecedented action. Major League Baseball has gone well beyond the authority granted to its Joint Drug Agreement and the Basic Agreement. Consequently, we will appeal the discipline and pursue all legal remedies available to Alex."
I wonder if that "all legal remedies available" line is an indication a lawsuit for … something, could be on the way. I guess we'll find out eventually.
It was rumored Bud Selig would suspend Alex using the integrity clause in the Collective Bargaining Agreement, which would have kept him off the field even during an appeal, but that did not happen. Selig & Co. supposedly decided it would improve their case and better maintain labor peace by sticking with the discipline outlined in the JDA.
Rodriguez has three days to file the appeal, which is why his suspension does not officially begin until Thursday. The hearing must take place within 20 days of the appeal and a ruling must be handed down no later than 25 days after that. Frederic Horowitz will preside over the appeal. He was appointed baseball's arbitrator last June after MLB fired Shyam Das for overturning Ryan Braun's suspension. Horowitz can overturn or uphold the suspension, as well as reduce the number of games. This isn't an either/or thing like salary arbitration.
Rodriguez's camp insisted they would not discuss a plea agreement in recent weeks. MLB threatened to ban him for life using the integrity clause, but that was apparently nothing more than a bluff. A-Rod insinuated the league and the Yankees were conspiring to keep him off the field during a press conference following a recent minor league rehab game. The team responded with a strongly worded statement:
"We are in full support of Major League Baseball's Joint Drug Prevention and Treatment Program. We also recognize and respect the appeals process. Until the process under the Drug Program is complete, we will have no comment. We are confident that the process outlined in the Drug Program will result in the appropriate resolution of this matter. In the meantime, the Yankees remain focused on playing baseball.

"However, we are compelled to address certain reckless and false allegations concerning the Yankees' role in this matter. The New York Yankees in no way instituted and/or assisted MLB in the direction of this investigation; or used the investigation as an attempt to avoid its responsibilities under a player contract; or did its medical staff fail to provide the appropriate standard of care to Alex Rodriguez."
Union head Michael Weiner contacted MLB on A-Rod's behalf to talk about a settlement on Saturday, but was rebuffed. Alex contacted the team about buying out the four-plus years and $95M or so left on his contract but was told no dice due to the impending investigation and discipline. Weiner, who indicated a legal battle could drag into November or December, left no wiggle room when saying the union will stand behind it's highest paid player:
"We believe that the Commissioner has not acted appropriately under the Basic Agreement. Mr. Rodriguez knows that the Union, consistent with its history, will defend his rights vigorously. We must revisit the JDA's confidentiality provisions and consider implementing stricter rules for any breach."
Players are not paid during drug suspensions, nor does their salary count against the luxury tax. A-Rod's suspension would cost him approximately $34.2M if it started today, but his contract is front-loaded and his salaries decrease from 2013-2017. The longer the appeal takes and the further the suspension gets pushed back, the less he'll lose. The Yankees have not been shy about their plan to get under the $189M luxury tax threshold starting next year, so shedding A-Rod's $27.5M "tax hit" for all or part of the next few seasons would be a huge boon.
MLB is said to have "mountains" of evidence showing Rodriguez purchased and used performance-enhancing drugs from 2010-2012 with help from former Biogenesis chief Anthony Bosch. There hasn't been much info on the evidence regarding his attempts to interfere with the investigation, however. Bosch agreed to cooperate with MLB to avoid a lawsuit, though he reportedly tried to extort a six-figure payout from the team's third baseman first. A-Rod's army of lawyers will surely look to discredit Bosch.
Considering his age (38), his two surgically repaired hips and overall declining skills, it's hard to believe Alex will be able to return to the Yankees as a productive player following a lengthy suspension. Thanks to the cash savings, the team would be in a better position to negotiate a buyout of the remainder of his contract after the suspension. Well, it might be easier to swallow, I should say. It's tough to think the suspension will be anything but a career-ender for A-Rod.
Among the other suspended players is Frankie Cervelli, who received a regular ol' 50-game ban as a first time offender. His nature of his connection to Biogenesis is unclear. He accepted the penalty and will begin serving the suspension immediately, without appeal. Cervelli is expected to miss the rest of the season with lingering hand and elbow problems, and he'll be allowed to serve the suspension while on the DL. The Yankees said they "are disappointed" and "it's clear that he used bad judgment."
Eleven other players were suspended in addition to A-Rod and Cervelli: Antonio Bastardo, Everth Cabrera, Nelson Cruz, Fautino De Los Santos (minors), Sergio Escalona (minors), Fernando Martinez (minors with Yankees), Jordan Norberto (free agent), Jhonny Peralta, Cesar Puello (minors), Jordany Valdespin (minors) and former Yankees farmhand Jesus Montero (minors). Yasmani Grandal and former Yankees Bartolo Colon and Melky Cabrera were not disciplined after serving 50-day suspensions within the last calendar year.
I wish I could say I'm glad this is all over and done with, but that's not the case. Not even close. The appeal ensures this will drag on for another few weeks and I'm guessing there will still be regular A-Rod updates even after that. The good news is that we are a big step closer to getting some closure though. The Biogenesis stuff has been in the headlines far too long and is taking a lot away from the games on the field. It's great MLB is going to such great lengths to clean up the game, but make no mistake, it is coming at a cost.