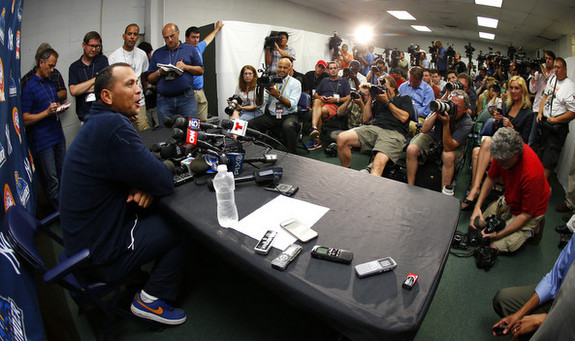 Alex Rodriguez started what is supposed to be a quick little two-game rehab stint with Double-A Trenton last night, hitting a long homerun and playing five innings at third base. During his post-game press conference, the team's third baseman came out swinging with some thinly-veiled accusations. Here are the quotes, courtesy of Ronald Blum:
"There are a lot of layers," he said after homering Friday night for the Double-A Trenton Thunder in his return from a leg injury. "I will say this: There is more than one party that benefits from me not ever stepping back on the field. And that's not my teammates and it's not the Yankee fans."

(snip)

"I think it is pretty self-explanatory. I think that is the pink elephant in the room," he said. "I think we all agree that we want to get rid of PEDs. That's a must. I think all the players, we feel that way. But when all this stuff is going on in the background and people are finding creative ways to cancel your contract and stuff like that, I think that's concerning for me, it's concerning for present — and I think it should be concerning for future players, as well."
Poor Alex can't even get through a simple cliche without messing it up. He also said he expects to return to the team Monday in Chicago "unless I get hit by lightning, and these days you never know."
Anyway, it's obvious A-Rod is referring to the Yankees here, and he isn't exactly wrong. There have been countless reports in recent weeks and months suggesting the Yankees are trying to find a way to wiggle out of the 4+ years and $90M-something left on his contract, not to mention all the stuff about MLB wanting him out of the league. He's just saying what we all know.
Between the recent Mike Francesa interview shenanigans and these quotes, basically all the public barbs the two sides (technically three sides) have traded in recent weeks, one thing is becoming increasingly clear: if A-Rod goes down, he's going down with guns blazing. I'm not going to lie, part of me is looking forward to the ensuing chaos. It will be fascinating.