Outside of a major arm injury, I'm not sure things could be going any worse for CC Sabathia this year. The big left-hander is sitting on a yucky 4.73 ERA (4.20 FIP) in 160 innings across 24 starts, thanks in large part to a sudden Hughesian affinity for the long ball — Sabathia has already allowed a career-high 25 homeruns (1.41 HR/9 and 14.5% HR/FB) this year, and that includes a 1.63 HR/9 (16.9% HR/FB) away from homer happy Yankee Stadium. In the second season of his five-year extension, CC is having the worst year of his 13-year-career.
Early on, back in April, fastball velocity was believed to be the root cause of his problems. Sabathia came out of the gate sitting in the 88-89 mph range, occasionally hitting 91 or 92, but his heater has picked up some oomph as the weather warmed up and the season progressed. Here, look: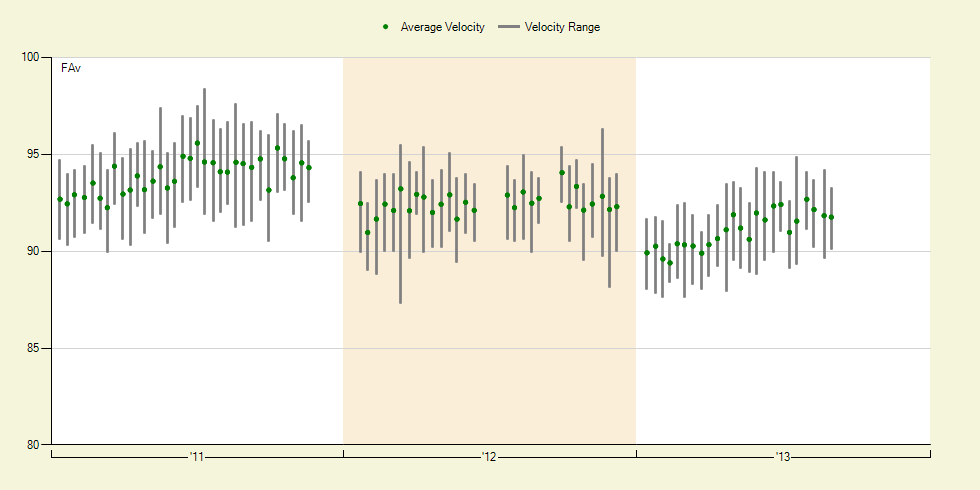 Sabathia's fastball isn't what it was even two years ago, but it has been trending upward in recent months. In his most recent start, he averaged 92.6 mph and topped out at 94.0 mph. That's plenty. Velocity, the pure radar gun reading, is not the reason the Yankees nominal ace has been pitching like a number five starter.
One possible (and suddenly popular) explanation has been his weight loss. Sabathia is a big dude with broad shoulders and a big ass, he's built to carry a lot of weight, but he's shed upwards of 30 pounds in each of the last two offseasons. Losing weight is a good thing, especially when you're talking about a pitcher with a twice surgically repairing landing knee. That doesn't mean pitching with fewer pounds is easy though, it requires an adjustment.
"The weight loss has created a balance problem for him," said one evaluator to Nick Cafardo recently. "He's all over the place. He's learning how to pitch in that body, a body he's really never had. I don't think there's anything wrong with him other than that. Sometimes you pitch at a certain weight all your life and then someone has the brilliant idea that you should lose weight because it's putting stress on your knees, you do it, and then you're dealing with something else."
According to PitchFX, Sabathia's average release point has dropped 1.68 inches from 2012 to 2013 after dropping 2.04 inches from 2011 to 2012. His release point has also drifted an additional 1.8 inches towards first base from last year to this year. Think about the hands on a clock; his release point was sitting at one o'clock last year but has slid down and further out towards two o'clock. That slight change in arm slot seems small but it can make a huge difference, especially when you're talking about the bite on a slider or the ability to drive a fastball downhill.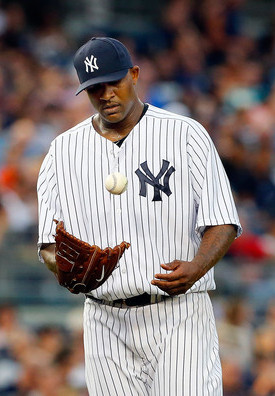 "The consistent problem is the command," said pitching coach Larry Rothschild to Andy McCullough two weeks ago. "Even though his strike percentages are okay, it's what's going on in the strike zone. A lot of his fastballs and changeups are cutting. Which is a major problem for him."
That cutting action hasn't really shown up in PitchFX — Sabathia's fastball has an extra half-inch or so of horizontal movement this year, which is nothing — but is something Rothschild has mentioned as a problem for several weeks now. It also seems like something that could be attributed to the lower release point. Dropping the arm creates more movement, it's just the physics of this whole pitching thing. That's why sidearmers and submariners always have those ridiculous fall off the table sinkers and frisbee sliders.
So the question now is why has his release point (and his arm slot) dropped? Is it because of the weight loss? Is it the toll of over 2,800 career regular season and postseason innings? Is it the result of his offseason elbow surgery? Is Sabathia muscling up in an effort to create the velocity he's lost over the years? I don't know. It could be none of those things or it could be all of those things. Pitching mechanics and deliveries are weird like that. They're these fine-tuned yet never quite perfect unnatural acts, and sometimes stuff goes wrong for no apparent reason.
If the problem is Sabathia's recent weight loss, then it's probably a good thing because it should be easily correctable. I'm not talking about gaining the weight back, that's kinda silly. The weight loss is healthy and he should keep it off. It's a good thing because it's something he can adjust to and iron out with enough reps. It's been a challenge so far, but no one said it would be easy. I suspect Sabathia's career workload and offseason elbow surgery are playing a part in his awful season though, and although I have faith in the big guy to figure it out, I can't say for certain that he will.