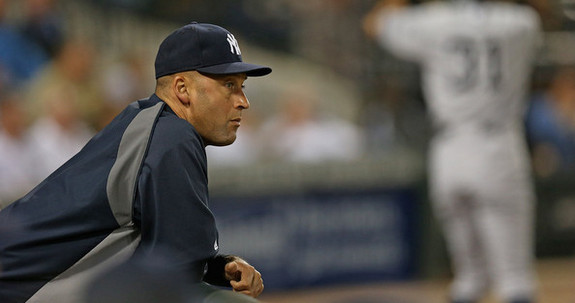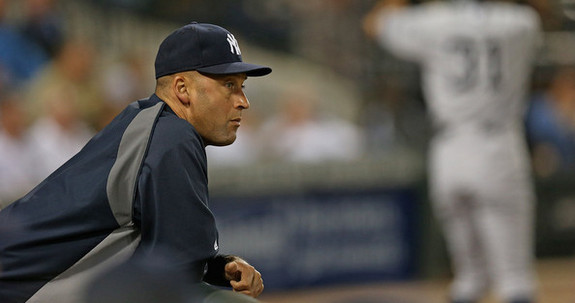 This has been nothing short of a nightmare season for Derek Jeter. After a brilliant 2012 campaign in which he led all of baseball with 740 plate appearances and 216 hits, the Cap'n has been limited to just five of the team's first 125 games due to a string of leg injuries this year. First it was the broken ankle, next it was the strained quad, then it was the strained calf. One injury after another.
Jeter, who turned 39 two months ago, has been on the DL for 18 days with the calf problem now. After several days of taking batting practice and fielding ground balls down at the club's complex in Tampa, he graduated to a simulated game on Monday and running the bases on Tuesday. Running sprints in the outfield is one thing, but running the bases — having to cut and change direction — is another. Running the bases is usually the final rehab step before a return to game action.
"There's a plan in place. I'm not gonna reveal the plan until we get there … The fact that he's running the bases is a positive sign for me," said Joe Girardi to Dan Martin earlier this week while discussing Jeter's progress and a possible return date. As for rejoining the club in Tampa for their upcoming weekend series against the Rays, Girardi offered a simple "I'm not sure."
It goes without saying the shortstop position has been a black hole for the Yankees this season. Eduardo Nunez, who the team so desperately wants to show he's a capable everyday player, has hit a meager .244/.301/.377 (71 wRC+) with shaky defense and plenty of injury problems of his own. Other fill-ins like Reid Brignac and Luis Cruz were sub-replacement level. WAR isn't the holy grail of player valuations, but I don't think too many people will argue with the AL-worst -0.9 fWAR the Yankees have gotten from the position this year. If anything, they might be getting off easy. The team's shortstops have been awful.
Jeter, on the other hand, isn't awful. At least I don't think he is. He might be awful for a few weeks after coming off the DL, it happens, but that would be more of a surprise than anything. I don't think it's realistic to expect Jeter to repeat last year's .316/.362/.429 (117 wRC+) performance, not after missing all this time (rust!), but I think it's completely reasonable to expect something better than the .221/.279/.293 (54 wRC+) line the Yankees have gotten from his replacements. That doesn't mean they'll actually get it, the Cap'n could always stink for no apparent reason, but I would expect it.
On the field, Jeter will be a huge upgrade over the team's current shortstops. That's not really much of a question at this point. And you know what else? Something about the Yankees just feels different when Jeter isn't around. It's hard to explain and yet I know you know exactly what I mean. The team give off a different vibe when he's in the lineup — the offense feels more capable and I have a greater sense of confidence in the lineup overall. What know I mean? Does that feeling resonate with the players and have a tangible on-field impact? I have no idea. I just know the Yankees with Jeter are better than the Yankees without Jeter.
Thanks to yesterday's doubleheader sweep over the Blue Jays, New York has won four straight games and eight of their last ten. They've shaved two games off their deficit in the second wildcard race during that time, passing the Royals in the process. Now there are only three teams ahead of them. That's still a daunting task, no doubt about it, but things are heading the right direction. Getting Jeter back — hopefully this weekend or shortly thereafter — and adding him to a lineup made deeper by the recent Alfonso Soriano trade and activations of Alex Rodriguez and Curtis Granderson will be the final realistic upgrade the Yankees could make this year. Their postseason odds are small, but the Cap'n could be the final piece of the puzzle that helps them make a strong push down the stretch.