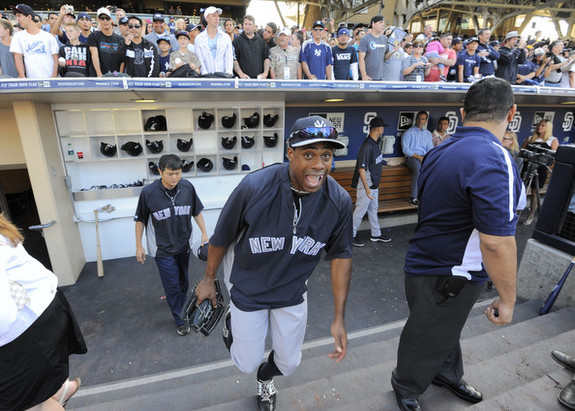 Thanks to two fluke long-ish term hit-by-pitch injuries, Curtis Granderson's contract year has been a disaster. Sure, he's back on the field now with less than two months to play, but that's not much time for him to showcase himself to prospective employers. If he stinks, is it because of the injuries? If he's great, is it because he's well-rested at a time when other players are grinding and dealing with the fatigue of 100+ games already played? It's a tough spot.
The Yankees, of course, are one of those prospective employers. They know him better than anyone right now. They know his work ethic, his personality, his medical information, pretty much everything you'd want to know about a player before paying them many millions of dollars. They also know their lineup is woefully short on power and figures to remain that way next season even if Robinson Cano re-signs and Mark Teixeira comes back perfectly healthy. Even with all the strikeouts, there's a place for Granderson in the team's 2014 lineup.
That said, the Bombers already have four veteran outfielders under contract for next season: Brett Gardner (he qualifies as a veteran by now, right?), Ichiro Suzuki, Vernon Wells, and Alfonso Soriano. There's also the currently injured Zoilo Almonte, who did enough during his month-long cameo to at least earn a long look in Spring Training. Melky Mesa will also be out of minor league options next year, though he hasn't exactly forced his way into the team's long-term picture this season.
That's a lot of bodies for a few spots, but it really isn't. Soriano can hide as the DH next year — his right-handed power makes him useful and worth keeping around at this point — and Almonte can go back to Triple-A Scranton as a depth piece. Vernon Wells has already been marginalized this year, starting just four of the team's last eleven and 24 of their last 43 games. That's what happens when you're a sub-replacement level hitter for about three months. The Yankees owe Wells $2.4M in real dollars next year, but thanks to some fancy accounting he has zero impact on the luxury tax. Being "free" might be enough to save his job.
As Matt wrote over the weekend, Granderson is a prime candidate to receive a qualifying offer after the season. They're expected to be worth $14M this winter, which would be a pay cut from his current $15M salary. If Granderson accepts, great. They'll make room for his power in the lineup. If he declines, the Yankees will get a supplement first round pick if he signs elsewhere. As it stands right now, making Curtis the qualifying offer is a no-brainer. I know if I was a fan of another team, Granderson would definitely someone I would be focusing on as a potential "buy low" candidate over the winter thanks to the injuries. A qualifying offer would be a no-lose situation for New York.
The question now is how expendable do the Yankees consider Granderson? Do they consider Soriano-Gardner-Ichiro with Wells and maybe Almonte on the bench to be a viable outfield? They shouldn't, but they might. The team has made some … questionable, roster choices over the last 18 months or so. Dumping Granderson would free up a lot of space under that all-important $189M luxury tax limit, and Hal Steinbrenner has made it very, very clear that getting under the threshold is important to him. Could it be so important they don't even risk a qualifying offer? That I doubt, at worst they'd be able to trade Granderson and his $14M before next season. We can't know that for sure, however.
Even though the Yankees have a bunch of warm bodies slated for the outfield next year, only one of those guys (Gardner) is a legitimate above-average player. Everyone else is above-average name value with meh on-field value. If he's willing to take a one-year pillow contract to rebuild value, Granderson would fit right into their left field picture and the middle of the lineup. If he wants a multi-year deal — it's very possible he gets offered one, teams have a lot of money to spend but not many places to spend it these days — then chances are he'll be suiting up elsewhere. That would be a shame, because the Yankees could use his bat next season even though they already have a bunch of warm outfield bodies under contract.