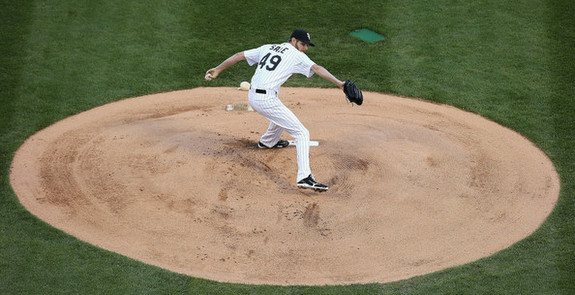 Well, the Yankees need a win and they have the right guy on the mound for that tonight. So do the White Sox, unfortunately. Hiroki Kuroda's latest bad luck pitching matchup pits him against Chris Sale, who is no worse than the third best left-handed starter in baseball. You can made a pretty strong case he's the second best behind Clayton Kershaw (Kuroda's last opponent) and ahead of David Price. Either way, he's awesome.
Even with Alfonso Soriano and Alex Rodriguez in the lineup, the Yankees still lack some punch against left-handed pitchers. Unless Sale has a really off night, they'll have to employ the ol' Pedro Martinez strategy and wait him out before hopefully jumping on the bullpen. Kuroda is capable of matching Sale zero for zero, but that's an awful lot pressure to put on the starter. Scoring runs early for a change — the Yankees have scored a total of four runs before the sixth inning in the first six games of this road trip — would be a wonderful way to do that. Here's the lineup that will face Mr. Sale:
CF Brett Gardner
LF Alfonso Soriano
DH Alex Rodriguez
2B Robinson Cano
RF Vernon Wells
3B Jayson Nix
SS Eduardo Nunez
1B David Adams
C Austin Romine
And on the mound is Kuroda, who did not win AL Pitcher of the Month honors despite allowing a grand total of two runs in five July starts. Between that and the All-Star Game snub, the poor guy doesn't get a lick of national respect.
It's cool and cloudy in Chicago, but the rain is supposed to hold off until later tonight. It shouldn't be a problem unless they go into extra innings or something. First pitch is scheduled for a little after 8pm ET and can be seen on YES My9. Enjoy.