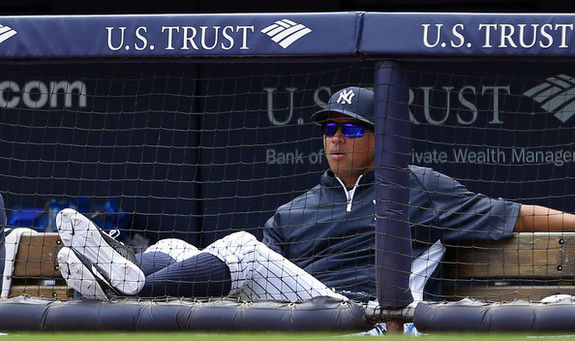 The Yankees got a monkey off their back by winning their first series in almost six weeks yesterday, but they still haven't won back-to-back games in exactly one month now — they beat Royals on July 11th and the Twins on July 12th. That was right before the All-Star break. Everything is set up for them to win that elusive second straight game tonight against the woeful Angels, who are starting a pitcher who was recently a short reliever (Garrett Richards) against staff ace Hiroki Kuroda. Here's the lineup Joe Girardi is running out there:
CF Brett Gardner
DH Ichiro Suzuki
2B Robinson Cano
3B Alex Rodriguez
1B Lyle Overbay
LF Alfonso Soriano
RF Curtis Granderson
SS Eduardo Nunez
C Chris Stewart
And on the mound is Kuroda, who leads the AL with a 165 ERA+. He is coming off his worst start in six weeks and it wasn't all that bad anyway: three runs in seven innings. Kuroda is like sex — even when he's bad, he's still pretty good.
It's warm and humid in New York, and there might be some showers later on tonight. Hopefully they won't impact the game at all. First pitch is scheduled for 7:05pm ET and can be seen on YES locally and ESPN nationally. Enjoy.