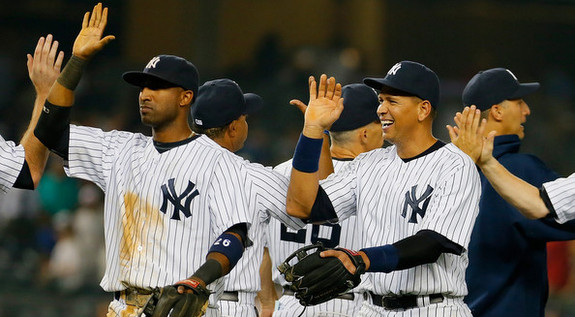 The Yankees have won two straight games and three of their last four (!), which I think qualifies as "being on a roll." That's pretty neat. The club is stuck in this unfortunate limbo of being not good enough to contend but not bad enough to earn a protected first round pick, so go down in a blaze of glory I say. Raise some hell and play spoiler in September. They can start by winning their third straight game tonight. Here's the lineup that will face fresh off the DL left-hander Jason Vargas:
SS Eduardo Nunez
LF Alfonso Soriano
2B Robinson Cano
DH Alex Rodriguez
RF Vernon Wells
CF Curtis Granderson
3B Jayson Nix
1B Lyle Overbay
C Austin Romine
And on the mound is lefty CC Sabathia, who has allowed fewer than five runs just once in his last four starts. That was his last outing, so hooray for trending in the right direction? The Yankees need a strong performance from the big man and not just to help their slim 2013 playoff chances either.
It's been raining most of the day in New York and it'll start raining later tonight, but there's supposed to be enough of a window to get the game in. Let's hope that's the case, I really don't feel like sitting through a rain delay. First pitch is scheduled for 7:05pm ET and can be seen on YES. Enjoy.