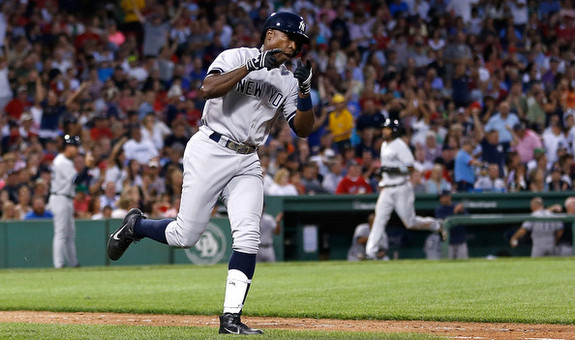 The Yankees have won six of their last eight games, including a blowout win over the Red Sox in the series opener on Friday night. The offense is firing on all cylinders thanks in large part to the molten hot Alfonso Soriano, who is doing a mean David Justice impersonation as the club tries to claw its way back into the playoff race.
New York will look to continue their recent hot streak with not just their best pitcher on the mound this afternoon, with one of the best pitchers in all of baseball. Hiroki Kuroda has been masterful all season but especially of late, posting a 0.94 ERA and 2.08 FIP in 48 innings across his last seven starts. He's held batters to a .215/.253/.267 batting line during that time. That's basically Chris Nelson as a Yankee (.222/.243/.278). Yeah, Kuroda's been awesome.
Here's the lineup Joe Girardi is sending out there against right-hander John Lackey. He's allowed 18 runs in his last 32.2 innings (4.96 ERA). Let's hope those struggles continue.
CF Brett Gardner
RF Ichiro Suzuki
2B Robinson Cano
LF Alfonso Soriano
3B Alex Rodriguez
DH Curtis Granderson
SS Eduardo Nunez
1B Lyle Overbay
C Chris Stewart
And, like I said, Kuroda is on the mound.
It's a little cloudy in Boston but there is no threat of rain. Not too hot, not too cold, not too humid … pretty great day for baseball. First pitch is scheduled for a little after 4pm ET and can be seen on FOX. FOX plus Fenway Park usually equals pain for the Yankees, but I'm feeling good about this one. Enjoy the game.