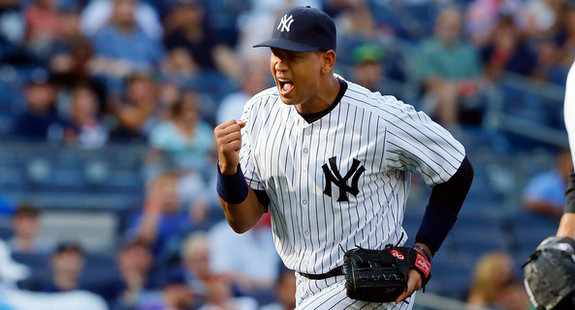 It's gut check time. The Yankees beat the crap out of the Blue Jays this week to climb to within striking distance of a wildcard spot, but now it's time to face an actual good team. A playoff caliber team, even. The Rays are one of three teams — more if you consider how close the AL East and AL West division races are — the Bombers are currently chasing for that second wildcard spot. New York comes into the series five back of Tampa.
Despite what is usually a strong pro-Yankees crowd — Tampa is the team's home away from home, remember — Tropicana Field hasn't been too kind the Yankees these last few years. They did take two of three at the Trop back in May, but otherwise they've won just six of their last 21 games in the ballpark dating back to 2011. Thankfully, that means nothing now. It has no bearing on how the Yankees will perform this weekend. Here's the lineup that will face right-hander Chris Archer:
CF Brett Gardner
DH Curtis Granderson — Joe Girardi said he'll be the primary DH going forward
2B Robinson Cano
LF Alfonso Soriano — prefers to play the outfield, hence Granderson at DH
3B Alex Rodriguez
RF Ichiro Suzuki
1B Mark Reynolds — Lyle Overbay was a late scratch with flu-like symptoms
SS Eduardo Nunez
C Chris Stewart
And on the mound is the Ace in America, right-hander Hiroki Kuroda.
It's hot and humid with on-and-off rain all day in St. Petersburg, so I guess it's a good thing the Trop has a roof. First pitch is scheduled for 7:10pm ET and can be seen on My9. Enjoy.