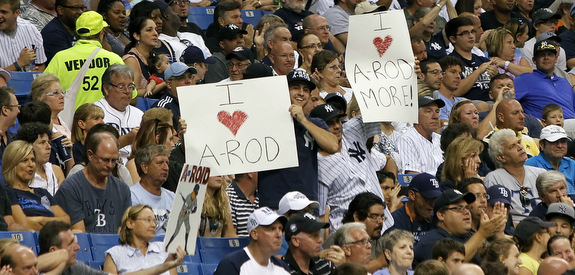 The first two games of this three-game set against the Rays were a reminder of just how tough the road to the postseason will be for the Yankees. It won't all be beating up on the Angels and Blue Jays. They'll have to actually beat some good teams along the way. A lot of good teams, really.
To their credit, the Yankees did take two of three from both the Tigers and Red Sox within the last two weeks. That doesn't mean dropping at least two of three to the Rays is okay. They don't have that kind of room for error. Joe Girardi's squad needs to win every series from here on out, against the good teams and bad teams. Salvage this series today and then go pound Toronto in Toronto for a few days. Here's the lineup that will face right-hander Alex Cobb:
CF Brett Gardner
RF Ichiro Suzuki
2B Robinson Cano
DH Alfonso Soriano
LF Curtis Granderson
SS Eduardo Nunez
1B Lyle Overbay
3B Mark Reynolds
C Chris Stewart
And on the mound is right-hander Ivan Nova, who has allowed seven runs in 13.1 innings across his last two starts. He had allowed seven runs in his previous 45 innings and six starts.
First pitch is scheduled for 1:40pm ET and can be seen on YES. Enjoy.