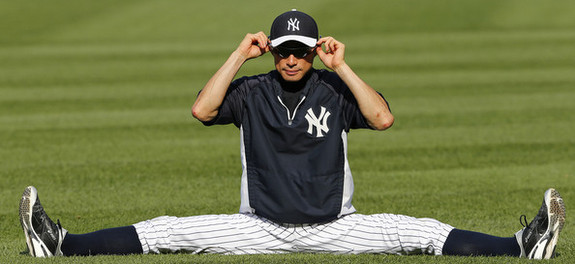 Last night's series-opening win against the Orioles was great and it means nothing now. This is a new day and there's a new game to win. That's how the Yankees have approach the rest of the season because they simply can't afford to sit around an enjoy a win for much time. They might not make it to the postseason, but you know what? These are playoff games right now. It's October in August. Here's the lineup Joe Girardi is running out there against right-hander Scott Feldman:
CF Brett Gardner
SS Derek Jeter
2B Robinson Cano
DH Alfonso Soriano
LF Curtis Granderson
3B Mark Reynolds — Alex Rodriguez was a late scratch with flu-like symptoms
RF Ichiro Suzuki
1B Lyle Overbay
C Chris Stewart
And on the mound is right-hander Ivan Nova. His last three starts have been a little shaky but not complete disasters. The Yankees did manage to win all three games, thankfully. Nova walked a career-high tying six batters last time out and if he does that against the Orioles, it'll be a big problem. They rank dead last in the AL in walk rate (6.7%) and first in MLB in homers (178).
It's another warm and humid day in New York, and there are some showers in the forecast for later this afternoon. It doesn't look like they will impact the game unless it goes to extra innings or something, but who really knows with the weather. The game is scheduled to begin a little after 1pm ET and can be seen on YES locally and MLB Network nationally. Enjoy.
Injury Update: Eduardo Nunez (knee) is available off the bench today. No offense to Eduardo, but hopefully the starters stay healthy and they don't need him.