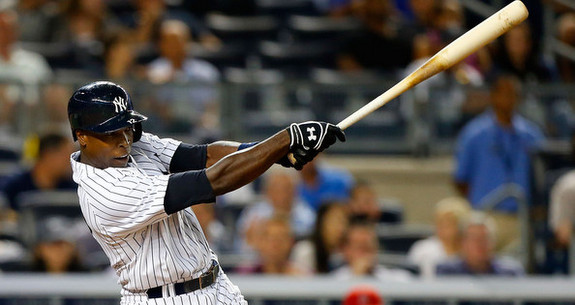 With an assist to the impossibly bad Angels bullpen — seriously, how awful is Joe Blanton? — the Yankees scored a season-high tying 14 runs on a season-high 19 hits last night. During one span from the fifth through seventh innings, 14 of the 21 men they sent to the plate reached base. It was, by far, the best the offense has looked since April.
"It felt more like the old days," said two-homer man Alfonso Soriano to Chad Jennings after the game, referring back to his first stint with the Yankees in the early-2000s. "We scored 14 runs today, so I hope we can do that more often. I know it can't happen every day because the other team gets paid to get us out, but I hope we continue playing like we played tonight."
Even with last night's 14-run outburst, the Yankees are still only averaging four runs per game with a team .249/.324/.383 (94 wRC+) batting line in August. That's a bit below-average but way better than what the offense did during the disaster months of June and July: 3.58 runs per games with a team 72 wRC+. The Yankees spent two hot summer months in a hitter friendly home ballpark hitting — as a team (!) — like consummate fifth outfielder Endy Chavez (72 wRC+). Think about that.
The Yankees have hit eleven homeruns in their last six games and 13 in August overall, more than they hit in July (ten) and the same number they hit in their previous 31 games combined. Not coincidentally, Soriano joined the lineup along with Curtis Granderson and Alex Rodriguez recently. Soriano has hit five homers in 19 games since returning to the Yankees and Granderson has hit two in his eleven games back. A-Rod, who many believed would never play again as recently as last month, has even gone deep once in his seven games back.
Those three, even with all their flaws, represented massive upgrades to the lineup. The bar at third base, in left field, and at DH had been set so low that even league-average production would have been a huge step up. More A-Rod means less Jayson Nix (62 wRC+) and David Adams (45 wRC+). More Granderson means less Vernon Wells (79 wRC+). More Soriano means less Travis Hafner (87 wRC+), who wound up on the DL anyway. Guys like Nix and Wells moved back into roles more suitable for their abilities rather than be asked to play everyday. Add in the recently productive Austin Romine taking at-bats away from Chris Stewart and the Yankees have upgraded four lineup spots in the last three weeks or so.
The lineup Joe Girardi ran out there on Sunday and Monday…
Brett Gardner
Ichiro Suzuki
Robinson Cano
A-Rod
Lyle Overbay
Soriano
Granderson
Eduardo Nunez
Stewart
…is the deepest lineup the Yankees have had this season. Yeah, Granderson and Overbay should be flipped and Romine should be in there for Stewart, but you get the point. Six of the top seven spots are filled by hitters who should be league average or better offensive players, whereas a few weeks ago the Yankees were trotting out a lineup with just two such hitters. There's power, speed, and batting average to be found in that lineup. They were lucky to get one of three in June and July.
All of this offensive improvement is probably too little, too late though. The Yankees have just a small chance of making the postseason — 4.6% according to Baseball Prospectus — in part because the lineup was so bad for so long. They needed to go out and get a bat or three in early-June, right after Granderson, Mark Teixeira, and Kevin Youkilis (remember him?) suffered their long-term re-injuries. That didn't happen and the Yankees are where they are. Such is life. At the very least, they now have a lineup capable of being competitive in a daily basis. That wasn't the case for much the year.