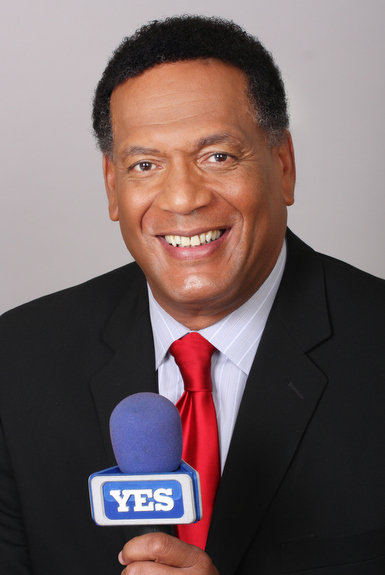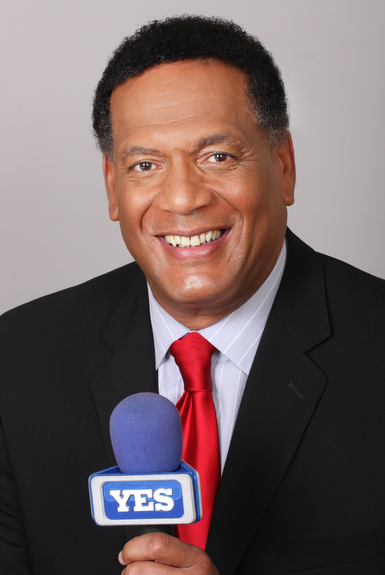 Friend of River Ave. Blues and YES Network announcer, Ken Singleton, was kind enough to give an hour of his time to discuss some of the current affairs swirling about the Yankees. We discussed everything from the all-consuming Alex Rodriguez saga, the trade deadline, Brian Cashman's relationship with the front office, to the team's direction heading forward. If you haven't read RAB's first interview with Ken, be sure to check it out here.
Matthew Warden: Might as well start with the huge elephant in the room. What are your thoughts on A-Rod, the pending suspension, and particularly, the Player Union's stance on the matter of PEDs?
Ken Singleton: Well, you know, it's unfortunate what's happened to Alex Rodriguez but I think you're dealing with this issue of PEDs — the first time it happened was bad enough and it kind of put a stain on his career. If all these allegations prove to be true it's certainly going to put an even deeper mark on his career, to the point where the fans say "enough is enough." You talk about the Player's Association, and they're involved with it, but I think you're getting to the point where they're saying "enough is enough" too.
You heard Michael Weiner, the director, mention that he's going to take each case on an individual basis, and, if there is enough evidence against a particular player, that the Player's Association will not back him, at least not to the point that they had in the past when they just stonewalled all kinds of punishments. But now, I think what you're seeing is that the majority of the players in the game want the game cleaned up. They don't want it to be stained by anyone taking PEDs. Take your punishment and move on. And for Alex, it seems like his punishment will be more than anyone else's because some of the other things he's done regarding the Biogenesis investigation.
It's sad.
MW: It is sad. Correct me if I'm wrong, but A-Rod has never failed a drug test.
KS. That's true.
MW: He came out and admitted to having used them during a time when free passes were being handed out. Now, I understand the league being infuriated with him allegedly tampering with their investigation, which has to be what the punishment emphasizes, right?
KS: Yeah. And I think it's because number one, he admitted to using it before and he's come back and has appeared to have used them again. And number two – and this is why I think his punishment is so much larger than everyone else's – is because of what you just said. He supposedly interfered with the investigation, and that's not a good thing for anyone to do. It's almost at the point where legality has to be involved. I think this is why the book has been thrown at him, and it's almost as if they want him off the field and that's it. There's a lot of money involved and that's probably part of it, but he's brought this situation on himself. As I said, it's sad that he's had such a great career and if it ends like this, it's really a shame.
The thing about it is if his suspension is so long – you have to remember he's missed all of this year – and if he misses a large remainder of this season and all of next season, that'll be two years basically of not playing. He'll be nearly 40 years old. How many simulated games can he go through and still be able to keep his edge? It's difficult for anyone coming back from an injury – even after a two week period – to get ramped up again, let alone more than half the season. I just don't know. I know that he wants to play.
MW: Yeah. It's tough too because he's always had his fair share of baggage.
KS: [Laughs] You're right. It's not always PEDs. It's other situations too.
MW: Yeah, I think I can speak for most rational Yankee fans when I say the amount of baggage that he brought off the field, for most of his career, was grossly dwarfed by the amount of quality production he's provided on it. There have been instances here and there where he drives everyone crazy, sure, but he's been a dominant player for a long time and really that's what's most important.
KS: That's true too.
MW: And I feel like in the last few years, perception surrounding Alex has begun to change in this regard. He's become more of a problem then he's worth (his abilities don't justify his actions, perhaps unlike a guy like Ryan Braun who is still potentially an elite Outfielder) and you get the feeling the team is hoping/preparing for that moment when they get to cut their losses at this point. Do you agree?
KS: Yeah that might be the case. Everybody is going through the motions as if he's going to come back and play. Major League Baseball — it's not the Yankees, it's MLB — holds the hammer here. If MLB says, "No," he won't come back. So the Yankees have to play as if he'll come back, and play for their team. They've got four home runs out of their third basemen this year.
MW: Yeah…
KS: They need someone at third base whether it's A-Rod or anyone else. I mean Kevin Youkilis has been out practically all season – he's played only 28 games – the Yankees are struggling at a position that teams usually get a lot of production from. You have to play it like he's coming back but I have a feeling that Major League Baseball and Bud Selig will not allow it to happen. That's the feeling I get.
MW: I think you're right too, and for exactly that reason. The production the Yankees have gotten out of their third basemen has been abysmal, like the worst in Major League Baseball abysmal. You would think if A-Rod weren't so stigmatizing, they'd be chomping at the bit to get him back out there if they had any real hope of contending this season.
KS: Yep, but unfortunately that's not the case.
MW: Perhaps some of that has to do with that rather bizarre incident with the doctor and the strained quad.
KS: It just added to the circus, Matt. It's almost like he's trying to make things even more convoluted and it's hard to do that because it is that way already. [Laughs] I just think a lot of players on the team would like to see this go away whether it means A-Rod comes back and plays or is just gone altogether. They're getting a lot of distractions and A-Rod hasn't even been with the team nearly all season long. It's been a tough enough year as it is with all the injuries, but they've still managed to have a chance to make a playoff spot.
MW: Pretty incredible, huh?
KS: Yeah it is. It's just amazing that they're at this point. Sabathia's 9-10; he's giving up over 19 runs in his last 15 innings and is pitching the worst that he's ever pitched through his time in the Major Leagues. They need to get him going to have any chance. But that seems to be a mild distraction compared to what's going on with Alex Rodriguez, and CC's been on the field all season long.
This whole thing is uncharted territory, and Bud Selig and Major League Baseball are really trying to make a statement here. Remember, Bud Selig is retiring pretty soon. PEDs came to the forefront in the middle of his watch and I don't think he wants that to be his legacy. I think he wants his legacy to be, "I did the best I could to clean this up. I went out and got rid of one of the best players ever because of the fact he had been doing PEDs." I also think this would be like Joe Jackson. Pete Rose, that sort of thing. These are big time players who were suspended for life, and if that happens to A-Rod, he'll fall into that category.
MW: I'm glad you mentioned Bud Selig. Do you think that his legacy will be that of the guy who cleans up the sport, or that of the hypocrite – that is to say the guy who cleaned up the sport after profiting off PEDs during baseball's revival after the strike?
KS: [Laughs] Yeah, I see your point Matt. The point is that these issues all came to the forefront while he was commissioner and a lot of people feel he looked the other way, but now he he's getting it cleaned up so he can leave with his hands kind of washed. I don't think they'll ever be totally washed no matter what he does.
* * *
That's part one of our chat with Ken. Next we'll get into some more "state of the team" issues, so check back for that!