Two straight wins? Two straight wins! The Yankees have won back-to-back games for the first time since winning three straight exactly one month ago. Yeah, it had been a while. New York took the series opener against the Angels by the score of 2-1.
Cy Kuroda
With eight scoreless and relatively stress-free innings on Monday, Hiroki Kuroda has now allowed a total of five runs in his last seven starts and 48 innings. That's a 0.94 ERA. In eleven home starts — that's eleven starts in homer happy and hitter friendly Yankee Stadium — he's got a 1.54 ERA. That's the best home ERA by a qualified starter in the AL. Only Felix Hernandez (2.28 ERA) has been better at preventing runs overall in the so-called Junior Circuit this season.
Anyway, Kuroda held the Halos to a single, a walk, and two doubles in those eight innings of work. He struck out seven, got a dozen ground ball outs compared to five in the air, and recorded 22 of his 24 outs on the infield. At one point from the second through eighth innings, Kuroda retired 19 of 22 batters faced. He was marvelous, masterful, impressive, amazing, astounding, distinguished, meritorious, handsome, and all around swell. The Yankees need to hand this guy a blank check after the season. Kuroda can't go anywhere.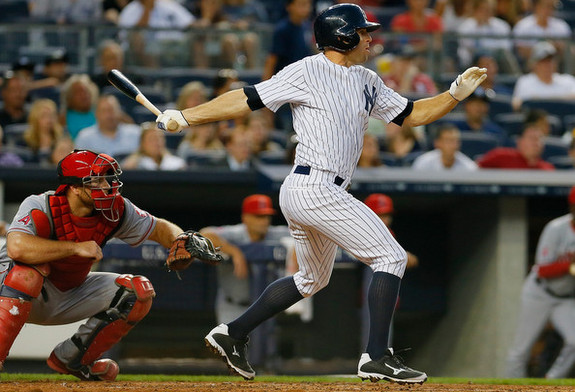 The Second Run Counts As An Insurance Run
It's become a regular thing to dump on the Yankees offense this year — don't get me wrong, they do stink — but I thought Angels starter Garrett Richards actually pitched rather well. He had a real sharp slider to pair with his mid-90s fastball, and although he doesn't miss as many bats as his stuff suggests he should, Richards excels at getting hitters to beat the ball into the ground. Sure enough, 15 of his 24 outs came on the ground in this start.
The Yankees did break through for a pair of runs though, the first on a clutch two-out single by Brett Gardner in the third (Eduardo Nunez scored from second) and the second on a Curtis Granderson solo homer in the seventh. That's the kind of thing the Bombers couldn't do pretty much the entire first half of the season, tack on that one extra run with one swing in the late innings. It's really tough to score when you need to string together three or four hits just to push across one run. The Gardner single and Granderson homer were all the Bombers would get and need on Monday.
No Mo? No Problem … Kinda
It makes for a fun narrative that Mariano Rivera needed a day off to mentally rest after blowing each of his last three save chances, but that's not why he was unavailable in this game. The team's 43-year-old closer had thrown 81 stressful pitches over the last five days. That's all, he needed a breather, which meant the ninth inning belonged to someone else.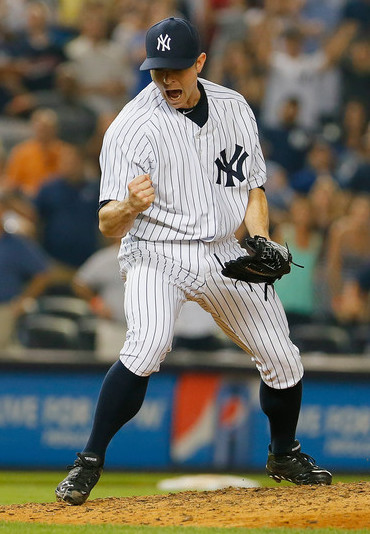 With Rivera unavailable, Joe Girardi turned to Boone Logan and David Robertson to preserve the two-run lead. Logan faced two left-handed batters to leadoff the inning and one reached base when a ground ball deflected off the first base bag. Robertson made things difficult by walking Mike Trout to put the tying run on base, and the next batter (Josh Hamilton) dropped the epitome of a bloop double into shallow left to score Anaheim's first run. If Alex Rodriguez had two good hips instead of two bad hips, he probably catches it over his shoulder like a wide receiver with ease.
That double put the tying run on third and the go-ahead run at second, and naturally the call was to make an even bigger mess by intentionally loading the bases. I hate intentionally loading the bases with a one-run lead. Hate it hate it hate it. Of course, Robertson is not your typical reliever, so he escaped the jam by striking out Mark Trumbo and former Yankee Chris Nelson. He has now retired each of the last 25 (!) batters he's faced with the bases loaded. Twenty-five! That dates back to 2011 and is the longest such streak since Jeff Brantley retired 30 straight with the bases loaded from 1989-1991. It wasn't the easiest save in the world, but no one is giving out style points.
Leftovers
Granderson was the only Yankee with two hits, and he saw just six pitches in this three at-bats. That's very un-Granderson-like, he works the count as well as anyone. In fact, five of the nine hitters in the lineup saw nine or fewer pitches (!) on the night. Seriously, we're talking about 36 total pitches for 15 at-bats (2.4 per). What's up with that?
A-Rod had a rough night, going 1-for-3 with a solid single to left-center. He also was thrown out trying to steal second — it looked more like a botched hit-and-run, really — and grounded into two double plays. Three at-bats, five outs. Ouch.
During a discussion about making penalties harsher, Michael Kay compared serving a performance-enhancing drug related suspension to being on death row. Just thought you should know that.
Box Score, WPA Graph & Standings
For the box score and video highlights, go to MLB.com. FanGraphs has some other stats and ESPN the updated standings. The Yankees remain seven games back of the second wildcard spot in the loss column. If you haven't noticed, it's real tough to pick up ground when you're chasing four teams. Cool Standings says New York's postseason odds have climbed to 3.5%, so … progress!

Source: FanGraphs
Up Next
Same two teams on Tuesday night, when CC Sabathia gets the ball against not Tommy Hanson. The Angels announced left-hander Jason Vargas will be activated off the DL to make the start instead. He's missed just about two months with a blood clot in his shoulder. Check out RAB Tickets if you want to be like me and attend the game.