Five whole questions for you today. Use the Submit A Tip box in the sidebar to send us anything throughout the week, mailbag questions or otherwise.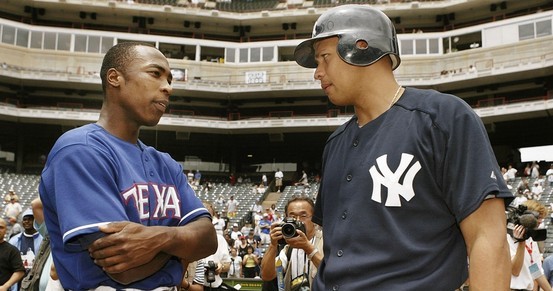 Nathan: Looking at their stats since the trade, Alex Rodriguez and Alfonso Soriano aren't too far apart. In retrospect, would you still have made that trade? A-Rod has the better stats but has been the bigger headache.
First, the side-by-side comparison (2004-present):
| | G | AVG | OBP | SLG | wRC+ | HR | SB | K% | BB% | fWAR | bWAR |
| --- | --- | --- | --- | --- | --- | --- | --- | --- | --- | --- | --- |
| A-Rod | 1249 | 0.292 | 0.387 | 0.538 | 143 | 302 | 141 | 18.9% | 12.0% | 48.9 | 52.0 |
| Soriano | 1354 | 0.268 | 0.321 | 0.504 | 110 | 292 | 159 | 21.4% | 6.5% | 28.1 | 17.7 |
A-Rod was the far better player because he was a better hitter and a better defender at a tougher position. Does the headache, which really only became truly insufferable these last few weeks (at least to me), outweigh the production? I definitely don't think so. The Rodriguez-Soriano trade worked out marvelously for the Yankees. It's the new ten-year contract they gave Alex after 2007 that has been mostly a nightmare. The 2009 World Series does still counts for something.
Bruce asks: Why is Michael Pineda still only throwing four innings a start?
The Yankees say it's "innings management," and it makes sense they would try to limit his workload following shoulder surgery. He did throw six full innings in his third minor league rehab game (with Double-A Trenton), but since reaching Triple-A Scranton he has yet to throw more than five innings and 86 pitches. The last two starts have been limited to three innings (41 pitches) and four innings (58 pitches).
Pineda has thrown 39 innings in nine official minor league games this year. That doesn't count all the simulated and Extended Spring Training games though, and there were a ton of those as you probably remember. I'm guessing they want to limit him to about 100 innings or so (hooray round numbers!) this season, and want to make sure there are some left for the big league team in September. Pineda's has already been down long enough to delay his free agency a year, so that's not a concern. I prefer flat out skipping starts to short starts to control innings, but the Yankees obviously feel differently. I'm sure Pineda will be allowed to start pitching deeper into the game in the coming weeks.
Sal asks: Based on the way Derek Jeter's Yankee Lifelong Legend Legacy is going, and with all kinds of earning potential out there for him even after he retires (corporate sponsorships and maybe even buying a stake in the Yankees), do you think he can end up with more lifetime earnings from the game of baseball than, uh, you know where I'm going with this … Alex?
According to Baseball-Reference, A-Rod is baseball's all-time career earnings leader at $353.4M. Jeter is second at … $253.2M. That's a nine-figure gap between first and second place. Geez. Keep in mind that Alex still has four years and $86M left on his contract after this season while the Cap'n just has a $9M player option for 2014. Given what feels like an inevitable Biogenesis-related suspension, A-Rod probably won't see all of that $86M. He'll probably still get a nice chunk of it though, so the career earnings gap will only widen.
I am completely out of my element when it comes to sponsorships and ownership stakes; I have no idea how lucrative that stuff can be outside of "very." Forbes has Jeter at $9M in endorsements (Nike, Ford, Gillette, etc.) this year and A-Rod at just $0.5M. We've seen him in ads for Nike and Pepsi, among other stuff, in the past. I have to think Alex's endorsements well will dry up following the Biogenesis stuff, but will that be enough to allow Jeter to pass him in career earnings over the time? It's possible, especially if he does wind up purchasing a stake in the team, but he's got a ton of ground to make up.
Mike asks: Does the Yankees being in 4th place make the waiver market at least slightly more favorite than in years past? Seems like there has been times where another team behind them was able to block a player from getting to them, now will they have easier access to players they want and can they now block players from getting to Boston, Tampa, or Baltimore?
Sure, being this low in the standings will definitely help the Yankees on the waiver trade market. Of course, I wish the team was higher in the standings and didn't need the players, but that's not the case. The Yankees have waiver priority over all of their wildcard competitors (Orioles, Indians, Rangers, Royals), meaning they'll get first crack at whoever is on waivers. That means they can both block players and trade for them, if they want. It's a nice consolation prize and could be helpful at some point.
Shaun asks: It may be to early to speculate, but do you see ownership's trend of going above Brian Cashman being a problem with Cashman's next contract? I know autonomy was a big deal to him during previous negotiations. If anything, ownership is making it more difficult to get under the $189 threshold.
Eh, I doubt it. Cashman knows how the Steinbrenner's operate, and I believe even he said there is no such thing as true autonomy at the GM level. Besides, he signed his most recent contract after the Rafael Soriano signing. Hal is much less meddlesome than his father, though I suppose Cashman could be sick of it after 15 (!) years on the job. Ownership has gone over his head quite a bit these last few years, but it would surprise me if that was a big problem for him going forward.
That said, I do think this is Cashman's last contract as Yankees GM. I'm pretty sure I've said this before. His current deal expires after next season, at which point I think he will be promoted to some other position. The "President of Baseball Ops" position the Cubs made up for Theo Epstein sounds nice. The Nationals just promoted GM Mike Rizzo to that just yesterday, so it's already a trend. Cashman will have been the GM for 16 years when his deal is up, and a promotion is the natural order of things at that point. It appears as though former pro scouting director and current assistant GM Billy Eppler is being groomed to take over sometime soon, or at least he's the only obvious in-house successor. I would be surprised if the Yankees brought in a new GM from the outside and threw them to the wolves. Experience and familiarity with the New York market would be a prerequisite.