Two games, two wins, one day. That's pretty rad. A few hours after coming back from a four-run deficit in the first game of Tuesday's doubleheader against the Blue Jays, the Yankees came back from a much more modest one-run deficit (twice) before walking off with a 3-2 win in the nightcap.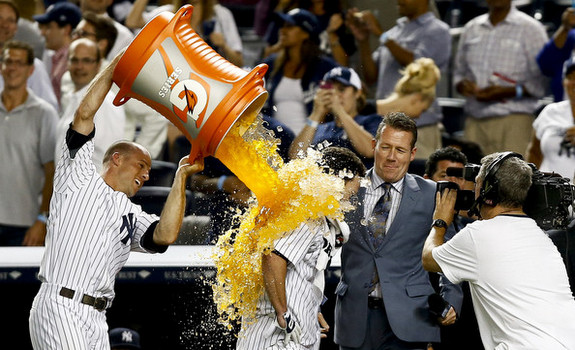 Sir Nix-A-Lot
Remember what I said earlier about needing unexpected contributions to make a serious run at a playoff spot? This game is exactly what I was talking about. Toronto southpaw Mark Buehrle, who has been mostly awful against the Yankees in his long career, held New York in check for the first 6.2 innings before surrendering a game tying solo homer. Who hit the homer? Utility infielder Jayson Nix. Contribution: Unexpected.
Nix didn't stop there though. Two innings later, with the winning run on third, he provided the walk-off single to left against another veteran left-hander, this time Darren Oliver. Mark Reynolds deserves props for setting up the rally with a leadoff walk, as does pinch-runner Ichiro Suzuki for stealing third with one out. An Eduardo Nunez sacrifice bunt was mixed in there as well. Between drawing a two-out walk in advance of Chris Stewart's go-ahead homer in Game One and both the game-tying homer and walk-off single in Game Two, Nix had one helluva day at the plate. This guy, man. He's just a baseball player. That's what he is.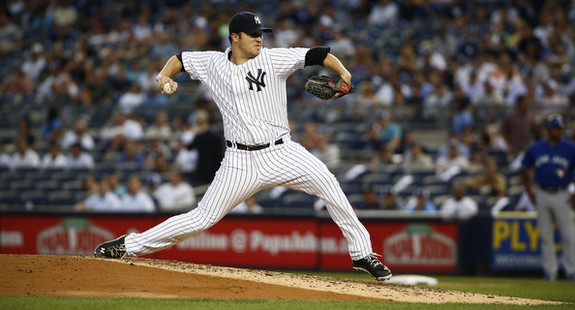 Phinally, A Good Start
These last few weeks and months have been pretty disastrous for Phil Hughes, so bad that the Yankees had won just four (!) of his previous 16 starts coming into Tuesday night. Most of that was his fault, of course. It's not like Phil has been lights out this year. Needless to say, getting six innings of two-run ball — no homers! — out of him in the second game of the doubleheader was a pleasant surprise.
Rajai Davis created the first run with his legs while Vernon Wells contributed to the second with his defense. Davis singled, stole second, moved to third on a ground out, and scored on a wild pitch in the first inning. Wells was unable to cut off a Munenori Kawasaki gapper that rolled to the wall for a triple in the fifth. Obviously the ball into the gap is on Hughes, but I surprised to see it get all the way to wall. A sac fly brought home Kawasaki later in the inning.
All told, Hughes allowed the pair of runs on six singles, one triple, and two walks in those six innings of work. He struck out six and, get this, generated eight ground ball outs compared to four in the air. What the hell is that about? The eight ground ball outs tie a season-high, which Hughes has done on three other occasions. By Game Score (54), it was Phil's best outing in six second half starts. Fair to call this an unexpected contribution? I think so.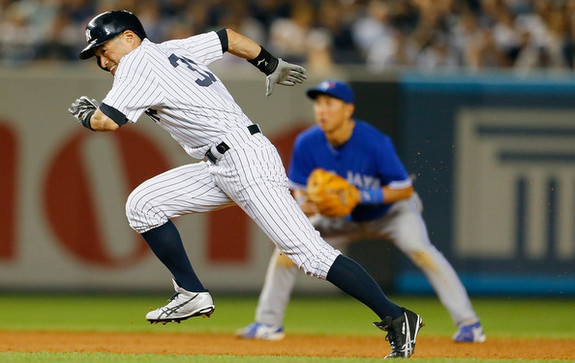 Leftovers
Is there anything more enjoyable to watch than a locked in Robinson Cano? After a 4-for-4 showing in the afternoon, Cano went 2-for-4 in the nightcap and plated the Yankees' first run with a two-strike, two-out single to left in the third. He also made a few stellar defensive plays on balls hit up the middle. When Robbie gets hot, he gets best hitter in the world hot. That's what he is right now.
How about Austin Romine? He went 3-for-3 with a double and scored the team's first run on Cano's single. One of Romine's two singles was off the wall and maybe two feet from being a homer to right as well. It was one of those "he hit it so hard he was held to the single" jobs. Between Stewart in the first game and Romine in the second, New York's catchers went 4-for-7 with a double and a homer on Tuesday. Unexpected contribution? Unexpected contribution.
Unsung hero: Preston Claiborne, who was with the team for the day as the doubleheader's 26th man. He replaced Hughes with a man on first and no outs in the seventh, then retired five of the six men he faced to chip in two scoreless innings with a short bullpen. Romine threw out an attempted base-stealer for the other out. Those were two pretty big innings to bridge the gap between the Hughes and Mariano Rivera, who tossed a scoreless ninth. Mo pitched in both ends of the doubleheader.
Cano, Nix, and Romine combined for seven of the club's eight hits. The four through seven hitters went 0-for-13 with two walks — one intentional and one unintentional. Alex Rodriguez had his worst game since coming off the DL, going 0-for-4 with three strikeouts and a rally killing double play in the eighth. After being outrageously hot last week, Alfonso Soriano is suddenly in an 0-for-15 slump. As you probably remember from his first stint in pinstripes, Soriano is insanely streaky. He'll come out of it soon enough.
Box Score, WPA Graph & Standings
MLB.com has the box score and video highlights, FanGraphs some nerdier stats, and ESPN the updated standings. Depending on the outcome of the late game, the Yankees will be either five games (Athletics lose) or six games (Athletics win) back of the second wildcard spot in the loss column. New York did, however, move passed the Royals in the standings with the two wins, so there are only three teams ahead of them in the race now. If the Angels manage to beat the Indians, they'll move ahead of Cleveland by percentage points as well. Cool Standings has the Yankees postseason odds at 10.5%. Progress. Glorious progress.

Source: FanGraphs
Up Next
Same two teams on Wednesday night, the middle day of this four-game, three-day series. Adam Warren is making the spot start in place of Andy Pettitte — the Yankees need to use a spot starter at some point in the next four days because of the doubleheader, so they'll get it out of the way and give the veteran starters an extra day of rest in the process. Reigning NL Cy Young Award winner R.A. Dickey will be on the bump for Toronto. Check out RAB Tickets if you want to catch the game live.