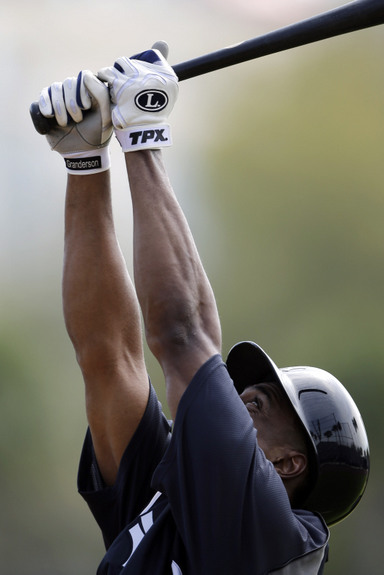 I wrote about Phil Hughes' upcoming contract yesterday*, and as I was writing it, I thought it might be fun to contemplate Curtis Granderson's future as well.  Specifically, I pondered whether he'll A) remain in pinstripes, and b) if he doesn't, what kind of contract could he be in line for on the free agent market.
Despite having an MVP caliber season in 2011, the Grandyman still has plenty of detractors. To be fair, some of the criticisms Granderson receives are legitimate gripes.  He doesn't hit for average (career .262 BA, though he's been about 30-40 points below that the past few seasons), he strikes out a ton (career 22.9 K%), and shows noticeable splits against lefties (career 85 wRC+ against southpaws, 132 wRC+ against righties). In 2012, he batted .232/.319/.492 (.346 wOBA, 119 wRC+) which was good for a 2.3 fWAR — a value basically equivalent to league average. This year, in limited time he's hit .208/.333/.340 (.309 wOBA, 91 wRC+). That's not exactly what you want to be seeing from a $15M dollar (now corner) outfielder.
However, one has to also give Curtis credit for his ability to hit the long ball, which is an increasingly valuable trait.  He hit 24 home runs in 2010 and 40+ home runs in each of the past two seasons. He'll also show some patience (career 10.2 BB%) as well — and that shouldn't be ignored given the impatient nature of this year's Yankees squad.  On top of that, he can play a passable center field  though admittedly, his defense leaves something to be desired. Despite some unlucky injuries this season, he's been pretty durable over the years, and I think it's okay to assume he'll be okay going forward. For what it's worth, Granderson's also the consummate professional and a respected ambassador of the sport, which is important for teams like the Yankees who value character and makeup.
The Yankees do have a surplus of outfielders, though I'd argue most of them are not ideally fit to be full-time starters.  I think it's probably fair to wonder whether Granderson is more valuable than Ichiro Suzuki, Alfonso Soriano, and Vernon Wells. Heck, maybe you throw Brett Gardner in the mix too. Regardless of how you rank those guys, Granderson ultimately cracks the top three choices for New York's everyday lineup. In terms of 2014 free agents, there really aren't many quality left fielders available (unless you count Nate McLouth, which I don't), and the only center fielder who really poses any upgrade to Granderson is Jacoby Ellsbury (who for the record, is also a player I have my doubts about).  My point here is it may behoove the Yankees to keep Grandy around for another year even if he's not part of the long-term plan.  Conversely, the weak market could also play to Granderson's advantage (though 2015 could actually be an even weaker market).
Depending on how serious the Yankees are in achieving their $189M budget (or remaining competitive for that matter), a qualifying offer might be in order.  This would give Granderson an opportunity to improve his value next season and would give the Yankees a trade chip that could potentially pay off if next season doesn't work out.  In terms of salary, Grandy is currently earning $15M so the qualifying offer wouldn't pose much of a pay cut, which isn't all that bad considering the fact that this year was a lost year.  Obviously, if Grandy declined the offer, the Yankees would get the compensation draft pick which helps the team as well.  Now, before we go any further, I'd like to note that I think this is going to happen.  I don't envision the Yankees simply cutting ties with Curtis at the end of the season, and frankly, I'm okay with seeing him in pinstripes for one more season.
But what happens if the Yankees do cut ties?  Well, it's hard to tell what the market looks like for Granderson at this point.  If this season weren't such a disaster, I'd say he could expect a big payday — probably one comparable to his old battery mate, Nick Swisher (four years, $56M with a $14M option in 2017)  or once-capable MLB player, Jason Bay (four year, $66M with an additional club option year).  As it stands, this year has been awful though, so obviously things could go a little differently.  For what it's worth, Swisher was given the qualifying offer, so maybe they're willing to go that route again.
Maybe if teams feel there are some question marks surrounding Grandy's skill set moving forward, they offer him a deal similar to Corey Hart (three years, $26.5M) now.  Although it isn't totally relevant, I also wonder if a guy like Nelson Cruz impacts how things go.  If he ends up getting a deal better than Melky Cabrera, maybe that inflates the contracts offered for everyone who is presumably "clean."  Granderson's injuries were an unlucky twist of fate for him.  It may turn out to be a blessing in disguise for the Yankees immediate future.
*As an aside, I think I'm done writing about Phil Hughes for a while.  It's getting exhausting.