Remember when games against the Angels used to suck? Yeah, me neither. Four games with the disappointing Halos is just what the doctored ordered for the Yankees, who have won the first three games of the series. Wednesday's final was 11-3.
Get On His Back, He'll Carry You
One day after setting a career-high by driving in six runs, Alfonso Soriano set a new career-high with seven runs driven in on Wednesday night. He hit two more homers, including a first inning grand slam that put the game to bed almost as soon as it started. Soriano followed with a two-run single in the second and a solo homer in the fifth. That fifth inning dinger was crushed; it had that good sound and you knew it was gone off the bat. His two-day total is sitting at four homers and 13 RBI, giving me a good opportunity to gloat about this:
Can't wait for Alfonso Soriano to do his David Justice impersonation.
— Mike Axisa (@mikeaxisa) July 26, 2013
Note the timestamp — I said that the day of the trade. Pretty omniscient, or something, if I do say so myself.
Soriano was not the team's only offense, however. They were all over Jered Weaver, who allowed nine runs in five innings after allowing ten runs in his previous seven starts combined. Robinson Cano and Curtis Granderson both had one-run-scoring singles in the second while Chris Stewart plated two with his seventh inning single. Stewart must have seen my post from the other day, because he hit four fly balls that would have qualified as celebrity softball homers on Wednesday. Two even fell in for hits.
Amazing, the Yankees scored those eleven runs even though Brett Gardner and Ichiro Suzuki went a combined 0-for-9 with a walk. Usually tough to score when the one-two hitters do that. Cano went 4-for-4 (all singles), Granderson went 2-for-3 with a walk, and Soriano went 3-for-3 with a walk. The 25 total runs ties the Yankees' two-day season-high this year, which they originally set against the Indians in Cleveland back in April. Pretty amazing what adding some legitimate Major League caliber hitters can do, isn't it?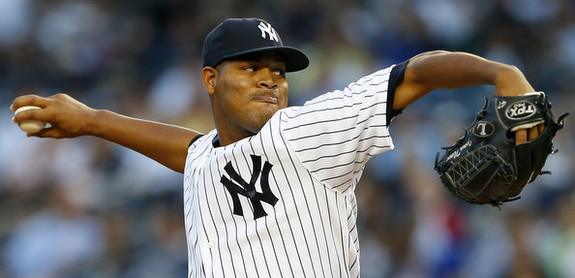 A Good Night To Be Off
This is the kind of game the old Ivan Nova didn't have a prayer of getting through. He was very clearly off all night, particularly with his fastball location, yet he still managed to hold the Angels to three runs on ten hits and a hit batsman in 7.1 innings. That makes him the first non-CC Sabathia pitcher to throw at least seven innings in seven straight starts for the Yankees since David Cone back in 1998. That's pretty great.
To be fair, the infield defense didn't exactly help Nova out. A number of ground balls snuck through the left side for singles, which prolonged innings and in some cases, led directly to runs. That's the Catch-22 for the pitching staff — ground balls are good because Yankee Stadium is tiny, but ground balls are also bad because the defense on the left side of the infield is questionable at best. Singles are preferable to homers, however. Props to Nova for grinding through 7+ innings when he clearly didn't have his best stuff or best command. These are the types of games that separate the goods from the greats.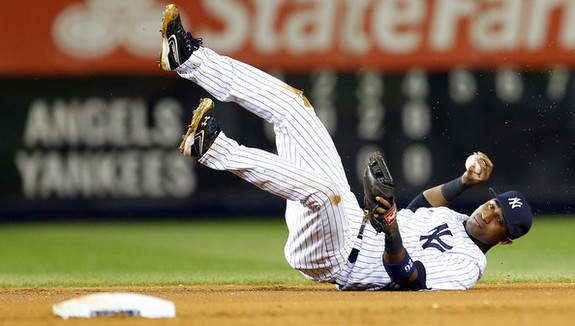 Leftovers
Preston Claiborne recorded the final five outs in relief of Nova without much trouble, giving the key late-inning guys another day of rest. That's pretty big this time of year. Some of those guys have been worked pretty hard of late and every little breather helps. Big ups to Claiborne for making it not interesting.
Alex Rodriguez had another boo me/cheer me kinda night, going 1-for-4 with a walk and a strikeout. It's amazing how the crowd reaction changes from at-bat to at-bat, isn't it? Nothing says spoiled more than that. Anyway, the Yankees scored ten of their eleven runs with two outs, with the lone exception being Soriano's solo homer. That's pretty cool. Two-out runs are always demoralizing.
Not a whole lot to add, but yeah, just an all-around great win. It's been a long time since the Yankees had a completely stress-free win like this. I've missed the feeling.
Box Score, WPA Graph & Standings
MLB.com has the box score and video highlights, FanGraphs some other stats, and ESPN the updated standings. Depending on the outcome of the late game, the Yankees will be either six games (Athletics win) or five games (Athletics lose) back of the second wildcard spot in the loss column. Cool Standings says their postseason odds are 9.2% at the moment. Chip, chip away.

Source: FanGraphs
Up Next
The Yankees will go for the rare four-game sweep on Thursday afternoon, when Phil Hughes gets the ball against left-hander C.J. Wilson in the series finale. The Bombers actually swept a four-game series about a month ago if you remember, against the Twins in Minnesota. Check out RAB Tickets if you want catch the matinee live. The weather's supposed to be great.