That wasn't the worst loss of the season. The worst loss of the season should come in a game that means something. The Yankees were dead in the water before being swept by the lowly White Sox, this series just clinched it. Wednesday's final was 6-5 in 12 innings.
Blown, Twice
If you were still trying to convince yourself this was something other than not the Yankees year, this game should change your mind. I know this because I watched Adam Dunn slap a single (!) through the left side of the infield (!!) in an 0-2 count (!!!) off Mariano Rivera (!!!!) to tie the game with two outs in the ninth. That's right, the rare quadruple exclamation point schtick. I don't get bothered when Mo blows a save anymore, not in a long time actually, and this is no different. What are you going to do? I'll take a one-run lead with Rivera on the mound in the ninth every day of the week.
Of course, one blown save wasn't enough … well, actually, Adam Warren didn't blow a save. He blew his win, technically. Dumb rules. Robinson Cano finally decided to show up for the second half with a long solo homer in the 12th inning, giving the Yankees a 5-4 lead. It was his first dinger since the All-Star break and second in the last month. Warren, who was in his second inning of work, couldn't preserve the lead though, allowing three straight hits with two outs for the walk-off loss. It all started with an infield single off his glove that deflected away from the infielders, a Murphy's Law type of hit. Mo and Warren faced five total batters representing the final out, and all five picked up hits. What a spectacular loss. They really went all-out for this one.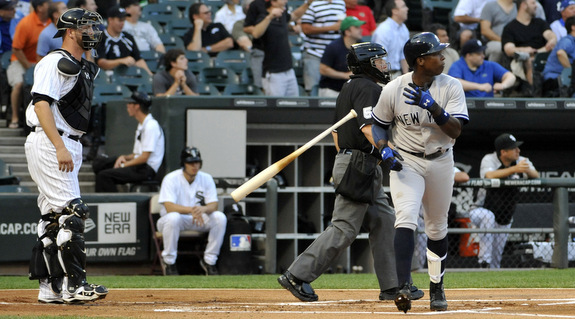 Four Is Better Than Three But Not As Good As Five
For the first time in eight games, since the game before the start of the road trip, the Yankees scored more than three runs. Granted, it was only five runs this time, but I'll take it. Two of the five came on Alfonso Soriano's first inning homer, which was a bomb halfway up the stands in left. The under-rated part of the Soriano pickup is that the Yankees finally have someone with a decent bat flip. He pimped that homer a little bit. Vernon Wells singled in the third run — it was a bloop that fell between two miscommunicating fielders — and Eduardo Nunez solo homered in the fourth run. Cano's dinger accounted for the fifth.
The offense did have several chances to blow this game open and make it a bit easier on the pitching staff, but they kept squandering rally after rally. Bases loaded with two outs in the sixth, first and second with no outs in both the seventh and eighth, runner on second with one out in both the ninth and eleventh … zero runs each time. The Yankees went 1-for-16 with men in scoring position as a team, which is a huge eyesore. If you want to get mad at someone, get mad at the offense. Not Mo or Warren. They had plenty of opportunities to tack on runs and never bothered to actually do it.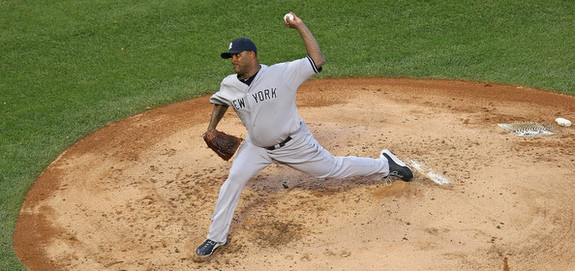 Better … I Think
Was this a good outing by CC Sabathia? I can't decide. I mean yes, three runs in 7.1 innings is solid at worst and very good at best, but Sabathia is still clearly not right. He did show off some noticeably different mechanics — quicker tempo specifically, but his arm slot was a bit higher it seemed — and he did a better job of keeping the breaking ball down in the zone, but we are talking about a bad White Sox offense here. The worst non-Yankees offense in the league. Was Sabathia good or are the ChiSox just bad?
Either way, Joe Girardi has clearly lost some faith in his nominal ace because he pulled him from the game after only 86 pitches, which is a very short outing for Sabathia. In fact, it was his shortest outing since August 2010, ignoring some rain-shortened starts. I actually thought Girardi should have gone to the bullpen to start the eighth, but he let Sabathia start the inning for the left-on-left matchup. All told, CC allowed five hits (three singles, a double, a homer) and walked none while striking out just one. Sixty-four of those 86 pitches were strikes (74%), but only six were swings and misses (7.0%). This was a much better outing for Sabathia than what he's been doing for the last two months, but let's not declare him out of the woods just yet.
Leftovers
Sabathia did allow what is becoming the #obligatoryhomer, this one a solo shot to Gordon Beckham. It was the 25th dinger he's given up this year, the second most in the league behind A.J. Griffin (28). It was also the third homer he's given up in an 0-2 count since the start of last year. He allowed zero 0-2 homers from 2007-2011. Hat tip to Katie Sharp for that one.
Rivera, meanwhile, threw more than one inning in an outing for the first time since July 2011 and two complete innings for the first time since June 2011. It was the first time he came back out for a second inning after blowing a save since August 2008. Something about desperate times blah blah blah. His 30 pitches were only four more than his season high.
All together, the Yankees had eleven hits and eight walks in the game. Nunez went 3-for-4 with two walks and was a triple shy of the cycle, plus both Wells and Soriano had two hits apiece. Alex Rodriguez singled and walked, Austin Romine drew two walks, and Brett Gardner laid down a gorgeous drag bunt single to leadoff the game.
Soriano's homer was his second with the Yankees this year and his 100th as a Yankee overall. He's the 40th player to get to that number in pinstripes. That seems high to me. I'm surprised that many guys have hit a hundred homers with the team.
Box Score, WPA Graph & Standings
MLB.com has the box score and video highlights, FanGraphs the nerd score, and ESPN the updated standings. The Yankees are one game over .500 with a -20 run differential, and Cool Standings says they have 1.8% chance of making the postseason. That's too high.

Source: FanGraphs
Up Next
The Yankees are off on Thursday and will welcome the Tigers to the Bronx for a three-game weekend series. Ivan Nova and the local kid Rick Porcello will be the pitching matchup for Friday night's opener. Detroit has only won eleven games in a row, so they're totally due for a loss.