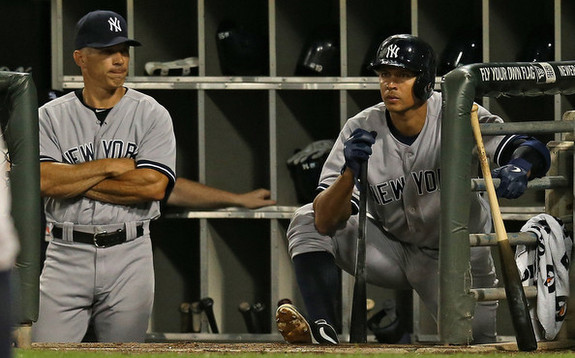 The only good thing about the Yankees being this bad — 27-38 in their last 65 games, a 67-win pace over a full season — is that I can kinda stop caring about the outcome of each game. Just sit back and watch baseball, that's all. Maybe even get excited when they win. Crazy idea, no? Being free of expectations is pretty cool. Anyway, some random thoughts.
1. The Yankees should absolutely start playing some of their young players, but they aren't exactly loaded with big league ready talent. They can steal at-bats from various veterans to give David Adams more playing time and flat-out replace Chris Stewart with Austin Romine, but that's really it. Maybe dump Joba Chamberlain for Dellin Betances. Not much more they can do besides that unless Michael Pineda gets healthy pretty soon. It's still worth it though, Romine and Adams (and Betances) might actually be useful next year and it's worth seeing what they've got.
2. I threw this out there on Twitter the other day, so I might as well do it here: what positive long-ish term developments have there been for the Yankees so far this season? Just at the big league level and not something like Hiroki Kuroda being awesome. Something that improves the team's 2014 outlook. You know what I mean. There's Ivan Nova's last five or six weeks, Preston Claiborne and Shawn Kelley in the bullpen, and … that's it, right? I suppose Adam Warren as well, despite last night's outing. There has not been much of a silver lining so far this year, though I suppose that could change if they do start playing some more youngsters. I'm not going to hold my breath though. It's not in their DNA.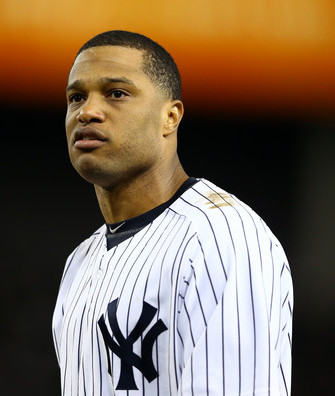 3. Although he's been slumping since the All-Star break, Robinson Cano is still hitting a stellar .287/.371/.492 (131 wRC+) on the year. It is down a touch from his .311/.370/.538 (142 wRC+) performance from 2010-2012, however. How much of that step down do you think is the result of his recent slump, and how much is actual age-related decline? The 30-year-old Cano has been really good this year overall, though he has had some frustrating;y long stretches of being straight up bad and I don't know what to think. With Dustin Pedroia and Chase Utley signing contracts valued at $14M per year (or below), the idea of a $20M+ annual deal for Robbie isn't sitting well with me. He's better than those two, but that much better? I keep going back and forth with the idea of signing him long-term, but I full expect the Yankees to give him a fat new deal at some point.
4. This isn't Yankees related, but have you noticed the NL playoff field is just about set already? The Braves and Dodgers are running away with their divisions, plus the Pirates, Cardinals, and Reds all have comfortable leads on a postseason spot. They just have to sort out the NL Central winner and two wildcards. Cincinnati has the worst record of the trio and they're four games up on the next best team, the Diamondbacks. That NL Central race will be interesting, but otherwise all the late-season excitement will come from the AL.