Well, sweeping a four-game series is tough to do regardless of opponent, but winning the first three games before dropping the fourth is a tough pill to swallow. The Yankees lost a winnable 8-4 game to the Angels in Thursday's series finale.
Phil Goes Phive
For the first time in four starts, Phil Hughes actually completed five innings of work on Thursday afternoon. He even tacked on a sixth inning for good measure. Three runs on six hits, a walk, and a hit batsman in six innings represents Phil's best start since early-July, which is far too long to go between acceptable starts. That's what this was, acceptable. Not good, not bad. In the middle. Tolerable. Not good enough to feel good about and not bad enough to cost Hughes his job.
The Yankees were in the game until the eighth inning, two innings after Phil had been removed, when the Angels broke things open against an ineffective Boone Logan. I always pay extra attention to what happens after a pitcher stays in the game after issuing an intentional walk, and sure enough Logan followed the free (free) pass to Mark Trumbo with an unintentional walk to the unwalkable (5.4 BB%) Hank Conger and a grand slam to the powerless (.061 ISO) Chris Nelson. I swear, hitters have like a .900 OBP against pitchers who stay in the game immediately after an intentional walk. It seems to throw everything off. Nelson's slam — his second homer of the game/season — put this one to bed.

Blown Early Chances
After scoring 25 runs in the previous two games combined, the Yankees turned eleven hits and one walk in 6.2 innings against starter C.J. Wilson into just one run. They had two men on-base in the second, the bases loaded in the third, and two on in the fourth, but only got the one run out of it. Vernon Wells made three outs in two plate appearances to help kill the various rallies, including an inning-ending double play with the bases loaded.
The good news, despite the lack of runs, is that Alfonso Soriano (4-for-5), Robinson Cano (3-for-5), Alex Rodriguez (2-for-5), and Curtis Granderson (1-for-3 with two walks) continue to perform well in the batters' box. Brett Gardner tripled to help create the first run, Eduardo Nunez singled twice, and Austin Romine picked up another hit to extend his little hot streak. Four runs on 18 total base-runners kinda sucks, but if they continue getting men on-base like that, the runs will come. Keep up that pace.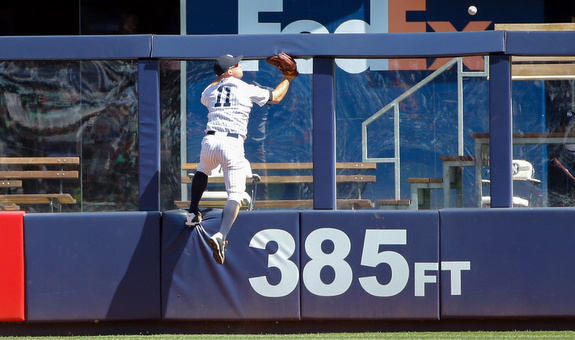 Leftovers
The Yankees did make some noise in the ninth inning, scoring three runs thanks to a Cano single and a Wells two-run double. They had the tying run on deck at one point, which is pretty good considering they opened the frame down seven runs. This means The O'Neill Theory is in effect for the next game, right? Too bad we never bothered to keep track of that to see if it holds true.
Shawn Kelley (one inning) and Joba Chamberlain (one-third of an inning) both allowed a run while Adam Warren tossed a scoreless frame. Kelley's base-runner reached on a bloop double to shallow center when Gardner made a rare bad read and broke back on a ball he should have come in on, then scored on Nelson's grand slam off Logan. Rough way to get charged with a run, but that's life.
Isn't it amazing how, 120 games into the season, the Yankees still don't have a viable platoon partner for Lyle Overbay? He went 0-for-3 with a strikeout and three feeble at-bats against Wilson, lowering his season line against southpaws to .200/.246/.305. Yuck.
Mike Scioscia used four pitchers to get the final four outs with a seven-run lead. Of course, it went from a seven-run lead to a four-run lead during that time. Perhaps the two issues are related.
Box Score, WPA Graph & Standings
For the box score and video highlights, go to MLB.com. FanGraphs has the other stats and ESPN the updated standings. The Yankees are six back of the second wildcard spot in the loss column with four teams still ahead of them. That's a lot of ground to make up in 42 games. They'll need a lot of help.

Source: FanGraphs
Up Next
The Yankees are off to Boston for a three-game weekend set against the Red Sox. Left-handers Andy Pettitte and Felix Doubront will start the series off on Friday night.