It has now been a full month since the Yankees last won a series and more than three weeks (three weeks and two days, to be exact) since they last won back-to-back games. The Padres took Sunday's rubber game 6-3 and it didn't even feel that close.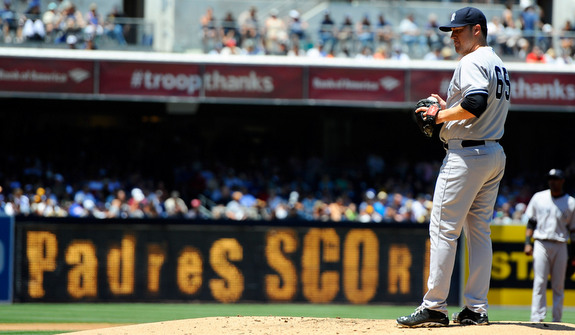 Phil The Phlop
For the second straight start and third time in his last five starts, Phil Hughes failed to complete five innings of work. He's done that a league-leading eight times this season. Heck, Phil didn't even complete three innings on Sunday. The Padres tattooed him for five runs on six hits and three walks in 2.2 innings, and two of those eight outs were given to him: one on a sac bunt, another on an incorrect caught stealing call at second base. Five of those nine base-runners reached base in a two-strike count.
On most teams, a 4.87 ERA and 4.66 FIP through 21 starts earns you a demotion to the bullpen or the minors or whatever. Hughes is in little danger of that for two reasons. One, he's definitely got a "teacher's pet" thing going on. The Yankees are stubborn and desperately want to prove they can develop a starter, which is why he's gotten opportunity after opportunity over the years. Two, the team simply doesn't have any other rotation options right now. David Phelps (elbow), Michael Pineda (shoulder), and Vidal Nuno (groin) are all hurt and no one in Triple-A has made a decent case for themselves. Adam Warren, who threw two scoreless innings on Sunday, is the only realistic alternative. Like it or not, Hughes is almost certainly going to continue getting the ball every fifth day.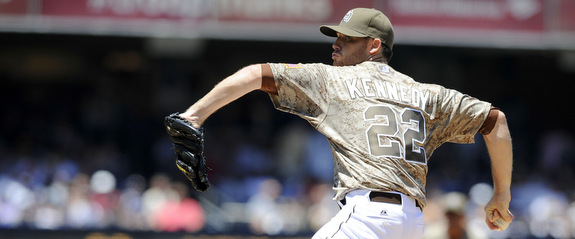 It Must Be The Ballpark
Former Yankee Ian Kennedy came into this start with a 5.23 ERA and 4.59 FIP, but you never would have known it on Sunday. The right-hander carved the Yankees up for the first five innings, holding them to two walks and two singles while striking out five. The Bombers did rough him up for two runs on two walks and two singles in the sixth, knocking him out of the game, but overall it was a solid start for Kennedy. Very nice first impression for him in front of his knew club.
The Yankees actually managed to get the tying run to the plate against the ultra-homer prone Huston Street in the ninth inning, but both Brent Lillibridge and Vernon Wells struck out on sliders down and away to end the game. I know, I was shocked too. Although the club managed a dozen base-runners, the only two highlights on offense were Curtis Granderson (single, three walks) and Austin Romine (walk, single, solo homer). They were a two-man army. The rest of the lineup went a combined 3-for-27 (.111) with two walks. For the fifth straight game and eighth time in the last ten games, the Yankees scored no more than three runs. Who knew getting no help at the trade deadline would be a bad thing?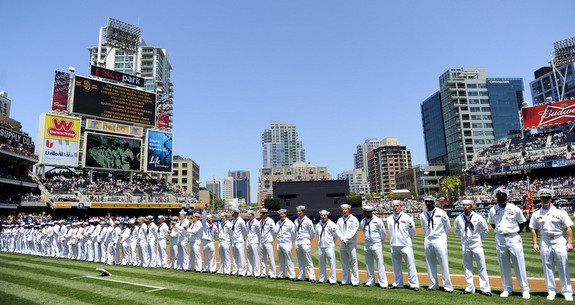 Leftovers
The homer was the first of Romine's big league career, and it was no cheapie. He hit it into the Padres bullpen just to left of dead center. Romine is 10-for-21 (.476) with four doubles and a homer in his last eight games — a small sample made even less significant by the fact that those eight games have been spread out — and it's obvious the Yankees should start playing him some more just to see what they have. Chris Stewart is completely worn down (.171/.256/.210 in his last 37 games) and Frankie Cervelli is likely done for the year (hand, elbow, suspension). Give the kid a chance. At worst, he plays like Stewart.
Both Robinson Cano (0-for-3 with a walk) and Ichiro Suzuki (0-for-4 with a strikeout) continued their slumps, which started right after the All-Star break. Cano took that Matt Harvey fastball to the knee in the Midsummer Classic, so maybe that's the culprit. Ichiro really doesn't have an excuse. He just isn't all that good. The Yankees desperately need these two — or just Cano really, they have a ton of outfielders on the roster — to snap out of it.
In the second inning, Eduardo Nunez didn't bother to run out a ground ball to first that resulted in an inning-ending double play. Barely left the batter's box. I think he thought the ball was going foul, but still. Then, in the sixth, he busted it out of the box on a ground ball up the middle and slid head-first into first base even though the inning-ending out was recorded on a force at second base. There was no play at first. Baseball is weird sometimes.
It didn't really matter at the end of the day, but sitting Brett Gardner with an extreme fly ball pitcher on the mound in a huge ballpark wasn't Joe Girardi's finest moment. Maybe Gardner was banged up or something — doubt it since he came off the bench in the later innings — though it's not the first time he's sat Gardner with Hughes on the mound this year. That's just a bad idea.
Box Score, WPA Graph & Standings
For the box score and video highlights, go to MLB.com. For some other stats, go to FanGraphs. For the standings, go to ESPN. The Yankees are now eight games back in the AL East and four games back in the wildcard race in the loss column. There are four teams (Indians, Orioles, Rangers, Royals) ahead of them in that race for the second wildcard spot.

Source: FanGraphs
Up Next
The Yankees are off to Chicago's south side, where Alex Rodriguez may or may not join them for their series opener against the White Sox. Either way, Monday night's pitching matchup will be Andy Pettitte and former Yankees farmhand Jose Quintana.