Do you think the Yankees make it through the weekend with a winning record? They're only two games over .500 following Tuesday's 3-2 loss to lowly White Sox, and the Tigers are coming to town for three games this weekend. Then again, New York has done a swell job showing they can be beat by anyone lately.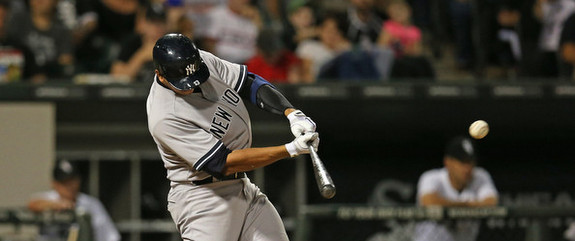 Two Mistakes
A few weeks ago I wrote something about how the Yankees only seemed to score when their opponents make a mistake. It was mostly sarcasm, but there was also some truth to it. This offense is pretty bad — even with Alex Rodriguez, Alfonso Soriano, and Curtis Granderson back with the team — and needs all the help it can get. In the first inning, the White Sox gave them that help.
It all started with a leadoff walk by Brett Gardner, but Alfonso Soriano followed with a little double play ground ball right to the second baseman. The out was made at second but the throw to first pulled Paul Konerko off the bag, allowing Soriano to beat it out. That was the first mistake. The second came a few pitches later, after he'd stolen second base. Chris Sale's slider in the dirt got by catcher Josh Phegley and managed to bounce all the way to the third base dugout. Phegley couldn't find the ball, and that gave Soriano enough time to score all the way from second. All it took was a botched double play and a wild pitch that bounced so far it allowed a runner to score from second. Piece of cake.
Leftovers
Snubbed All-Star Hiroki Kuroda pitched well but not as well as we're used to seeing. The White Sox had several long at-bats against him and scored three runs on nine hits and a walk in seven innings. He struck out four and threw a season-high 116 pitches. On a team with a decent offense, that's probably good enough to win. On the Yankees, it's his seventh loss despite a 2.45 ERA on the season. Would you be surprised if he signed with a different club this winter because he wanted a better chance to contend? I sure wouldn't be.
It's pretty amusing Gardner will slide head-first into first base like once a week, but he wouldn't slide around Phegley to touch home plate on Robinson Cano's single in the third. To be fair, Gardner was safe. The replays confirmed it. But he was called out anyway. Sliding around the the catcher would have helped him out there because it would have been tougher for the tag to be applied. Naturally, Gardner drove in a run in the ninth to ensure this play sticks out like a sore thumb in the one-run loss.
So Alex Rodriguez is already the team's second or third best hitter, right? He went 1-for-2 with a walk, a hit-by-pitch, a ground ball single through the left side, and a hard-hit line drive out right at the center fielder. A-Rod also works the count (!) too, which is pretty refreshing. I don't know if this is a good sign for Alex or a indictment of the rest of the offense.
The Yankees scored no more than three runs for the seventh straight game and 11th time in their last 13 games. In case you're wondering if seven straight is some kind of franchise record, it's not. Not even close. Franchise record is 13 straight back in 1917. It is their longest such streak since that magical 1991 season, however (nine straight).
Box Score, WPA Graph & Standings
For the box score and video highlights, do to MLB.com. For some other stats, go to FanGraphs. For the standings, go to ESPN. Depend on what happens in the Rangers-Angels game, the Yankees will either be four games back (Rangers loss) or five games back (Rangers win) of the second wildcard spot. Pipe dream.
Source: FanGraphs
Up Next
The Yankees will try to salvage this sorry excuse of a series on Wednesday night, when CC Sabathia gets the ball against Newark-born lefty Hector Santiago. Getting swept by the second-to-worst team in baseball would pretty much kill the already small chance they have at the postseason. These are supposed to be the easy wins.