That was simultaneously the most amazing and most infuriating game of the season. Pretty much classic Yankees-Red Sox, really. The Bombers walked away with a tense, hard-fought, and stressful 9-6 win that had you writing them off before being reeled back in. What a game.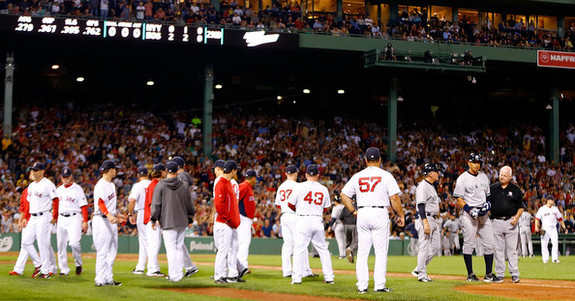 The Hit-By-Pitch That Turned The Season Around?
People don't like Alex Rodriguez. Fans don't like him, the Yankees front office certainly doesn't like him, opposing players don't like him … heck, I'm sure some of his own teammates don't like. It's understandable at this point. Ryan Dempster, however, was the first to take matters into his own hands.
Dempster threw the first pitch of the second inning behind A-Rod's legs. The second was inside around waist-high, the third inside and knee-high. The fourth time was a charm I guess — Dempster planted one right in Alex's ribs. It was oh so obviously intentional. Here are the first and fourth pitches. I'm sure you can figure out which is which: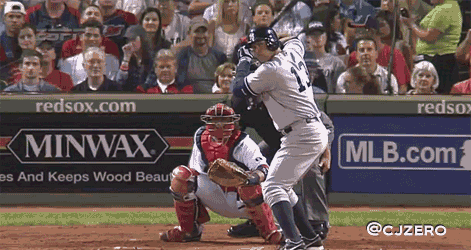 So clearly intentional and yet … nothing. Home plate umpire Brian O'Nora warned both benches and that was it. Dempster remained in the game. To no one's surprise, Joe Girardi was furious. He stormed out of the dugout and get into a pretty heated yelling match with O'Nora, eventually being ejected. He appeared to call Dempster a big pussy before walking off the field as well, so that was cool. The two benches cleared but there weren't any punches or anything like that, just a bunch of standing around.
The plunking and arguing and all that made it easy to forget that hey, the Yankees had a leadoff base-runner. Once things settled down, Curtis Granderson following the plunking with a hustle double down the right field line, then Eduardo Nunez plated A-Rod for the team's first run of the night with a single back up the middle. Lyle Overbay brought home Granderson with a single to second. Dempster may have gotten his message across, but he blew his team's two-run lead in the process.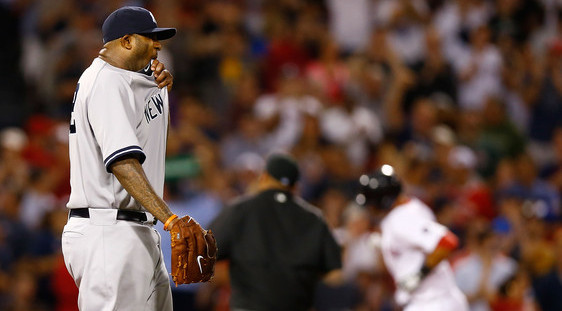 C(onsistently) C(rappy) Sabathia
After two good but not great starts, CC Sabathia struggled big time against the Red Sox on Sunday. He allowed two runs after loading he bases with one out in the first, another on a David Ortiz ground out in the third, two more on Stephen Drew sacrifice fly and Will Middlebrooks solo homer in the fourth, and another when he walked Daniel Nava with the bases loaded in the fifth. The final tally was six runs allowed on seven hits (three doubles, one homer, three singles) and five walks in 5.1 innings. Yuck.
Sabathia now ranks 79th out of 89 qualified pitchers with a 4.83 ERA this season. The Yankees are unlikely to make to the postseason and CC's rapid descent from ace to fringe starter — he zoomed right passed mediocre, he's pitching like a sixth starter right now — is a huge reason why. I don't know if it's physical or mechanical or something else entirely. It's a major problem going forward though and he club needs the big left-hander to figure out just what the hell is going wrong. With each disaster start that passes, I am a little less confident he'll figure it out.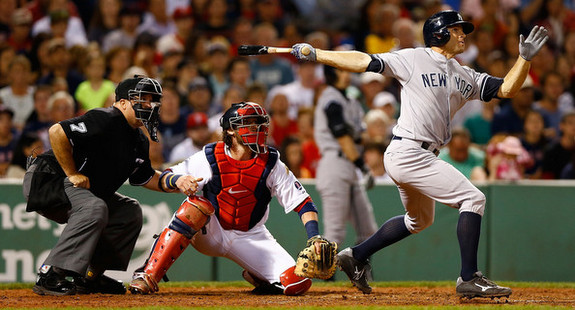 Don't Call It A Comeback
The Red Sox piled on Sabathia pretty well and took a 6-3 lead into the sixth inning when (who else?) A-Rod led off the frame. Dempster didn't throw at him this time, but he probably would have been better off planting another one in his ribs because Alex launched a monster solo homer to dead center to bring his team to within two runs. He clapped his hands will trotting around first and took a second to point to the sky when he reached home, two things I can't ever remember seeing him do before. A-Rod enjoyed that one, no doubt.
The Yankees did not stop there. They loaded the bases with one out on singles by Nunez and Overbay before Chris Stewart drew a walk. That was the end of the line for Dempster, who was replaced to get the left-on-left matchup against Brett Gardner. Rookie southpaw Drake Britton has been pretty good in limited time for Boston, but he made a huge mistake pitch in an 0-1 count and Gardner crushed it out to center field. I thought it was gone off the bat, but ultimately it was just short of the wall. A bases-clearing triple that turned a two-run deficit into a one-run lead did the job just fine though.
By WPA (+.325), Gardner's triple was the team's 14th biggest hit of the season. That definitely doesn't feel right given the context of the game, something WPA doesn't take into consideration. I don't know if it was the biggest hit of the year, maybe A-Rod's homer was considering everything went on earlier in the night, but it's certainly in the conversation. That was so incredible.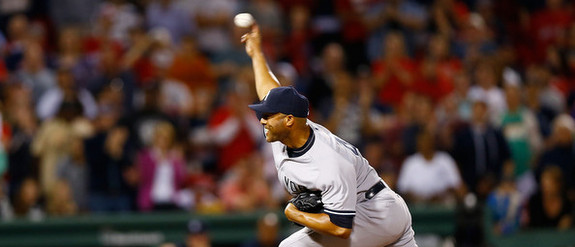 Bullpen On Parade
It'll get lost in everything else that happened in the game, but big ups to the bullpen for keeping the Red Sox off the scoreboard after Sabathia left the game. Shawn Kelley cleaned up a two on, one out jam in the sixth with a strikeout and a ground ball before giving way to Boone Logan for the seventh. Logan struck out David Ortiz and coaxed a double play out of Jarrod Saltalamacchia after walking Jonny Gomes. David Robertson allowed a two-out double to Middlebrooks in the eighth but otherwise struck out the side. His curve was as good as it's been all season — he was dropping it in for strikes and buried it in the dirt for swings and misses.
The three-run lead in the ninth fell on the shoulders of Mariano Rivera, who had not pitched since blowing his third consecutive save opportunity last Sunday. Two weak ground outs make it look like the inning would be a breeze, but Ortiz beat the shift with a single before Gomes drew a walk. Just like that, the tying run was at the plate. Saltalamacchia put a good swing on an outside cutter, but laced it right at Alfonso Soriano for the 27th out. I don't know if Mo was off because he's been off of late or because he was rusty after six days of inactivity, but at the end of the day, he did his job. This one was a nail-biter right to the end, but major props to the four relievers for taking care of business.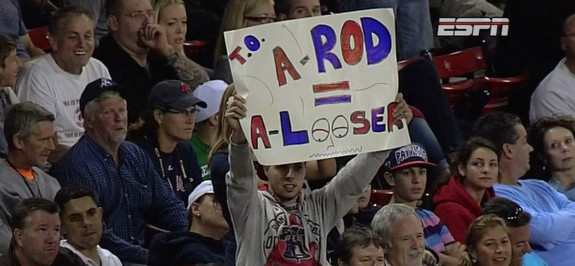 Leftovers
The Yankees scored two tack-on runs in the late innings. First, pinch-hitter Mark Reynolds singled in a run with two outs in the seventh after the lefty Franklin Morales was brought in to face Overbay. Amazing what happens when you have a legit platoon partner for Lyle. Stewart knocked a ground ball single through the left side in the ninth for the team's ninth and final run. Every run counts in Fenway, no lead is ever safe. The Yankees know that first hand.
Every starter had at least one hit except for the scorching hot Soriano, naturally. He took an ugly 0-for-6. Yuck. Gardner and Ichiro Suzuki had two knocks apiece while Cano, A-Rod, and Nunez had three each. Granderson doubled, Overbay singled, and Stewart singled and drew the only walk. The Yankees went 4-for-4 in stolen base chances — two by Nunez, one by Nix, one by Granderson. They ran wild on Salty all weekend. Nunez left the game with tightness in his hamstring, which he apparently felt after the second steal. They'll know more about the injury on Monday.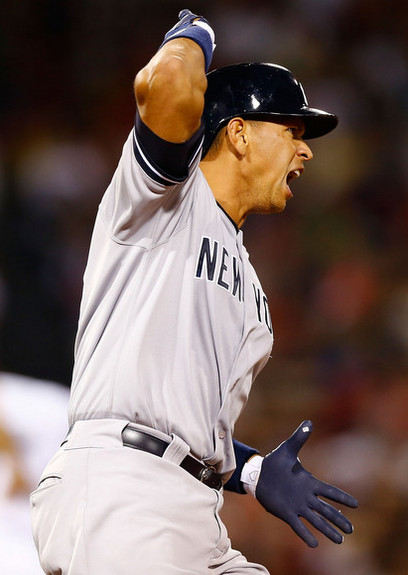 The Yankees never did hit a Red Sox batter as retaliation for A-Rod, which I'm sure will be spun into some kinda "see, the Yankees hate A-Rod!" narrative. What's wacky though is that the Sawx hit three (!) more Yankees after the benches were warned. None were intentional — they were all offspeed pitches that got away — but still. What's the point of the warning? Are we just ignoring the rules now? Amazing (and inexcusable) how the Red Sox hit four Yankees and the only person to get ejected was the Yankees manager.
Anyway, Dempster wimped out and tried to play the hit-by-pitch incident off as trying to establish the inner half after the game. He's a real tough guy, you see. Man enough to throw at baseball's easiest target but too chicken to admit it. Manager John Farrell dealt the same crap during his in-game interview. It was rather hilarious watching him stumble with his words while lying through his teeth. These guys took it upon themselves to defend the honor and integrity of baseball and managed to look like complete buffoons in the process.
Girardi, meanwhile, continued to stand up for his embattled third baseman at a time when everyone wishes he would just go away. The Yankees and MLB may be out to get A-Rod, but Girardi has his back to the very end. Joe killed it after the game. His post-game press conference is worth a watch whenever it goes up on the YES Network's site.
Box Score, WPA Graph & Standings
Now that is a fun graph. MLB.com has the box score and video highlights, FanGraphs some other stats, and ESPN the updated standings. The Yankees are six back in the loss column in both the AL East and second wildcard race. Cool Standings says they have an 8.3% chance of making the postseason. Here's what I have to say about that.

Source: FanGraphs
Up Next
The Yankees will enjoy a well-earned off-day on Monday before welcoming the Blue Jays to town for four games in three days. Ivan Nova, Phil Hughes, Esmil Rogers, and Mark Buehrle are all scheduled to start during Tuesday's doubleheader. I'm just not sure who's starting the day game and who's starting at night. We'll find out soon enough. Check out RAB Tickets for … well, tickets.