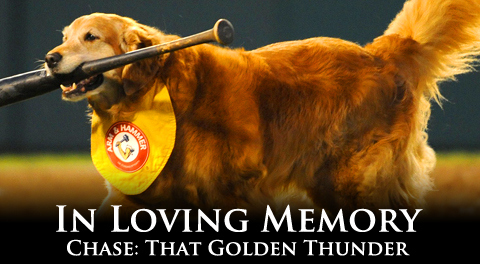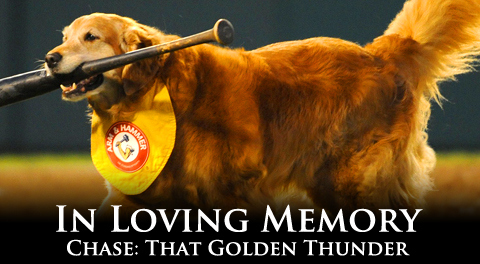 To call this a disappointing year for the farm system would probably be an understatement. Many top prospects either got hurt or underperformed while just handful had true breakout seasons. An excellent draft with three first round picks will help their overall rankings, but Hal Steinbrenner was right to hold a staff meeting last month to figure out why the team's farm system has been so unproductive. Hard to think of another team that gets less out of more in terms of prospects.
For the first time in at least 30 years, the Yankees seven domestic minor league affiliates combined for a losing record (373-381, .495) this season. Double-A Trenton opens the best-of-five Eastern League Championship Series tonight, but the only other affiliate to make the postseason was the Rookie GCL Yanks2, who were bounced in the one-game playoff before the title round. Thankfully, minor league win-loss records mean absolutely nothing in the grand scheme of things — organizational players decide things far more than the prospects do — but it is symbolic of the farm system in general. Things aren't looking too good.
As a reminder, these awards have nothing to do with prospect status. They are not a ranking or anything like that. They're just a recognition of players who had great years regardless of age or anything like that. Pure production with potential takes a back seat. In order to keep things interesting, the Player of the Year is not eligible for the Hitter or Pitcher of the Year awards. It would be pretty redundant otherwise. Here are my 2007, 2008, 2009, 2010, 2011, and 2012 awards posts for reference. Onto the awards:
Minor League Player of the Year: 1B Greg Bird
Although he was a just fifth round pick, the Yankees gave Bird the largest signing bonus ($1.1M) of any player in their 2011 draft class. A back injury slowed the start of his career and forced him out from behind the plate, but the 20-year-old responded by having one of the very best seasons in all of minor league baseball this year. He hit a whopping .288/.428/.511 in 573 plate appearances for Low-A Charleston this year, which works out to a 170 wRC+ that was the eighth best in all of the minors (not counting the unaffiliated Mexican League). Among players with at least 300 plate appearances, Bird led the farm system in OBP, OPS, wRC+, and walks (107) while ranking second in total bases (234) and third in hits (132), doubles (36). and homers (20). It was arguably the best offensive season by a Yankees prospect since Nick Johnson in 1999 and more than worthy of the Player of the Year award.
Minor League Pitcher of the Year: RHP Shane Greene
Nowhere is the decline of the farm system more evident than on the mound. No pitching prospect shined from start to finish this year, which is why Greene gets the Pitcher of the Year nod despite leading the organization in hits allowed (by a lot) with 175. The 24-year-old also led the system in innings (154.1) while ranking third in strikeouts (137) and second in K/BB ratio (4.57) among guys who threw at least 70 innings. Greene pitched to a 3.38 ERA and ~3.06 FIP between High-A Tampa and Double-A Trenton with a very good strikeout rate (8.0 K/9 and 20.7 K%) and an excellent walk rate (1.7 BB/9 and 4.5 BB%). We're talking about a guy who posted a 5.1 BB/9 (12.1 BB%) just last season, so his control really take a major step forward. Greene stands out from a crop lacking an obvious Pitcher of the Year candidate.
Honorable Mention: LHP Nik Turley, RHP Rafael DePaula
Minor League Hitter of the Year: C/3B Peter O'Brien
It's amazing that a season in which O'Brien hit .291/.350/.544 (~149 wRC+) in 506 plate appearances split between Low-A Charleston and High-A Tampa was only the second best offensive season in the farm system this year. The 23-year-old led the system in SLG, doubles (39), homers (22), extra-base hits (65) and total bases (243) while placing second in OPS. O'Brien's defense both behind the plate and at the hot corner leaves something to be desired (putting it nicely), but this away is about offense only. The team's second round pick last summer was a monster at two levels in 2013.
Honorable Mention: 2B Rob Refsnyder, 1B Dan Johnson
The Edwar Ramirez Award (Breakout Player of the Year): C J.R. Murphy
I hesitate to call Murphy a breakout player because it's not like he came out of nowhere, but the pickin's are slim. The 22-year-old was the team's second round pick in 2009 and he's had some good seasons before, but he topped them all by hitting .269/.347/.426 (~117 wRC+) in 468 plate appearances split between Double-A Trenton and Triple-A Scranton. Murphy set or tied career-highs in plate appearances, games behind the plate (107), hits (111), doubles (29), homers (12), walks (47), OBP, and OPS. He was rewarded with a September call-up even though the Yankees didn't need to add him to the 40-man roster until November.
Best Pro Debut: 2B Gosuke Katoh
Thanks to three first round picks and a healthy crop of international players coming to the United States for the first time, the Yankees had plenty of strong pro debuts this summer. Katoh, the team's second round pick in June, stands out from the pack. The high school second baseman from California hit .310/.402/.522 (172 wRC+) in 215 plate appearances while leading the Rookie Level Gulf Coast League in homers (six) and OPS. Considering the pre-draft scouting report said scouts were concerned about his size and strength — he's listed at 6-foot-2 and 180 lbs. — Katoh handed himself extremely well in his pro debut these last few weeks.
Honorable Mention: SS Abi Avelino, RHP Rafael DePaula
Comeback Player of the Year: RHP Jose Campos
Every year when I write this post, there's always a player who sneaks up on me because he had a better year than I realized. The 21-year-old Campos is that player this year. He missed all but five starts last season due to some kind of elbow injury — he said it was a fracture but VP of Baseball Ops Mark Newman said it was a bone bruise — and the Yankees limited him to very short and controlled starts in 2013. He threw four full innings just 12 times and five full innings just once in 26 total appearances. Campos pitching to a 3.41 ERA (2.83 FIP) with a good strikeout rate (7.97 K/9 and 21.6 K%) and an excellent walk rate (1.66 BB/9 and 4.5 BB%) in 87 total innings this summer, and his 4.81 K/BB ratio was easily the best in the system among pitchers to throw at least 70 innings. The team was understandably careful with the other guy in the Michael Pineda trade and Campos rebounded well after what amounted to a lost season.
Bounceback Player of the Year (started slow, rebounded): RHP Dellin Betances
In his seventh full season in the farm system, the Yankees finally moved the 25-year-old Betances to the bullpen full-time this May and watched him go from disaster starter to dominant reliever. He pitched to a 6.00 ERA with a 25/16 K/BB in 24 innings across six starts before being moved to the bullpen, where he posted a 1.90 ERA with a 86/27 K/BB in 61.2 innings across 34 plate appearances. Betances was called up briefly in August and again when rosters expanded in September, and for the first time since being drafted way back in 2006, he finally appears to have carved out a place for himself in the team's plans going forward.
Honorable Mention: OF Slade Heathcott
Most Disappointing Player of the Year: OF Mason Williams
At this time last season, Williams was arguably the number one prospect in the system. His strong and exciting performance with Low-A Charleston and earned a late promotion to High-A Tampa, where he opened in 2013. Instead of building on that success, the 22-year-old Williams hit just .261/.327/.350 (95 wRC+) with three homers and 15 steals (in 24 attempts) in 406 plate appearances before a late bump up to Double-A Trenton, where he seemed overmatched in 76 plate appearances (8 wRC+). Williams did post a career-best 7.5% walk rate, but he was benched several times for insubordination and not hustling. He still has a ton of talent and athletic ability, no doubt about it, but Mason made sure everyone knew how far away he was from realizing his potential this summer.
Dishonorable Mention: The whole damn system (well, almost)
Individual Level Awards (click for larger)

All Minor League Teams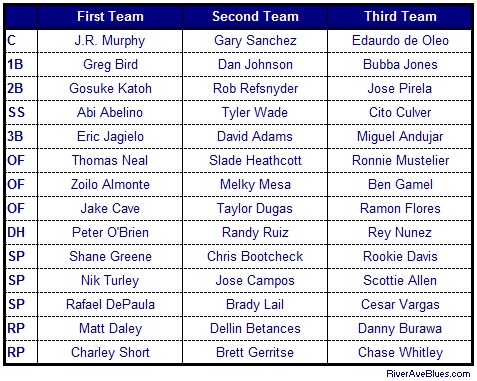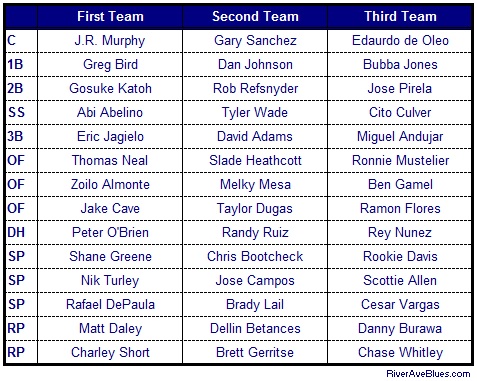 Lifetime Achievement Award: SwP Pat Venditte
This year's Lifetime Achievement Award winner stands out for more than just his performance. Twice-drafted by the Yankees — 45th round in 2007 and 20th round in 2008 — Venditte is baseball's only full-time ambidextrous pitcher and the man who forced the creation of a new rule. Following a nine-minute encounter with a switch-hitter in June 2008, the Professional Baseball Umpire Association ruled the pitcher, not the hitter, must first declare while side he'll play from. Not many guys rewrite the rules.
In parts of six minor league reasons, the 28-year-old Venditte has a 2.41 ERA with excellent strikeout (10.2 K/9 and 28.3 K%) and walk (2.4 BB/9 and 6.6 BB%) rates in 306.1 career innings. He's allowed only 15 homers (0.4 HR/9) during that time. Right shoulder surgery cost Venditte all of last season but he returned to pitch left-handed exclusively for Team Italy in the World Baseball Classic before throwing 28.2 innings of 3.45 ERA ball across four minor league levels this season.
Venditte was never considered much of a big league prospect because his stuff from both sides of the plate was okay at best, but he gave the organization a lot of high quality relief innings and helped High-A Tampa to the 2010 Florida State League Title. He could win another win with Double-A Trenton in the coming days. It's hard to believe Venditte has been in the system for more than five full seasons already — my only requirement in this silly little thing — and even harder to believe his switch-hitting act got him all the way to Triple-A. He's very worthy of the Lifetime Achievement Award.