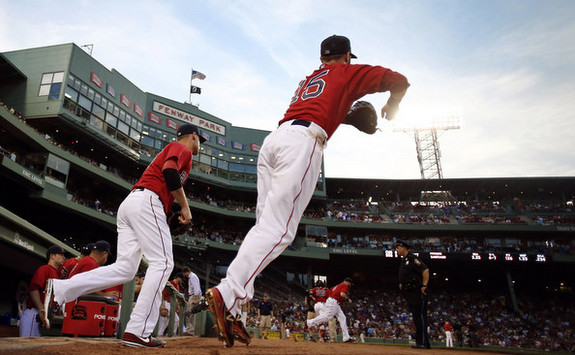 The Red Sox demolished the Yankees in Yankee Stadium last weekend, or at least they demolished their pitching staff. The Bombers had no answer for Boston's lineup in the first three games. The rivalry moves to Fenway Park this weekend for three huge games. Huge for New York, that is.
What Have They Done Lately?
The Red Sox lost to the Rays yesterday but otherwise took two of three in Tampa. They've won eleven of their last 14 games and own the league's best record and run differential at 89-59 and +167, respectively. Boston leads the AL East by seven games in the loss column and has the division all but wrapped up with a little more than two weeks to play.
Offense
At 5.2 runs per game with a team 113 wRC+, Boston is one of the very best hitting teams in all the land. They have a 136 wRC+ as a team over the last two weeks. That's an entire lineup hitting almost like Robinson Cano (140 wRC+) for a two week period. Insane. The Red Sox are without their catalyst CF Jacoby Ellsbury (111 wRC+), who has a broken bone in his foot and hopes to return in time for the postseason. Here's their only injured position player.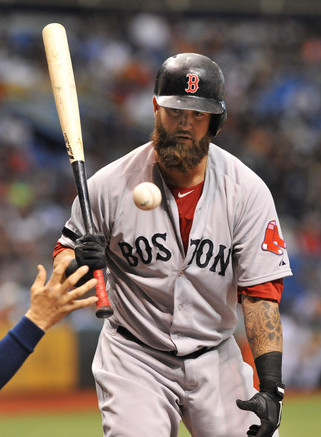 It seems like manager John Farrell has nothing but good hitters in his lineup, and that's because he usually does. 2B Dustin Pedroia (112 wRC+), OF Shane Victorino (118 wRC+), DH David Ortiz (149 wRC+), 1B Mike Napoli (124 wRC+), OF Daniel Nava (128 wRC+), and SS Stephen Drew (103 wRC+) play pretty much everyday. C Jarrod Saltalamacchia (106 wRC+) catches regularly while OF Jonny Gomes (101 wRC+) subs in against left-handers. 3B Will Middlebrooks (91 wRC+) has been excellent for a few weeks now. That's pretty much the regular lineup right there.
1B Mike Carp (152 wRC+ in limited time) has been a force off the bench and headlines the group of reserves. Backup C David Ross (82 wRC+ in limited time) usually plays against lefties and OF Jackie Bradley Jr. (58 wRC+) has seen more playing time with Ellsbury hurt. Top prospect IF Xander Bogaerts (106 wRC+ in very limited time) hasn't played all that much since coming up last month. September call-ups C Ryan Lavarnway, IF John McDonald, UTIL Brandon Snyder, and pinch-runner OF Quintin Berry fill out the rest of the position player crop.
Starting Pitching Matchups
Friday: RHP Hiroki Kuroda vs. RHP John Lackey
Lackey, 34, is having his best season as a Red Sox (Sock?) thanks to his new elbow. He has a 3.48 ERA (3.72 FIP) in 26 starts with very good walk (1.98 BB/9 and 5.3 BB%) and ground ball (47.4%) rates. His strikeout (7.70 K/9 and 20.9 K%) and homer (1.13 HR/9 and 12.5% HR/FB) totals are just okay though. Lackey has thrown six different pitches this year but he leans heavily on three: his low-90s four-seamer, mid-80s cutter, and upper-70s curve. He's thrown those pitches roughly 90% of the time combined. A low-90s two-seamer, mid-80s changeup, and mid-80s slider are rarely used fourth, fifth, and sixth offerings. Lackey has a big reverse split this year — lefties have a .290 wOBA against him while righties are at .341 — for whatever reason. That's an outlier compared to the rest of his career. The Yankees scored seven runs against Lackey in 5.2 innings last weekend and still managed to lose.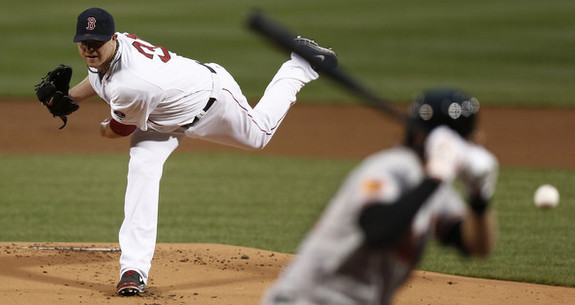 Saturday: LHP CC Sabathia vs. LHP Jon Lester
The 29-year-old Lester has had a very up and down (and up again) season. He's sitting on a 3.86 ERA (3.66 FIP) with strikeout (7.45 K/9 and 19.5 K%) and walk (2.84 BB/9 and 7.4 BB%) rates that are damn near identical his disaster season a year ago. His ground ball rate (43.9%) has dropped and yet he's giving up significantly fewer homers (0.84 HR/9 and 8.4% HR/FB), which doesn't really make sense considering his home ballpark. Lester's four-seam fastball recently jumped back into the mid-90s and he's shelved his upper-80s cutter. That was the pitch he fell in love with and got him into trouble. A low-90s sinker, mid-80s changeup, and mid-70s curveball round out his repertoire. Lester held New York to three runs in eight innings — the rare complete-game loss — last weekend. These two have seen each other plenty of times over the years. No surprises.
Sunday: RHP Ivan Nova vs. RHP Clay Buchholz
Buchholz, 28, just came off the DL after missing more than three months with a neck problem. He held the Rays scoreless for five innings in his first start back and has a stellar 1.61 ERA (2.40 FIP) in 13 games this season. His strikeout (8.76 K/9 and 25.4 K%) and ground ball (48.4%) rates are very good, his walk rate (3.02 BB/9 and 8.8 BB%) is pretty good, and his homer rate (0.20 HR/9 and 3.0% HR/FB) is off the charts. Unsustainably off the charts. Buchholz will rarely throw his low-90s two-seamer, instead preferring his low-to-mid-90s four-seamer and upper-80s cutter when setting up his knockout low-80s changeup. He'll also throw upper-70s curveballs. The Yankees have seen Buchholz a bunch of times over the years including twice this year: one run in seven innings in April and five scoreless innings in June.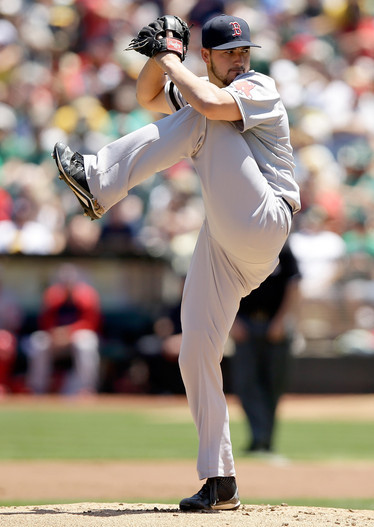 Bullpen Status
Farrell's bullpen is in decent shape, though both closer RHP Koji Uehara (1.68 FIP) and RHP Junichi Tazawa (3.13 FIP) have pitched twice in the last three days. That could impact their availability at some point this weekend. Uehara has retired 34 straight batters and it would be neat if that streak ended this weekend. Actually, I'd rather not see him at all. RHP Brandon Workman (3.48 FIP) has become a trusted late-inning reliever but threw two innings on Wednesday. LHP Craig Breslow (3.74 FIP) is Farrell's top southpaw. LHP Drake Britton (3.15 FIP in limited time), LHP Franklin Morales (4.93 FIP in limited time) and LHP Matt Thornton (4.07 FIP) make up the rest of the bullpen alongside September call-ups RHP Rubby De La Rosa and RHP Allen Webster.
Joe Girardi, on the other hand, has a tired and worn out bullpen. Mariano Rivera has pitched each of the last three days and four of the last five, throwing 84 total pitches since Sunday. Hard to believe he'll be available tonight, but I said the same thing yesterday. David Robertson has appeared in back-to-back games after missing about a week with shoulder fatigue. Boone Logan is still unavailable because his elbow is barking. Shawn Kelley might be the closer and a bunch of call-ups might be the setup men tonight. Check out our Bullpen Workload page for a breakdown of the carnage, then check out Over The Monster for the latest and greatest on the Red Sox.