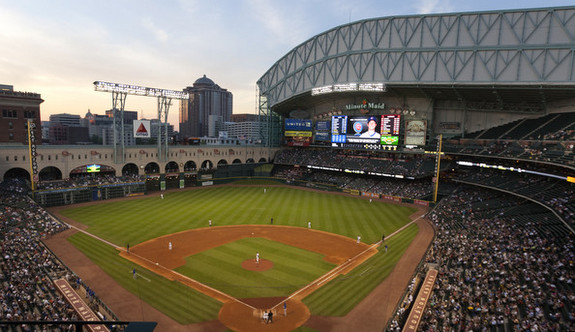 If the Yankees and Astros play three meaningless games in Minute Maid Park to close out the season and no one sees them … did it actually happen? A recent Astros television broadcast received a 0.0 Nielsen rating, so pretty much no one watched the game. I'm guessing more than a few people will tune in to see the Bombers this weekend, however.
What Have They Done Lately?
The Astros have lost 12 straight games and come into this series with the very worst record in baseball: 51-108 with a -232 run differential. They are, as the kids say, stupid bad.
Offense
At 3.8 runs per game with a team 87 wRC+, Houston is a below-average offensive club. No surprise there. They're without C Jason Castro (130 wRC+), their best player, who is done for the season with a knee injury. OF Robbie Grossman (97 wRC+) is out with an oblique issue as well.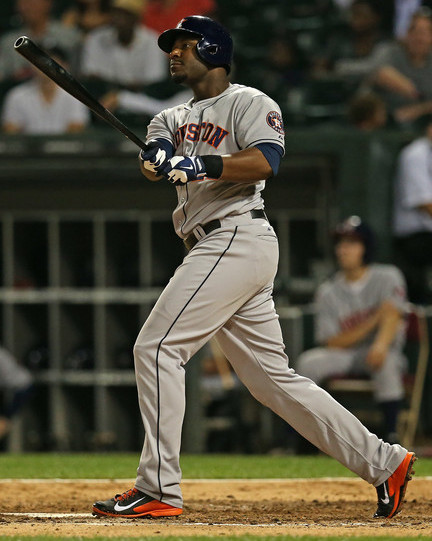 Manager Bo Porter doesn't have a lot of firepower at his disposal. Aside from Castro, the team's only legitimate above-average everyday hitter is 1B Chris Carter (115 wRC+), who has huge power (29 homers and .232 ISO) and will strike out a frickin' ton (36.5%). 2B Jose Altuve (86 wRC+) and 1B Brett Wallace (96 wRC+) are two other guys you might recognize, along with former Yankees farmhands 3B Brandon Laird (94 wRC+ in limited time) and OF Jimmy Paredes (33 wRC+ in limited time). OF L.J. Hoes (96 wRC+ in limited time) and 3B Matt Dominguez (91 wRC+) have been useful.
Aside from those guys, there's not much to see here. C Carlos Corporan (85 wRC+), C Max Stassi (96 wRC+ in super duper limited time), and C Cody Clark (-37 wRC+ in very limited time) handle things behind the plate with Castro hurt. IF Jake Elmore (83 wRC+ in limited time), IF Marwin Gonzalez (55 wRC+), and SS Jonathan Villar (83 wRC+) are the various infielders. OF Brandon Barnes (77 wRC+), OF Trevor Crowe (72 wRC+ in limited time), OF J.D. Martinez (77 wRC+), and OF Marc Krauss (76 wRC+) fill out the rest of the bench. Nineteen position players in all.
Starting Pitching Matchups
Friday: RHP Adam Warren vs. LHP Brett Oberholtzer
Oberholtzer, 24, has a 2.71 ERA (3.77 FIP) in 66.1 innings across nine starts and three relief appearances this season, his rookie season. The southpaw doesn't miss bats (5.56 K/9 and 15.5 K%), doesn't walk anyone (1.63 BB/9 and 4.4 BB%), and doesn't get ground balls (36.6%). He does kinda keep the ball in the park though (0.95 HR/9 and 7.6% HR/FB). Oberholtzer sits right around 90 with his two and four-seam fastballs, using them to set up his low-80s changeup and upper-70s knucklecurve. Obviously, the Yankees have never seen him before.

Saturday: LHP Andy Pettitte vs. RHP Paul Clemens
No relation to Roger, the 25-year-old Clemens has a 5.69 ERA (5.97 FIP) in 68 innings covering four starts and 30 relief appearances. He's in the rotation because there's no one else, basically. The peripherals are just terrible: 5.96 K/9 (14.9 K%), 3.31 BB/9 (8.3 BB%), 2.12 HR/9 (14.4% HR/FB), and 36.1% grounders. Clemens has good stuff, sitting in the low-to-mid-90s with his four-seamer and low-90s with his two-seamer. A hard mid-80s changeup and upper-70s curveball are his two secondary pitches. The Yankees actually saw Clemens earlier this season, scoring a run against him in 1.1 innings of relief.
Sunday: TBA vs. LHP Erik Bedard
Finally, a pitcher we've heard of. Bedard, 34, has pitched to a 4.81 ERA (4.52 FIP) in 144 innings this year, his most since 2007. His strikeout rate (8.06 K/9 and 20.3 K%) is good but the walk (4.69 BB/9 and 11.8 BB%), homer (1.13 HR/9 and 9.6% HR/FB), and ground ball (36.8%) numbers aren't. Bedard still has that knee-buckling mid-70s curveball, but his fastballs (two and four-seamer) have slipped into the upper-80s with age and injury. An upper-70s changeup is his fourth pitch. The Yankees have seen Bedard a bunch of times over the years, both the good version with the Orioles and the broken down version with the Mariners.

Bullpen Status
The Astros were off yesterday, but that doesn't really matter with September call-ups and the season about to end. Rule 5 Draft pick RHP Josh Fields (5.45 FIP) has taken over as closer and LHP Kevin Chapman (4.44 FIP) does most of the setup work. RHP Rhiner Cruz (5.36 FIP in limited time) and RHP Josh Zeid (4.75 FIP in limited time) tend to get the ball in the middle innings. Thanks to expanded rosters, Porters also has inexperienced arms RHP Jorge De Leon, RHP Chia-Jen Lo, and RHP David Martinez in the bullpen.
The Yankees are in fine bullpen shape at this point. I don't know if we'll see Mariano Rivera again this season, and as sad as that would be, I would be perfectly cool with that given the send-off last night. Check out our Bullpen Workload page for recent reliever usage details, then check out Crawfish Boxes for the latest and great on the Astros.