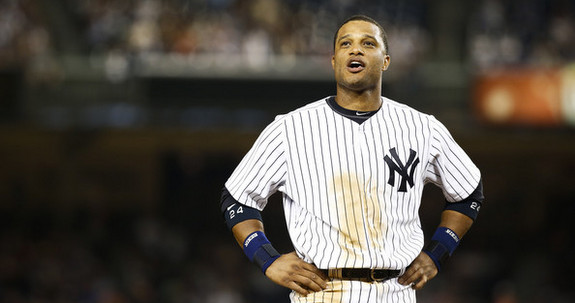 Well, this is awkward. The Yankees were eliminated from playoff contention last night but there are still four days and four games left in the regular season. They've broken up with the postseason, but they're stuck living with each other until the lease runs out, or something. That was a bad analogy.
Anyway, these next four days are meaningless — unless you're overly concerned about moving up or down one draft slot — but they do have some value to the Yankees. They have a chance to attend to some serious and not-so-serious business. Here are the three most important items on the agenda:
Start serious contract talks with Robinson Cano
Cano's impending free agency is, by far, the biggest issue facing the Yankees these next few weeks. The five-day exclusive negotiating period expires five days after the end of the World Series, so the team has about a month to hammer out a deal and keep him off the open market. Obviously doing that would be preferable. The last thing the Yankees want is a bidding war.
"If we don't make it to the playoffs, I want to take my time, go on vacation and relax. Then I want to sit down with my family and decide what we gonna do," said Cano to Wally Matthews yesterday. "I haven't decided anything yet, but don't get me wrong. I love this team, you know? … I understand it's a business. They have to decide what is the best for them, and I have to decide what is best for me and my family. I'm just waiting for the day."
The Yankees made Cano a "significant offer" during Spring Training — before he changed agents — and just this morning we heard the team offered seven years and $161M. (Let's ignore Robbie's demand of $305M for the moment, that's just AgentSpeak.) Now that they've been eliminated, the team needs to sit down with Cano's camp and get serious about a new contract. The idea of talks being a "distraction" during the season is a non-issue now — no one would care if he went 0-for-20 in the final four games. It changes nothing other than his stat line*. This is the single most important piece of offseason business. Get it done as soon as possible.
* Just for the record, an 0-for-20 would drop Cano from .315/.384/.519 to .305/.374/.503 on the year. No one would notice the difference.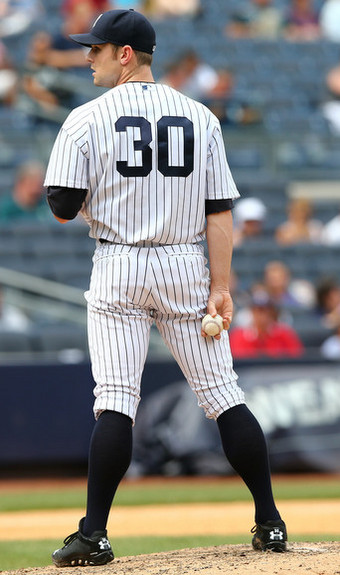 Shut down David Robertson, David Phelps, and Shawn Kelley (and Boone Logan)
A bunch of the team's relievers have been banged up of late, and since these last four games are meaningless, the Yankees should just shut them all down and look toward next season. Robertson (shoulder), Phelps (forearm), and Kelley (triceps) have all missed time with arm problems in recent weeks — and not coincidentally, they've kinda stunk — so just shut them down and focus on getting them healthy for their offseason workouts and whatnot. All three figure to be not just part of the pitching staff next season and beyond, but rather important pieces of the pitching staff. No need to push it.
As for Logan, he needs offseason surgery to clean a bone spur out of his elbow after missing a few weeks with soreness. He's available to pitch now but there's no reason to run him out there. Logan will be a free agent this winter and there's no real indication the Yankees will try to re-sign him, so this is more of a "thanks for the last four years, we're not going to risk further injury by running you out there on the verge of free agency" thing rather than a "get healthy, we need you next year" thing. Just do the guy a solid.
Let Mariano Rivera play center field
This has gotta happen. Tonight too, not in Houston. Rivera has been shagging fly balls before batting practice for over two decades now for this very situation. I say regardless of the actual score, let him pitch the eighth inning and then play the ninth in center field in tonight's series finale against the Rays. The other way around would be ideal since the ninth inning is Mo's inning, but I'm not sure he could play the field in the eighth and warm up for the ninth. I don't think warming up in the bullpen before the eighth and "sitting" for an inning would work either.
Following last night's loss, Joe Girardi said he will continue to play his regulars out of respect for the game, which makes me think he won't play Rivera in center field tonight since Tampa is still fighting for a playoff spot (and seeding). This weekend against the Astros will be a different matter. There's literally nothing on the line other than the Yankees' draft slot — the Astros have already clinched the first overall pick for the third straight years — which means Mo might have to wait for the weekend. That would be really unfortunate. If he does play an inning in center, it should be in front of the hometown crowd. Let's hope for a huge lead (or a huge deficit, who really cares at this point) in the late innings so Rivera could play some outfield in his final game in the Bronx. It would make this whole mess of a season totally worth it.