This was exactly the kind of game the Yankees can't afford to lose. Three-run lead with nine outs to go against one of your direct wildcard competitors? That's one you have to nail down at all costs. Instead, the lead vanished before another out was recorded and the Yankees were down four runs before another two outs were recorded. New York dropped the series finale to the Orioles 7-3.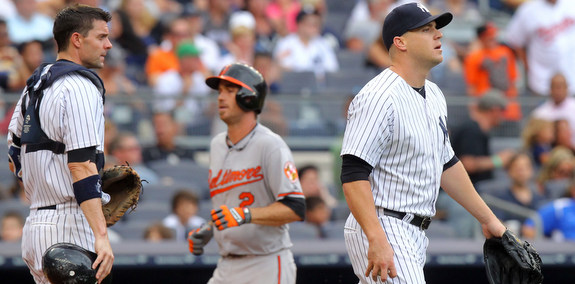 Bullpen Apocalypse
In hindsight, the decision to send Andy Pettitte out to start the seventh inning with no left-handed hitters in sight was a poor one. Mike Morse and Danny Valencia had both picked up hits off Pettitte earlier in the game, and sure enough they led off the seventh with back-to-back singles. Andy has been running out of gas around the 85-90 pitch mark lately and Joe Girardi wisely responded by having a quick hook the last few times out. Pettitte started the inning at 86 pitches and ended it at 93. He was cruising, but in hindsight letting a reliever start the inning fresh would have been the better move. Hindsight is cool like that.
Anyway, the usually excellent bullpen had its first real disaster game inning in a long time at the worst possible time. Shawn Kelley took over for Pettitte and, in the span of four pitches, allowed a run-scoring single to the punchless Matt Wieters and a three-run homer to J.J. Hardy. It was a total Yankee Stadium cheapie that literally rolled across the top of the right field wall before a fan picked it up, but they all count the same. Just like that, Pettitte's strong outing was erased and the Yankees were down a run.
But wait! There's more. After Hardy killed Baltimore's rally, Girardi went to Boone Logan, who started another fire. The switch-hitting Brian Roberts bunted his way on before the left-handed hitting Nick Markakis worked a nine-pitch walk. Here's the situation the Yankees were facing after that:
Four runs already in, turning a three-run lead into a one-run deficit.
Runners on first and second with no outs.
The middle of Baltimore's order — the 2-3-4 spots — were due up.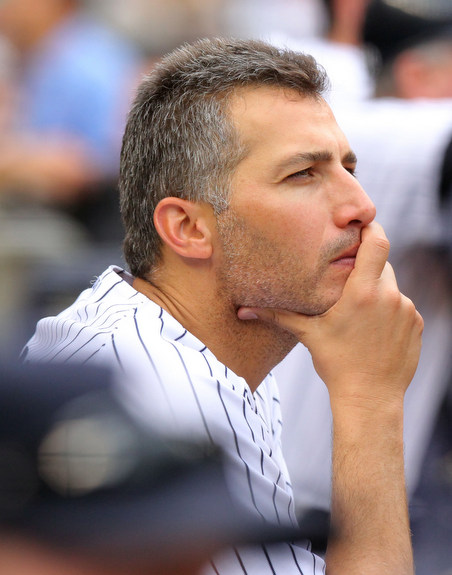 That's the ballgame right there, right? Instead of going to his best reliever (David Robertson), Girardi went to his very worst (Joba Chamberlain). I'm not sure when Joba re-entered the Circle of Trust™, but I guess it was after he threw 4.2 hitless and scoreless innings in his previous four outings. Ignore the 4.5 pitchers per plate appearance and equal number of walks and strikeouts (three apiece). Sigh. At least Robertson will be well-rested to protect the lead Phil Hughes doesn't give them on Monday.
So what happened next? Pretty much what everyone expected. Adam Jones crushed the third of three straight hanging sliders for a three-run homer to dead center that essentially put the game to bed. Things looked promising for a second when Manny Machado popped up a bunt in foul territory for the first out, but lol no. Joba made sure the deficit was insurmountable. I know the Eighth Inning Guy™ has to pitch the eighth inning, but geez. If there was ever a spot for a team trying to climb back into the wildcard race to use its best reliever sometime other his designated inning, that was it. The Yankees got what they deserved for using Chamberlain in that spot considering their position in the standings. Bad process, bad results.
Off The Hook
Considering how terribly he pitched, Wei-Yin Chen was lucky to allow just three runs in his four innings of work. He walked five and allowed four hits (two singles and two doubles) in those four innings, and 54 of his 82 pitches (66%) were thrown with men on base. Vernon Wells bailed Chen out by looking at strike three — at least he didn't do this, I guess — with the bases loaded to end the first. The left-hander was on ropes at the very start of the game and they let him off the hook. After Chen left the game, just four of the 19 men the Yankees sent to the plate reached base. Unlike New York's bullpen, Baltimore's took care of business.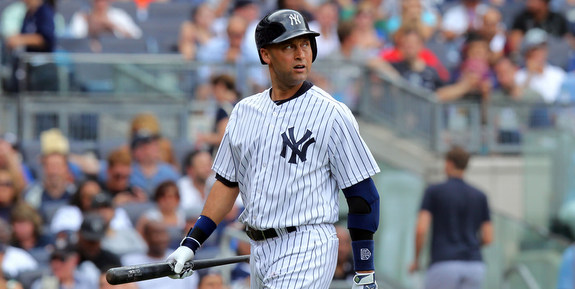 Leftovers
Silver lining: Pettitte pitched well for the fourth straight start. He was charged with two runs in that seventh inning and once again showed an inability to pitch effectively beyond 85 pitches or so, but 85 pitches of this Pettitte is better than three of the five other guys in the rotation right now. Andy escaped a first and second, no outs jam in the third by getting three infield pop-ups from the first three hitters in the O's lineup. That was easily his biggest mess aside from that seventh inning.
Although he did drive in the team's second run with a sacrifice fly, Derek Jeter took another 0-for-4 (with three strikeouts) and has just one hit in his last 18 at-bats. That includes six strikeouts and nine ground balls. So, in those 18 at-bats, three balls left the infield. I know Jeter hasn't played much this year and is coming off a major ankle injury, but he's killing them right now. He's hitting like most people expected Alex Rodriguez to hit when he came off the DL, to be frank.
Robinson Cano has been very hot of late but had his worst game in a long time, going 0-for-5 with three strikeouts and two ground outs to the right side. He struck out with a man on second and one out in both the first and third innings, as well as with two on and two outs in the fourth. Rough. Brett Gardner (two doubles and a walk) and Eduardo Nunez (single and a double) did a fair amount of damage, but the starting two through seven hitters went a combined 1-for-20 with three walks. The one was Alfonso Soriano's two-out single to plate the game's first run in the third. Jeter's sac fly and Gardner's bases loaded walk accounted for the other two runs.
Joba managed to throw a scoreless eighth inning after throwing gas on the fire in the seventh. David Huff and Dellin Betances tag-teamed the ninth inning. After allowing five runs and two homers total in their previous 42.2 innings, the bullpen was charged with five runs and two homers in three innings in this game. Bullpen meltdowns happen, I get that. But that doesn't make them any easier to swallow, especially at this point of the season.
Last, but certainly not least, A-Rod helped turn an inning-ending double play in the sixth. That's notable because the Yankees had the shift on for the left-handed hitting Chris Davis, so Rodriguez made the turn at the second base bag like he was a shortstop. It was pretty neat. Been a long time since he turned a double play like that. A garden variety 4-6-3 double play that goes down as 6-5-3 because of where everyone was positioned.
Box Score, WPA Graph & Standings
For the box score and video highlights, go to MLB.com. For some other stats, go to FanGraphs. For the updated standings, go to ESPN. I hope you enjoyed seeing the Yankees in third place with only the two wildcard teams ahead of them while it lasted. The Orioles jumped back over New York and into third place, plus the Indians beat the Tigers, moving them into a tie with the Yankees. The Bombers are four back of the second wildcard spot in the loss column and Cool Standings has their playoff odds at 10.1%.

Source: FanGraphs
Up Next
The ten-game homestand continues on Labor Day with the first of three games against the White Sox. Hughes and former Yankees farmhand Jose Quintana get the ball on Monday afternoon. RAB Tickets can get you in the door on the cheap if you want to spend the holiday at the ballpark.