It was only a matter of time. The Yankees were officially eliminated from postseason contention on Wednesday night when the Indians beat the White Sox, but to make sure everyone knew they meant business, the Bombers lost 7-3 to the Rays a few minutes later. That they weren't mathematically eliminated until Game 158 is something of a small victory, I suppose. This team had no business staying in the race as long as it did.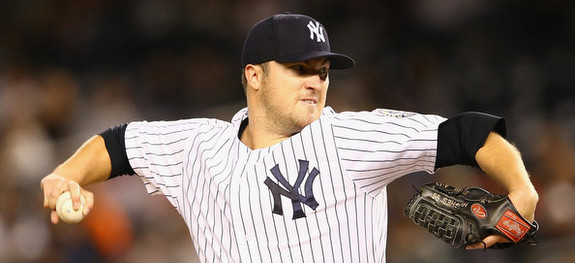 End Of An Error
With a blown call at third base and a(nother) quick hook by Joe Girardi, Phil Hughes' time with the Yankees came to an unceremonious end in the third inning. At least I think it did. I suppose there's always a chance they could re-sign him, but nah. He allowed three runs on seven hits and one walk in two innings plus three batters before hand-holder David Huff came in to replace him. Hughes threw 35 of 51 pitches for strikes and got seven swings and misses. It was his 14th start (out of 29) of fewer than five innings, the most ever by a Yankee in a single season.
Philbert ends the season with a 5.19 ERA and 4.49 FIP in 145.2 innings. That's the fewest number of innings thrown by a pitcher who made at least 29 starts in a season in baseball history. By seven innings too, so it ain't all that close. Hughes ends his time with the Yankees with a 4.54 ERA in 780.2 innings, which is the third highest in franchise history by a pitcher who threw at least 500 innings in pinstripes. Only A.J. Burnett (4.79 ERA in 584 IP) and someone named Hank Johnson (4.84 ERA in 712.2 IP) were been worse. His 1.29 HR/9 is the highest in franchise history (min. 500 IP), just ahead of Dennis Rasmussen (1.28 HR/9 in 597.1 IP) and Burnett (1.25 HR/9). So long Phil, thanks for 2009.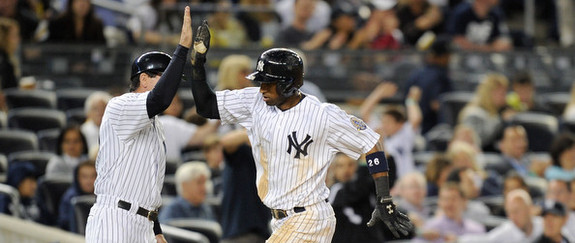 Three Token Runs
The "just enough" offense showed up for Wednesday's meeting with David Price. The Yankees scoring one run on Robinson Cano's booming double to left and another on Eduardo Nunez's solo shot against the reigning AL Cy Young Award winner, who otherwise cruised through seven innings. He held New York to those two runs on six hits and no walks, and he didn't even go to a single three-ball count on any of the 27 batters he faced. Price struck out eight and recorded 16 of his 21 outs on the infield. He's really good, in case you forgot.
The Yankees scored a third run on Lyle Overbay's bases loaded walk in the eighth and could have really made it interesting, but they left the bases loaded. Nunez and Cano were their only players with multiple hits while Alex Rodriguez, Alfonso Soriano, and Chris Stewart were the only starters who failed to reach base. Price retired the final ten and 15 of the final 17 men he faced. The Bombers went on a nice little offensive run after adding Soriano, A-Rod, and Granderson to the lineup last month, but that has dried up of late. They've scored just 28 runs in their last eleven games now.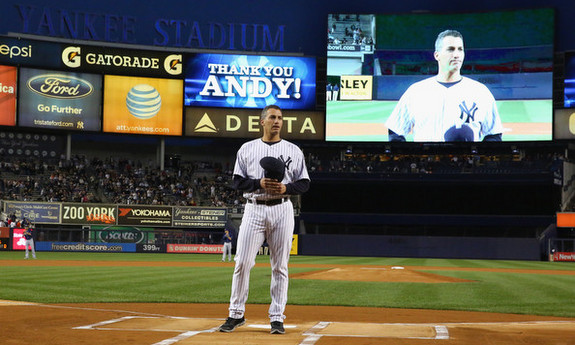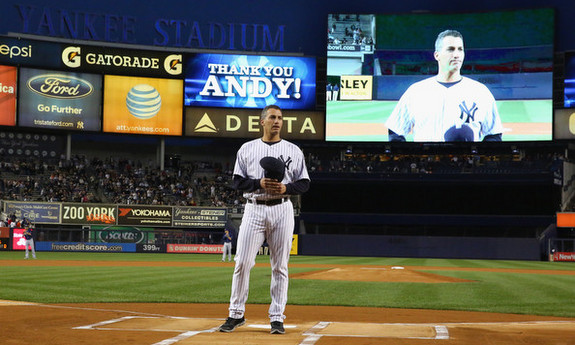 Leftovers
The whole Hughes/Huff tandem starter thing  blew up for the first time, as Huff got rocked for four runs on five hits and a walk in 3.2 innings. He gave up back-to-back homers to Evan Longoria (three-run shot) and David DeJesus. It is the first homer DeJesus has hit against a left-handed pitcher since August 6th. Of 2011.
The rest of the bullpen was okay, I guess. Cesar Cabral allowed a single to pinch-hitter Desmond Jennings while Preston Claiborne allowed a solo homer to Longoria and a single to Delmon Young. Matt Daley (one out), Cabral (1.1 innings), David Robertson (one inning), and Claiborne (one inning) retired nine of the 12 men they faced.
Cano's first inning double was his 40th of the season. It's his fifth straight year of 40+ doubles and seventh such year of his career. That ties Lou Gehrig for the most in franchise history. Todd Helton and Albert Pujols are the only other active players with seven years of 40+ two-baggers.
Box Score, WPA Graph & Standings
For the box score and video highlights, go to MLB.com. FanGraphs has some other stats and ESPN has the updated standings. As you know, this will be the first time the Yankees have missed the postseason since 2008 and only the second time since 1993, not counting the strike season.

Source: FanGraphs
Up Next
The first meaningless game at Yankee Stadium since October 3rd of 1993. That's the last time the Yankees played a home game after being mathematically eliminated from the playoffs. It will also be the final home game of Mariano Rivera's career. Ivan Nova and Alex Cobb is the starting pitching matchup. Check out RAB Tickets if you want to catch the Mo's last ever game in the Bronx in person.