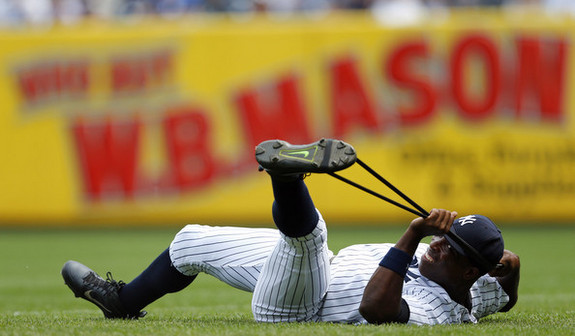 For the first time this year, there was an autumn chill in the New York air this morning. It's playoff baseball type of weather and perfectly fitting given the Yankees situation. These are their playoffs right now, with three games in the standings to make up in the final 25 games of the season. Tonight they'll have to contend with left-hander Chris Sale, arguably the best pitcher in the American League. They say momentum is tomorrow's starting pitcher, and if that's true, the White Sox are set up well to rebound from yesterday's blowout loss. This is the type of tough pitcher the Yankees will have to beat and tough game they'll have to win to make it to the real postseason next month. Here's the lineup Joe Girardi is running out there against Sale:
CF Brett Gardner
DH Derek Jeter
2B Robinson Cano
LF Alfonso Soriano
3B Alex Rodriguez
RF Vernon Wells
1B Mark Reynolds
SS Eduardo Nunez
C Chris Stewart
And on the mound is right-hander Hiroki Kuroda, who skipped his usual between-starts bullpen in what I assume is an effort to stay fresh down the stretch. He did the same thing last year. Kuroda has allowed 32 base-runners and 19 runs in his last three starts and 16.2 innings. He needs to turn it around if the Yankees want to have a chance in this thing.
It has been cool and overcast all day in New York, but there's no rain in the forecast and that's all that matters. No one wants to play a doubleheader or, even worse, give up an off-day to make up a game at this time of year. First pitch is scheduled for 7:05pm ET and can be seen on YES. Enjoy.