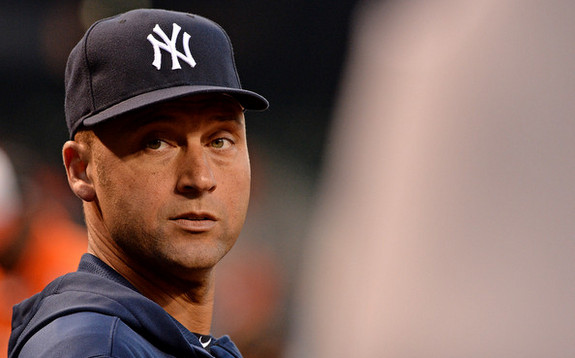 The Yankees delivered some bad but not at all unsurprising news this afternoon. Derek Jeter's season is over due to lingering left ankle soreness, and he won't return even if the team manages to claw its way into the postseason. I know as well as anyone that Jeter wasn't exactly productive when he did play this year, but losing him is still a big blow in the grand scheme of things. No one wants to see Eduardo Nunez or Brendan Ryan in the lineup on a daily basis, especially in important late-season games. That's what we're stuck with, however. Here's the lineup that will face right-hander Scott Feldman:
CF Brett Gardner
DH Alex Rodriguez
2B Robinson Cano
LF Alfonso Soriano
RF Curtis Granderson
3B Mark Reynolds
1B Lyle Overbay
SS Brendan Ryan
C Chris Stewart
And on the mound is left-hander Andy Pettitte. He's been excellent in his last six starts (1.75 ERA), and with Ivan Nova coming back to Earth, Andy is the team's best starter at this very moment. The Yankees need him to come up big tonight.
It is crazy hot in Baltimore, with temperatures in the low-90s and humidity that makes it feel like 100+. That's mid-August weather, not mid-September weather. The important thing is that there is no rain in the forecast. First pitch is scheduled for 7:05pm ET and can be seen on YES. Enjoy.
Roster Update: Ryan has joined the team, obviously. Jim Miller was designated for assignment to clear a 40-man roster spot.
Injury Updates: David Robertson (shoulder) is indeed available tonight. That's good news. … Boone Logan (elbow) is not feeling any better and isn't close to returning. That's bad news.