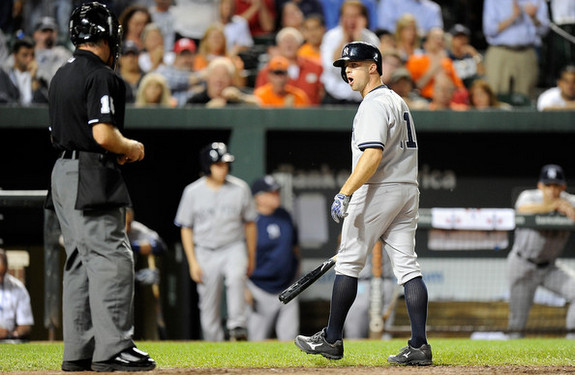 A few weeks ago, losing Brett Gardner to a Grade I oblique injury would have been devastating. He was the team's second best hitter until the cavalry arrived in late-July, and he's been a steady, count-working presence atop the lineup. By no means is Gardner a star, but he's a very big part of the team and the Yankees can't really replace what he brings to the table. It's a big loss and they'll have to get over it. Here's the lineup that will face right-hander John Lackey:
CF Curtis Granderson
DH Alex Rodriguez
2B Robinson Cano
LF Alfonso Soriano
1B Lyle Overbay
3B Eduardo Nunez
RF Ichiro Suzuki
SS Brendan Ryan
C Chris Stewart
And on the mound is right-hander Hiroki Kuroda, who held these same Red Sox to two runs in six laborious innings last week. He threw 117 pitches in those six innings, an average of 4.68 pitches per batter faced. Mike Napoli leads all qualified hitters with an average of 4.57 pitches per plate appearance, for reference. Given the state of the bullpen, Kuroda needs to put together a fewer quick innings.
It's been raining in Boston for a good part of the day, but things are supposed to be clear for the game tonight. Clouds and humidity, lots and lots of humidity, but no rain. First pitch is scheduled for 7:10pm ET and can be seen on My9 locally and MLB Network nationally. Enjoy.
Injury Updates: Austin Romine (concussion) passed an imPACT test. He rode a bike and hit in the batting cage today, and he'll take light batting practice on the field. They'll see how he feels and go from there … Boone Logan (elbow) has "turned a corner a little bit" and could be available when the Yankees play the Blue Jays next week … A-Rod (hamstring) is scheduled to play third base tomorrow.