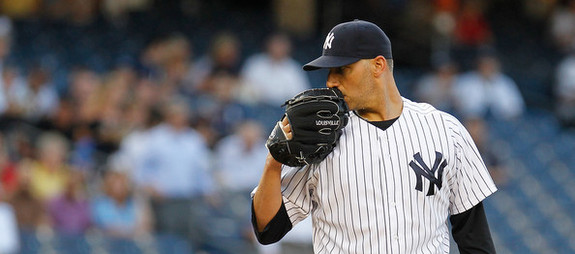 The baseball gods seem to want the Yankees in the postseason. New York hasn't won a game since Thursday and yet they still managed to pick up a half-game in the standings during that time because the Rangers suddenly forgot how to win. On top of that, Edwin Encarnacion has been shut down for the year with a wrist problem and will not play against the Yankees this week. That's another big break. At some point the Bombers have to take advantage though, they've gotten enough favors already. Here's the lineup that will face reigning NL Cy Young Award winner R.A. Dickey:
CF Curtis Granderson
DH Alex Rodriguez
2B Robinson Cano
LF Alfonso Soriano
1B Lyle Overbay
3B Mark Reynolds
RF Ichiro Suzuki
SS Brendan Ryan
C Chris Stewart
And on the mound is left-hander Andy Pettitte, who is the team's best pitcher at the moment. He's got a 2.13 ERA in his last seven starts.
The weather in Toronto is pretty great, but it doesn't really matter because of the roof. First pitch is scheduled for 7:07pm ET and can be seen on My9. Enjoy.