That was, without question, the worst loss of the season. Easily. Worse than any other two losses combined. And yet, it was one strike away from being the best win of the season at one point. Baseball is a son of a bitch. The Red Sox won Thursday's series opener 9-8 in ten innings.
The Mother Of All TOOTBLANs
There is not one single reason the Yankees lost this game. It was a bunch of things. That is true of every game, really. It's never just one thing. The biggest mistake to me was Alfonso Soriano getting picked off second base in the bottom of the ninth. Heck, he actually got picked off twice that inning. Craig Breslow had him picked off first base before Daniel Nava flubbed the throw and allowed Soriano to slide into second safely. After that is when he really got picked off. I have no idea what the hell Soriano was thinking — yes I do, he wanted to steal third so Curtis Granderson could score him with a sacrifice fly like they did in Tampa a few weeks ago — since the Yankees had the winning run in scoring position with Granderson at the plate and Alex Rodriguez on deck. That was an inexcusable mistake. I guess you can take the player out of the Cubs uniform but you can't take the Cubs out of the player.
One Strike Away
As good as he's been overall, this has not been a typical Mariano Rivera year. He's been a little more hittable than ever before and his ability to paint the corner away on righties and inside to lefties hasn't been as impeccable as it was all those years. At least that's how it seems to me, I could be wrong.
Anyway, Rivera blew his sixth save of the season on Thursday — first time he's blown that many since 2003 — after getting two quick outs and a two-strike count on Mike Napoli, who hit one of those poorly located pitches on the outside corner into right-center for a single. Pinch-runner Quintin Berry stole second and third on the same pitch thanks to a poor throw by Austin Romine and a poor block by Derek Jeter. Both screwed up. Romine short-hopped the throw and the Cap'n let it go right through his legs. Remember how I said some random September call-up would do something huge during his eleven-game stretch? Berry's stolen base qualifies. Stephen Drew singled in the tying run after that and the save was blown.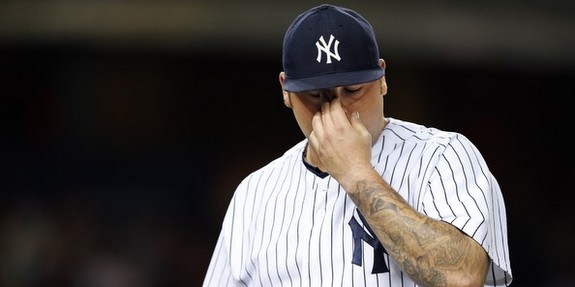 Burned Again
For the second time on the homestand, Joe Girardi got burned by using Joba Chamberlain in a big spot. He had already used Preston Claiborne, David Robertson, and Rivera, so it's not like he had a ton of options, but he again used his worst reliever in a big spot and paid for it. Joba retired the first man he faced before the wheels came off, as Jacoby Ellsbury singled, stole second, and scored on Shane Victorino's single. Victorino should have been called out on a check swing for strike three, but first base ump Joe West disagreed. Considering the gift call the Yankees got when Vernon Wells stole third in the seventh inning (more on that in a bit), they really can't argue.
After Chamberlain got Dustin Pedroia to fly out for the second out, Girardi brought in Boone Logan to … intentionally walk David Ortiz? What the hell was that about? Let Joba walk him so Logan can start fresh without having throw four balls. That was definitely one of Girardi's weirdest calls. Seems like he originally intended to pitch to Ortiz but changed his mind after bringing in Logan. Very weird. Anyway, pinch-hitter Brandon Snyder flew out to center to end the inning, but the damage had been done. Logan should have started the inning or at the very least been brought in to face Ellsbury. I know the bullpen was short with Shawn Kelley unavailable, but I would have preferred Logan against Boston's big right-handed bats over Joba against anyone. Second time on the homestand Girardi was burned by Joba in a big spot. It can't happen again.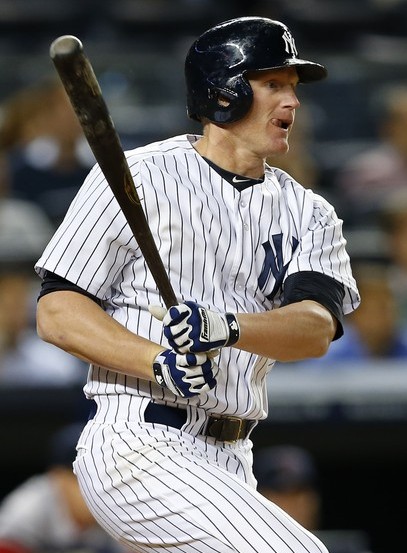 The Comeback
My least favorite managerial move is the whole "send the starter back out for no apparent reason so he can allow the leadoff man to reach base before bringing in a reliever" thing. It happens all the time. Girardi's a big fan it seems. That move opened the door for the Yankees to make their massive but ultimately pointless six-run comeback in the seventh inning. Seriously, I would have much rather watched them lose this game 7-2 than the way they did.
BoSox manager John Farrell sent Jake Peavy out to start the seventh even though his pitch count was already over the century mark, the right-higher wound up putting the first two men on base to spark the rally. After Ichiro Suzuki's leadoff walk and Wells' pinch-hit single — after which he stole third and was incorrectly called safe, replays showed he was out and it would have been the first out of the inning at first base while down five runs — Brett Gardner's singled in a run off lefty reliever Matt Thornton. Gardner's been awesome in big spots, no? Jeter had a great at-bat to draw a walk and load the bases for Robinson Cano, who grounded into a fielder's choice and narrowly beat out the double play. A run scored and the Yankees had men on the corners with one out.
With the hard-throwing Junichi Tazawa taking over for Thornton, Soriano poked a two-run single to right to beat the shift and make it a 7-6 game. Granderson hit a booming two-strike double off the right field wall that tied the game and would have allowed Soriano to score from first it hadn't been hit so damn hard. Lyle Overbay picked up A-Rod following his strikeout with a ground ball two-out single through the right side that turned a one-run deficit into a one-run lead. For the second time in the last three games, the Yankees had mounted a huge comeback to turn a huge deficit into a small lead. It was awesome. Too bad it didn't matter in the end.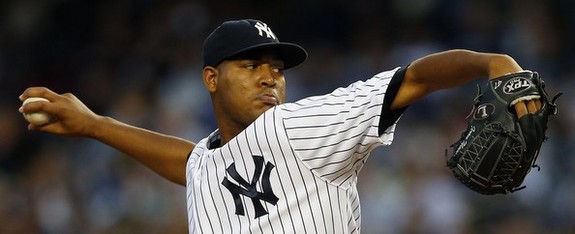 Fooled No One
The Red Sox had something on Ivan Nova. Either he was tipping pitches or they just had one hell of a scouting report on the right-hander. They had no trouble laying off his curveball at all, like they knew it was coming. Didn't even flinch. Nova threw 26 curves and do you know how many Boston's hitters actually swung at? Seven. He had one swing-and-miss with the pitch, six taken for strikes, and 19 taken for balls. The curve was a complete non-factor, and when that happened, Ivan had to rely on his fastball against one of game's best fastball hitting teams. Needless to say, it wasn't pretty.
Nova threw 96 pitches in his four innings of work, including a ridiculous 47 pitches in the two-run third inning. The Red Sox ran him right through the grinder. Deep counts, long at-bats, foul ball after foul ball … they were just brutal. Nova had no way to combat them and the fact that he escaped four innings with just three runs allowed on five hits and two walks is a bit of a minor miracle. It could have been way worse. Hopefully this was just an off-night and not an indication teams are figuring out Nova is beatable if you lay off the curve.
Leftovers
The Yankees scored their first two runs on a Cano's bases loaded double in the third and I have no idea how he hit that pitch as hard as he did. Peavy busted him inside with a cutter and somehow Robbie pulled his hands in, hit it off the label, and clubbed it off the top of the right field wall. It was maybe three feet from being a cheapie grand slam. Most batters have their bat broken and ground out weakly on that pitch. Cano somehow got enough wood on it for a double. Insane.
Because of Nova's short outing, Girardi had to cycle through seven relievers. Preston Claiborne allowed three runs and all five men he faced to reach base while Adam Warren allowed a run and soaked up 2.2 innings. Cesar Cabral struck out the only man he faced with the bases loaded, so hooray for trial by fire. Cabral has struck out all three big league lefties he's faced on ten pitches total. Robertson threw a perfect eighth, Rivera blew the save, Joba blew the game, and Logan retired the only man he faced. Seven relievers combined to throw 134 pitches in six innings.
Romine came into this game with a 24% success rate at throwing out base-stealers (a tick below the 26% league average), and he allowed two killer steals in the ninth and tenth. Chris Stewart, who is riding an 0-for-22 streak at the plate and stranded runners at second and third in the fourth, is out of gas and hasn't had much success throwing out runners himself lately (22% since the All-Star break), but you have to think he would have given them a better chance in those spots. Then again, if Wells doesn't pinch-hit, the six-run rally doesn't happen.
The Yankees had ten hits as a team but Gardner and A-Rod were the only guys with multiple knocks. Jeter drew two walks and looked really bad in the field. Like barely mobile. He couldn't turn a potential inning-ending double play in the fifth because he simply couldn't cut in time to get to the bag. The team won't ever move him off the position, but at age 39 and with all those recent leg injuries, it's clear the Cap'n has no business playing short.
For the first time since May 1916 (!), the Yankees had six players successfully steal a base in a single game. That's nuts. Ichiro, Gardner, A-Rod, Overbay, Wells, and Soriano did the honors. New York has stolen 23 bases (21.1% of their season total) in 13 games against the Red Sox (9.3% of their games) this year. They've run wild on Boston's various batteries.
Box Score, WPA Graph & Standings
Depressing graph is depressing. For the box score and video highlights, head over to MLB.com. FanGraphs has some other stats while the updated standings are at ESPN. The good news is that the Rays lost to the Angels, so the Yankees remain three back of the second wildcard spot in the loss column. The bad news is that they haven't made up any ground in three days now and games are still ticking off the calendar. The Orioles and Indians are tied with New York in the loss column but have played one fewer game. Cool Standings gives the Yankee a 14.3% chance to make the postseason. This loss was incredibly bad.

Source: FanGraphs
Up Next
Same two teams on Friday night. Left-handers Andy Pettitte and Felix Doubront will meet in the second game of this four-game set. If you want to catch the game live — there are only nine home games left in the regular season, you know — RAB Tickets can get you in the door.