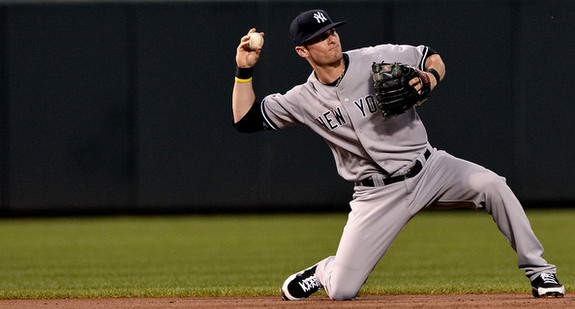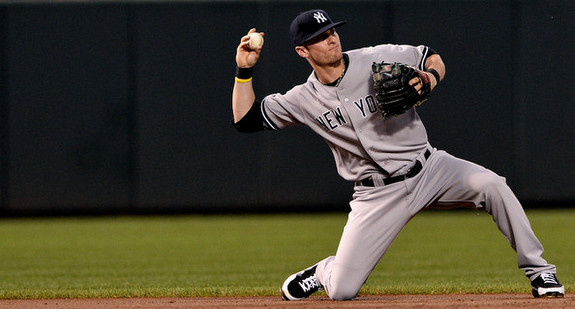 As far as the shortstop position goes, the theme of the Yankees' season has been "waiting." Waiting for Derek Jeter to get healthy and waiting for Eduardo Nunez to do something that validated the team's faith in him. Neither of those things happened. Jeter played only 17 games around four leg injuries before being shut down for good last week. Nunez has put up a 75 wRC+ in nearly 300 plate appearances while remaining a huge defensive liability. Reid Brignac, Alberto Gonzalez, and Luis Cruz all came and went.
It wasn't until Jeter got hurt for the fourth time that the Yankees found someone who actually provided some stability at the position. They acquired Brendan Ryan from the Mariners for a player to be named later — it'll probably be someone you've never heard of before and won't miss — and he's taken over as the everyday guy at the position. Joe Girardi said he planned to have Nunez and Ryan split time at short but it hasn't happened. Ryan has played every inning of every game at shortstop since being acquired.
"I don't know if it's the most enviable position to step in after a legend," said Ryan to Andy McCullough soon after the trade, referring to replacing Jeter. "He's not going away. I don't want to make it sound like that. I don't even know what his status is."
The 31-year-old Ryan took an 0-for-4 in his first game in pinstripes but has since gone 6-for-21 (.286) at the plate. Two of those six hits have started game-winning rallies — leadoff single in the ninth last week in Baltimore, leadoff double in the eighth last night — and another was a solo homer over the Green Monster this past weekend. Considering his career 71 wRC+, Ryan has already contributed more offensively than we could have been reasonably been expected. Those six hits are gravy.
Defensively, there's just no competition. Brignac and Cruz were solid — above-average, even — glovemen but not comparable to Ryan, who has already made a handful of stellar plays both ranging to the second base side of the bag to his left and deep into the 5.5 hole to his right. The Yankees were getting nothing from the shortstop position for most of the season, no offense and mostly poor defense, so Ryan has upgraded at least one part of the team even if he stops hitting (which is likely given his track record).
The fact that Ryan has been the team's most productive shortstop of the year after a whopping seven games tells you all you need to know about what went wrong this season. The Yankees waited and waited for Jeter to return and their 39-year-old captain let them down repeatedly, coming down with a new injury in a matter of days each time. Nunez had his own injury problems and despite showing off improved throwing mechanics, his defense still makes him a liability. Ryan has been reliable and expected expectations so far, but his acquisition was too little, too late.