I've only got four questions for you this week. Use the Submit A Tip box in the sidebar to send us anything at any time.
Anthony asks: If the Yankees sign Brendan Ryan in the offseason as insurance for Derek Jeter, do you think his defensive contributions would be more valuable than the light-hitting, terrible defense of Eduardo Nunez?
Oh yeah, I have very little doubt about that. We don't even need to get into WAR to make the point. Nunez is a below-average hitter and a horrible defender. Ryan is a horrible hitter and an above-average (bordering on elite) defender. Let's have some fun and use the 20-80 scouting scale, where 50 is average. Nunez is what, a 40 hitter and a 30 defender while Ryan is a 20 hitter and a 70 defender? I suppose Nunez could turn into a 50 hitter with some speed and contact-related BABIP luck, but that's being a little too nice.
If I had to pick between these two, Ryan would be my everyday shortstop. The Yankees would need to boost their offense in other spots (right field, catcher, DH) to compensate for the noodle bat though. In a perfect world, neither guy starts next year. The team should look for a better, legitimate everyday option this winter. A more long-term solution. That won't be easy to find and definitely won't come cheap, but that's the corner the Yankees have painted themselves into thanks to an unproductive farm system.
Vicki asks: What's with park effects? How can we call it a stat when it changes significantly season to season, yet the park dimensions stay the same?
Park factors can be calculated in different ways and they're all complicated. Long story short: they show how many runs are scored at one park compared to all other parks. For the long and painful to read answer, here's how Baseball-Reference calculates their park factors. Like I said, they're complicated. All sorts of adjustments are made.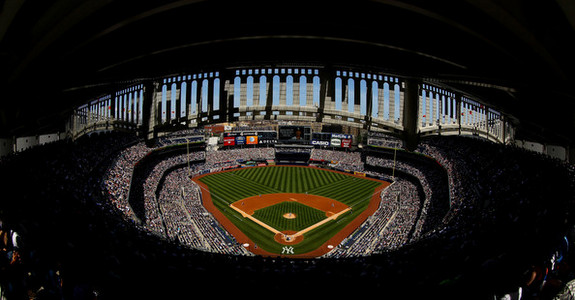 Park factors are like just about every other stat in that they fluctuate from year to year. Robinson Cano is a lifetime .308 hitter, but he had one year where he hit .342 and another where he hit .271. Did his talent level change those two years? No, other stuff (injuries, mechanical funk, etc.) played a role. Park factors are the same way. They don't change because of the dimensions, those are fixed and don't change year to year (unless the team changes them), they change because of everything else. Something like the weather — a particularly hot summer in New York would boost the offense at Yankee Stadium even more, for example — or even the way a team stores their baseballs can change the way a park plays. There's a million variables that come into play.
I treat park factors the same way I treat defensive stats. I use them directionally rather than for a hard, exact number. If a player has a +10.5 UZR and +8 DRS, I don't take those exact numbers to heart, but I do consider the player to be an above-average defender. The system isn't accurate enough yet to take those run totals at face value. Park factors can be used directionally as well. We know Yankee Stadium is a very hitter friendly park overall, it's can just be slightly more or less hitter friendly in a given year. Same thing with Dodgers Stadium being a pitcher's park or Progressive Field being neutral. Remember, single season park factors are based on an 81-game sample. That's not much. You have to look at the overall picture, like Cano being a true talent .308 hitter and not a .342 hitter because that's what he hit one random year.
Adam asks: Does Corban Joseph getting "called up" and put on the 60-day DL mean that he gets paid the MLB minimum for the last few weeks of the season? Does he get per diem too?
Yes, Joseph definitely gets paid a Major League salary and per diem (for road games) while on the 60-day DL these last few weeks of the season. He also collects service time. Being on the DL is exactly like being on the active 25-man roster with regards to salary and contract status and all that. Joseph was called up on September 6th, so by my unofficial calculation he'll receive $72,592.59 in salary, $1,274 in per diem (13 road games at $98 per game), and 24 days of service time this month. Pretty sweet gig if you can get it.
Patrick asks: Ryan Galla of CAA Baseball is projecting the Super 2 cutoff to be 2.121. (2 years, 121 days) How much time does Michael Pineda have? Does this number effect any other Yankee?
Galla's projection had the Super Two cutoff at 2.119 in April, but it has since moved two days based on the timing of call-ups this season. The Super Two cutoff is set at the top 22% of players with fewer than three full years of service time. Pineda is still working his way back from shoulder tightness won't be joining the team this month, so he's done accruing service time this year. I estimated his service time at 2.099 last month, but that is just an estimation. He's still well short of the Super Two cutoff though, even if my number is off by 10-15 days. Pineda will be a regular pre-arbitration player in 2014. His free agency has been pushed back from after 2016 to after 2017 though, and that's most important.
There are two other Yankees on the Super Two bubble: Nunez and David Huff. Nunez came into the year at 1.117, and since he hasn't gone to the minors at all this season, he'll finish at 2.117 of service time. Five days short of the projected cutoff. Huff came into the year at 1.166, and based on my estimation, he'll spend 63 days in the big leagues this season between the Indians and Yankees. That puts him at 2.229. I could be off by a few days, obviously. This stuff is tough to figure out. Neither guy is anything special and they wouldn't get a huge arbitration raise anyway, but those handful of days are worth several hundred thousand dollars in terms of salary next year.