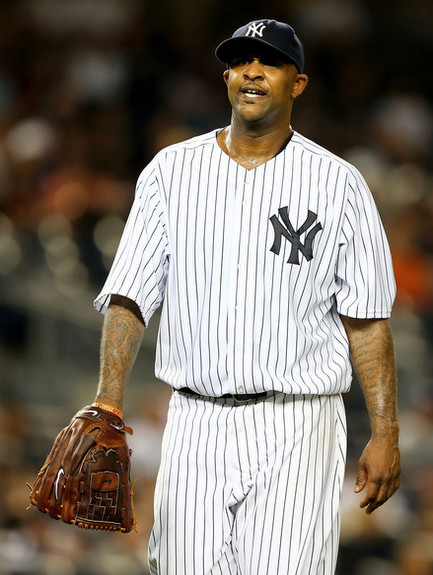 CC Sabathia's season came to unceremonious and positively 2013 Yankees-esque end earlier this week when the team announced he had a Grade II left hamstring strain. He supposedly suffered the injury in the second inning of his start last Friday, but he pitched through it and still held the Giants to one run in seven innings. That is pretty damn remarkable when you think about it.
Even though he eclipsed the 200-inning plateau for the seventh straight season — only Sabathia, Mark Buehrle, Jamie Shields, and Justin Verlander can make that claim — Sabathia had the very worst season of his 12-year-old career in 2013. He posted a 4.78 ERA (4.09 FIP) in 211 innings across 32 starts, and according to runs allowed-based value metrics like bWAR (0.3) and RA9 (0.7), he was damn near replacement level. If you prefer FIP-based value, he was still at a career-low 2.7 fWAR. There's no getting around it, CC was huge disappointment.
"It was a bad year," admitted Sabathia to Fred Kerber yesterday. "It is frustrating and it's tough. You feel like you let your teammates down. Everybody knows how much I care about winning and wanting to be there for the guys. Not to be able to be there this last week is going to be tough."
There are a million possible reasons why Sabathia's performance declined so much in one year. The workload caught up to him. The offseason elbow surgery had a bigger impact than expected. His fastball lost too much velocity. His fastball lost too much velocity and that made his changeup worse. He lost too much weight. Who knows the real answer? It's probably all of the above to some degree. At his age, it's hard to believe CC can get back to being the guy he was just last season, nevermind 2009-2011.
"I don't think I'm ever going to be that same guy again," added Sabathia. "I am 33 this year. Pitching [Friday] I felt back to myself, more so than any other start. It wasn't velocity because I was 90-93, but just pitching inside, being aggressive, throwing fastballs in hitters' counts — just going out there and being a bully."
Now, just because Sabathia is unlikely to turn back into the 2009-2011 version of himself doesn't mean he can't be effective. He just has to go about being effective in a different way. CC will have to adjust the way he pitches and, just as importantly, adjust the way he prepares for starts. The days of dominating hitters with a fastball/slider/changeup mix on the quality of the individual pitches alone are over.
"I've always been a guy that never watched video," said Sabathia. "That's something that I need to change. Just my preparation for games probably has to get a little better … Me and [pitching coach Larry Rothschild] did a lot of work lately that got me back on the right track and I felt like we were headed in the right direction and stuff was going better and [the hamstring] happens."
I always find it amazing whenever I hear about a veteran player not watching video. It's not unheard of, but it is rare. Most players obsess over mechanics or scouting reports or whatever, others prefer to keep it simple and leave it to the coaching staff. Considering how effective Sabathia was over such a long period of time, we can't say the "no video" approach didn't work for him. It obviously did.
That probably isn't the case anymore though. At this point of his career, with a diminished fastball and command that seems to come and go, Sabathia will have to put in more preparation time between starts. This isn't so much about watching video and dissecting his mechanics, it's about learning hitters' weakness and developing a personalized scouting report. A lot of guys will watch how similar pitchers attack hitters — when I interviewed Al Leiter last year, he said he watched video of Andy Pettitte and David Wells to see how they approached certain hitters — and use that as a building block.
Sabathia's stuff is what it is at this point. He averaged 91.3 mph with his fastball this summer — less earlier in the season, more later in the season — and that is plenty good enough for a left-hander with three (really four since he throws both a four-seam fastball and a sinker) pitches. He's got the slider for lefties and the changeup for righties. The stuff is fine, it's just not what it once was. Sabathia is going to have to adjust his preparation and between-starts routine as much as anything if he wants to bounce back and return to being an effective pitcher next year, something he is confident he can do.
"I'll be back to myself," said CC. "I know a lot of people have written me off and said I've thrown too many innings and whatever, but I'll still be here and still be accountable and still be the guy that signed up in 2009."