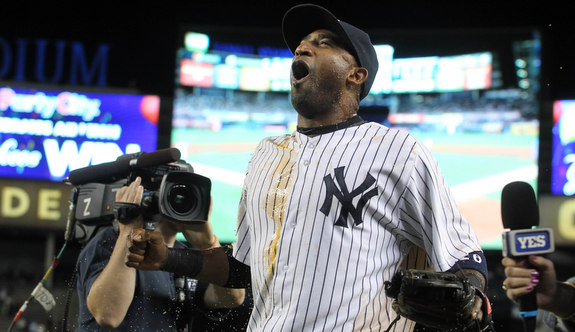 Thanks to last night's sweep-clinching win over the White Sox, the Yankees have won five of the first six games of this all-important ten-game homestand. They took two of three from the Orioles over the weekend and swept the last place ChiSox, which is pretty close to the best case scenario. Sunday's bullpen meltdown still stings, don't get me wrong, but at least the Bombers rebounded well with the three straight victories.
Winning five of the first six homestand games was very important because these next eleven days are going to be a nightmare. The White Sox won't be in the Bronx to kick the ball around — seriously, are they not one of the sloppiest teams you've ever seen? awful — and use a parade of overmatched rookie pitches anymore. No, now things get really tough. It's make or break time.
Matt outlined the schedule situation of the various wildcard contenders yesterday, but the Yankees' schedule is worth a deeper look. Starting tonight, they head into an eleven-game stretch that will more or less definite the rest of their season:
Four games vs. Red Sox in Yankee Stadium
Four games vs. Orioles in Camden Yards
Three games vs. Red Sox in Fenway Park
That's hell. Hell with no off-days scheduled. Just spitballing it, how many of those eleven games do you think the Yankees need to win to remain in the postseason hunt? Remember, there will be only 12 games left in the season after the stretch, so they have to legitimately make up ground and not just tread water. The time for water-treading is over. Seven wins in eleven games is the bare minimum, no? Anything less than that and it's probably time to shift focus to the final few innings of Mariano Rivera's career instead of the out-of-town scoreboard.
For the sake of having numbers and something tangible to look at, here's how the Yankees have fared against the Red Sox and Orioles so far this season:
| | W-L | Runs Scored Per Game | Runs Allowed Per Game |
| --- | --- | --- | --- |
| Red Sox | 5-7 | 4.1 | 5.1 |
| Orioles | 7-8 | 3.5 | 3.9 |
Do you know what those numbers mean? Absolutely nothing. What happened earlier this year has no impact on what will happen going forward. Not only have the Yankees rebuilt their lineup by trading for Alfonso Soriano and getting a small All-Star team back from the DL, but the Red Sox and Orioles have remade their rosters with trades and injuries and whatever else. How much you want to bet some random September call-up does something huge at some point in those eleven games? It's damn near inevitable. That's baseball, man. It's weird sometimes.
The only thing we know with any certainty is this: those eleven games are going to be the toughest eleven games of the season. The Red Sox and Orioles are really good teams and always seem to play the Yankees hard. Maybe one or both of those clubs will have a bad series, but I wouldn't count on it. New York will have to play its very best baseball of 2013 to make it through these next eleven days and continue to worm their way into a playoff spot. There is no margin of error anymore, that came and went last month.
On the other side of the coin, if the Yankees do manage to survive those eleven games and come out of them still within striking distance of a postseason berth, they'll be rewarded by playing nine of their final dozen games against losing teams. Not just losing teams, I'm talking terrible, horrible, no good last place teams. Three against the Blue Jays, three against the Giants, and three against the Astros. There are three games with the Rays mixed in there — how enormous could that series be? goodness — but that's what awaits the Yankees after this eleven-game stretch. By no means are those easy wins, but they're damn easier than beating Boston and Baltimore. The most important stretch of the 2013 season begins tonight.