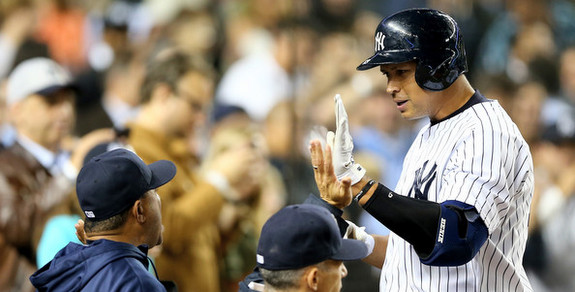 When the Yankees' season comes to an inevitable end following Sunday's game against the Astros, Alex Rodriguez's appeal will finally begin. The process is set to begin on Monday and is expected to last several sessions. A-Rod's legal team, MLB officials, and arbitrator Frederic Horowitz held preliminary meetings earlier this month, but Monday marks the official start of the appeal.
According to union head Michael Weiner and various reports, it's possible a ruling may not come until November or December. That would be bad. The Yankees want to know what's going on with their third baseman as soon as possible so they can plan their offseason accordingly. They don't have to pay Rodriguez during his suspension, so they'd save a considerable amount of money and would have to decide where (or if, I suppose) they'll spend it. The non-tender deadline is in late-November and the Winter Meetings are in early-December, and you can be sure the team would like a resolution before then.
Horowitz can do one of three things. He can uphold the original 211-game suspension, overturn it completely, or reduce the number of games to whatever he decides. This isn't an either/or thing. Based on the mountains of evidence MLB claims to have against A-Rod, it's widely believed he'll end up serving some kind of suspension. We just don't know what. The standard ban for first-time offenders — which Alex is — is 50 games, so his legal team will probably argue the extra 161 games are an excessive punishment for allegedly impeding the investigation. There's no collective-bargained document that deals with that kind of stuff, so MLB pulled that "161 games" number out of thin air.
As far as the Yankees are concerned, there is a best and worst case scenario for A-Rod's suspension. That goes beyond planning their offseason, I'm talking about on-field impact in 2014 and beyond. Even if the hearing is held on Monday and they get a ruling on Tuesday, it could still be bad for the Yankees. Let's break down the various scenarios.
Best Case Scenario: 162-Game Suspension (or more)
The Yankees have made it very clear they don't like Rodriguez and want him gone. Can't tarnish that otherwise pristine New York Yankees legacy, after all. A suspension that causes Alex to miss the entire 2014 season would effectively end his career. He's had a hard enough time staying on the field due to various injuries in recent years, and even though he's shown these last few weeks that he can still be an effective player, it's hard to imagine any player returning at from a year-long hiatus on the cusp of their 40th birthday and being effective. Well, any player other than Andy Pettitte, I suppose.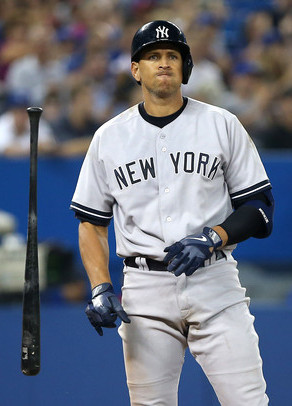 If A-Rod is banned for all of next season, the Yankees will save his $25M salary and boy would that go a long way towards helping them get under the $189M luxury tax threshold. They would also know they need to find an everyday third baseman for 2014, not a short-term stopgap. There would still be three years and $61M left on Rodriguez's contract after he returns in 2015, making a buyout much easier to swallow from the team's point of view. That's a lot of money to eat, but it's pretty much a sunk cost already. A-Rod isn't marketable and his on-field value is dwindling. Knowing he'll miss all of next year is the best thing that could happen to the team.
Okay Case Scenario: 50-Game Suspension (or less)
It won't be less, but I'll throw the qualifier in there anyway. Horowitz could decide Rodriguez deserves the same 50-game ban as every other first time offender and nothing more, which means he would return to the team sometime in late-May. The Yankees would save approximately $7.72M in salary, but that would be almost completely negated when he hits the six homers needed to trigger the first $6M milestone bonus in his contract. Minimal savings.
The team wouldn't be rid of Rodriguez, but they would be getting him back early enough in the season that he could have a meaningful impact. The suspension is a fixed number of games, so the Yankees would know exactly when he'd be returning. There's no setback during a suspension. They could dig up a short-term third baseman without having to break the bank and then move forward with a regular lineup when A-Rod returns. Yeah, they wouldn't save much money against the luxury tax threshold, but some savings are better than no savings.
Worst Case Scenario: 100-Game Suspension
Since no one thinks Horowitz will completely overturn the suspension — it's certainly possible, but it would be a huge surprise — the worst case scenario for the Yankees would be a ban somewhere in the middle of 50 games and 162+ games. A hundred games is a nice round number and has been rumored as a possibility. A 150-game ban has been rumored as well, but for all intents and purposes that would be the same as a 162 (or more) game suspension.
If Rodriguez gets 100 games, the team would save about $15.44M in salary less the inevitable $6M homer bonus. I think we can all agree $9.5M or so is a nice chunk of change, but the team would also have to look for another permanent third baseman. Jayson Nix and Eduardo Nunez can't hold down the hot corner for another 100 games like they did this year. We've seen that movie, we know how it ends. At the same time, the Yankees would also have to plan for A-Rod's return, either at the hot corner or at DH (which figures to belong to Derek Jeter). Sixty-two games isn't much time to make a significant impact on the team's playoff chances either. With a 100-game ban, the team gets a nice amount of savings but the combined headache of a) having to find a third baseman, b) waiting for Alex to return, and c) not having him return into time to do anything meaningful.
* * *
The Yankees have a lot of questions to answer this offseason. More than any other offseason in recent memory, by frickin' far. The A-Rod situation might be the most problematic because it's completely out of their hands. They're at the whim of the appeals process. The team doesn't know how long they will be without their third baseman or how much money they'll save. That's no way to go into an offseason, but it's the approach New York will have to take. Unless ownership decides to scrap the plan to get under the luxury tax threshold next season (lol), their offseason will be held hostage until Rodriguez's fate is decided.