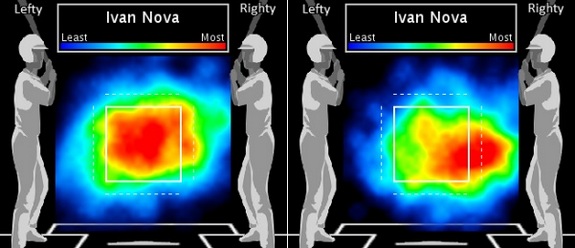 Ivan Nova was a punching bag last season. I think that's a fair way to put it. He allowed an MLB-high 87 extra-base hits despite only throwing the 83rd most innings (170.1) in baseball, and opponents tagged him for a .288/.349/.511 batting line. Nova turned every hitter he faced last summer into someone resembling 2010 Nick Swisher (.288/.359/.511). He was terrible.
Things have been much different this year, particularly of late. Nova was just named the AL Pitcher of the Month for August and has a 2.06 ERA in 74.1 innings and ten starts since officially rejoining the rotation in July. Opponents have hit .224/.297/.294 against him during those ten starts, which is slightly better than 2013 Chris Stewart (.215/.288/.280). He's been a rotation godsend.
As David Golebiewski at Baseball Analytics showed today, Nova's success this year stems from his ability to keep his fastball down. Scrapping his slider in favor of a curveball helped as well, but keeping the fastball down — the heat maps above show how much his location has improved — has been crucial in limiting extra-base hits. Opponents slugged .597 (!) off his heater in 2012, but this year that sits at just .397. The league average for starting pitchers is .443, according to Golebiewski.
The Red Sox are one of the better low fastball hitting teams in the baseball — slugging an MLB-best .505 against low heaters according to Golebiewski — so the key for Nova in tonight's start is going to be that curveball. Breaking out his rarely used changeup and possibly showing some sliders as a change of pace pitch could be in order as well. Nova is excelling because he's keeping his fastball down and the Red Sox are mashing because they hit those low fastballs. The Yankees will have to adjust accordingly in tonight's opener.